Who is Jack Johnson and why would Trump pardon him?
President Trump has posthumously pardoned the late boxer, Jack Johnson.
The president said on social media last month that he was considering a full presidential pardon after speaking to Sylvester Stallone, a Trump supporter and actor who starred in the "Rocky" movies.
"His trials and tribulations were great, his life complex and controversial," Trump said in a tweet. "Others have looked at this over the years, most thought it would be done, but yes, I am considering a full pardon!"
Read on for a look at Jack Johnson's legacy and how Trump, particularly, might be connected to his case.
Who is Jack Johnson?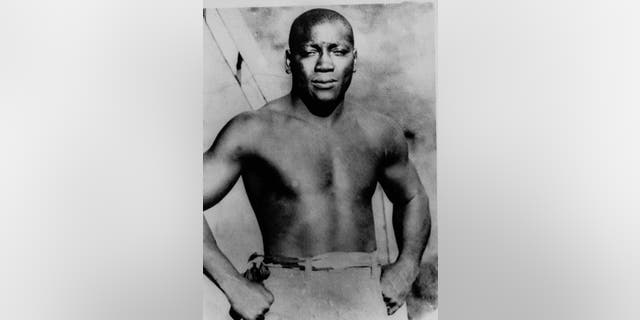 The son of former slaves, Jack Johnson was a powerhouse boxer who was the first black man to win the heavyweight title in 1908, according to CBS Sports. He began boxing professionally in the late 1890s and continued to do so until 1915.
In his career, Johnson had 73 professional wins, including 40 that ended via knockout, according to CBS Sports.
"He is one of the craftiest, cunningest boxers that ever stepped into the ring," legendary boxer John L. Sullivan once said about Johnson.
But aside from his storied boxing career, Johnson was known for his refusal to adhere to social norms, living lavishly and having a penchant for dating white women. In Jim Crow America, Johnson was one of the most despised African-Americans of his generation.
Johnson was convicted in 1913 for violating the Mann Act, which made it illegal to transport women across state lines for "immoral" reasons. He spent seven years as a fugitive after he was convicted. But he eventually returned to the U.S. and turned himself in.
Johnson served one year in federal prison before his release in 1921.
He died in a car accident in 1946 at the age of 68. Posthumously, Johnson was integrated into pop culture as he's been the subject of dramas, documentaries and biographies.
What is the Mann Act?
Passed in 1910, the Mann Act, also known as the White-Slave Traffic Act, was supposed to prohibit sex slavery and prostitution.
The Justice Department describes the law, in part, as having "set forth several offenses including the offense of knowingly transporting any individual, male or female, in interstate or foreign commerce or in any territory or possession of the United States for the purpose of prostitution or sexual activity which is a criminal offense under the federal or state statute or local ordinance."
HOW DO PRESIDENTIAL PARDONS WORK?
As History.com noted, because the law was written so broadly, it could be used to punish certain consensual activities.
The law was amended in 1986 to make it clear the law is to punish "any sexual activity for which any person can be charged with a criminal offense." It also made the law gender neutral.
Aside from Jackson, actor Charlie Chaplin and musician Chuck Berry were also accused of violating the Mann Act. More recently, former megachurch pastor Jack Schaap was convicted to 12 years in prison after pleading guilty to sexually abusing a teenage girl at his church and transporting her across state lines.
What is Trump's connection to this case?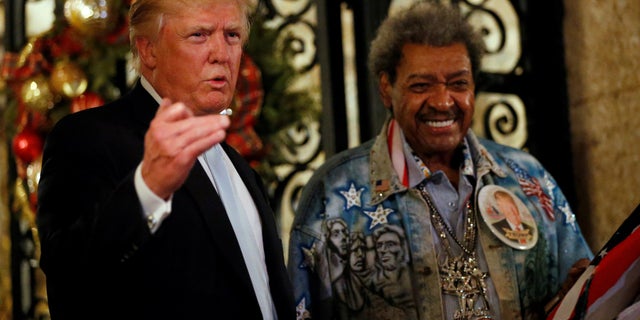 While Trump has made his mark on New York real estate, reality television and the White House, he also took a stab at boxing in Atlantic City, becoming closely involved in the promotion of multiple high-profile bouts.
"Donald Trump was very good for boxing in New Jersey," Larry Hazzard, a New Jersey's boxing commissioner, told the Philadelphia Inquirer. "You can't rewrite history."
Trump was inducted into the New Jersey Boxing Hall of Fame in 2015. "Donald Trump, during the 1980's Atlantic City was the capital of the Boxing World and Donald Trump had a lot to do with it, including many of Mike Tyson's fights," a release said.
He once paid boxer Mike Tyson $11 million for an Atlantic City fight, the former heavyweight champion told the Inquirer.
"I put on these fights because I'm a fan," Trump reportedly told the Philadelphia Inquirer in 1988. "I do it because I like it. It's exciting. People really react to it. You wouldn't see this kind of excitement at the opera or ballet."
Controversial boxing promoter Don King has also been a friend of the president. At one time, the pair crossed paths as King worked as a promoter, and Trump hosted fights, including King's. The two haven't seemed to fall out of touch; King reportedly traveled to Mar-a-Lago recently and talked to Trump about the alleged affair he had with a porn star in 2006.
Who has Trump pardoned so far?
Trump has pardoned three other people so far: former Arizona Sheriff Joe Arpaio, former Navy sailor Kristian Saucier and former Vice President Dick Cheney chief of staff Scooter Libby.
In order to be pardoned, an individual must submit an application, and then the president will be given recommendations. However, the general DOJ policy is to not accept applications for posthumous pardons for federal convictions, according to its website.
But Trump has shown a willingness to work around the DOJ process.
Fox News' Serafin Gomez, Matt Richardson, Adam Shaw and The Associated Press contributed to this report.