White House reportedly assures Hill lawmakers about executive action this year on immigration reform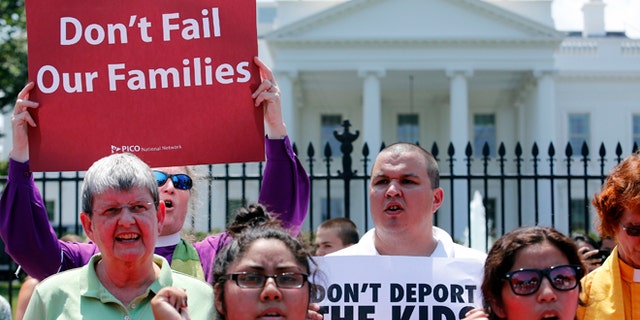 The White House this week assured anxious Hispanic lawmakers on Capitol Hill that President Obama will use executive action before the holiday season closes to reform U.S. immigration law, after breaking his pledge to make changes by the end of summer.
The message was delivered in a meeting Thursday with White House Chief of Staff Denis McDonough and other administration officials, including domestic policy adviser Cecilia Munoz, a key player for Obama on the issue, according to Politico.
The president faced sharp criticism, including accusations of caving to election-year politics, from Hispanic lawmakers, immigration-reform advocates and others in his Democratic base when the White House revealed last weekend that he would delay action until after the Nov. 4 elections.
In 2012, Obama used executive action to delay deportation for many young immigrants brought to the United States illegally by their parents. He is expected to widen that effort to include millions more.
Roughly 11 million people are now living in the U.S. illegally.
This week's meeting was apparently intended to restore the Congressional Hispanic Caucus's faith in the White House, considering in part that a reform plan appears stuck in the GOP-led House.
Rep. Raul Grijalva, D-Ariz., said he needs "constant reassurance" that the president will soon act.
"I don't want to go down this path come November and then for some other reason, find that the immigrant community and the Latino community get thrown in the heap again," he told Politico.
Multiple people familiar with the meeting told Politico that McDonough did not go into specifics about the executive action but made clear Obama will go as far as he can under existing law.
McDonough also declined to get into specifics.
Rep. Luis Gutierrez, D-Ill., said the caucus will meet early next week to determine a formal response to the White House over delaying deportation relief.