White House: Obama to Propose New Plan to Reduce Long-Term Deficits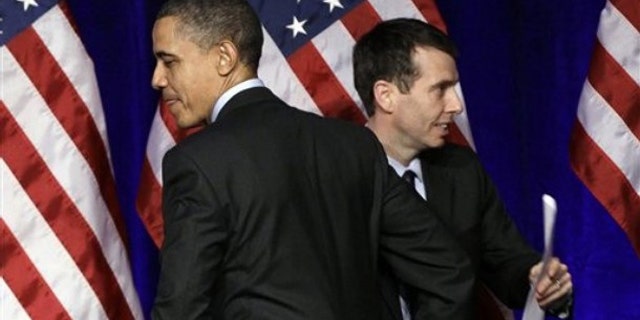 White House senior adviser David Plouffe said Sunday that President Obama plans to outline a new proposal for bringing down the federal deficit this week.
The announcement comes shortly after the White House reached a deal with Congress to fund the government for the rest of the fiscal year, and ahead of two other spending battles. Republicans are pushing for trillions in additional spending cuts over the next decade as part of their 2012 budget proposal and are threatening to torpedo a vote to raise the debt ceiling unless their spending-cut demands are met.
Plouffe, who served as Obama's campaign manager in 2008, told "Fox News Sunday" that Obama wants to take a "balanced approach" to these issues and will lay out his proposal this week. The Obama plan, a follow-up to an earlier White House budget outline, would effectively serve as a counterproposal to the 10-year plan unveiled last week by Rep. Paul Ryan, R-Wis. -- a plan that aims to reduce the deficit by $4.4 trillion in that period through spending cuts and entitlement reforms.
"We have to use a scalpel, not a machete," Plouffe cautioned, while vowing to look at "all corners of government" for savings. "We're going to have a big debate."
Plouffe said the president's plan would address Medicare and Medicaid, though he said Obama would downplay Social Security as a minor contributor to the country's short-term deficits. He said the president would continue to push for rolling back the Bush tax cuts for wealthy Americans.
"His budget for this year says for upper-income Americans, he does believe that they need to contribute to the deficit reduction in this country," he said.
The White House said in a Twitter post that the president would deliver his opening speech on the plan Wednesday.
Plouffe, in the interview, criticized Ryan's plan for making cuts to education and energy investment while giving tax breaks for the wealthy. But Plouffe made clear that the White House is outlining its new deficit reduction plan with an eye toward the upcoming debt ceiling vote.
"We're not going to default on the debt limit. We can't do that," Plouffe said, warning that such a move would hurt job creation and lead to increased interest rates. He said the White House wants to make clear that deficit reduction is possible, suggesting lawmakers on both sides of the aisle should back an increase in the debt ceiling while working toward long-term deficit reduction.
"We don't disagree that we cannot continue on this fiscal path," he said. Plouffe said that, as the latest budget deal proves, "compromise is not a dirty word."
But House Republican Leader Eric Cantor, R-Va., questioned whether Obama had found religion on spending cuts. Though Republicans and Democrats just reached a deal to cut $38.5 billion out of the budget for the rest of the current fiscal year, Cantor said the White House wasn't exactly cooperative.
"We've had to bring this president kicking and screaming to the table to cut spending," Cantor told "Fox News Sunday. "It's really hard to believe what this White House and what this president is saying."
He said Republicans will still need to see genuine spending cuts and entitlement reforms to go along with an increase in the $14.3 trillion debt ceiling.
Earlier in the year, Obama proposed a 10-year budget plan that forecast $1.1 trillion in deficit reduction. But Republicans derided the proposal, noting that the president was looking to freeze discretionary spending at already-high levels and that the national debt would continue to soar under his plan.
Sen. Jeff Sessions, R-Ala., top Republican on the Senate Budget Committee, said Sunday that he hopes the next proposal will be "sincere."
"I think he needs to do more than just give a speech," he told Fox News. "I think he needs to submit a new budget."
Cantor said Sunday that the weekend's budget deal was "only the beginning" in the battle to control spending.
"We have a fiscal train wreck before us," he said. "This is the first bite of the apple."