White House eyes executive action for possible corporate tax hikes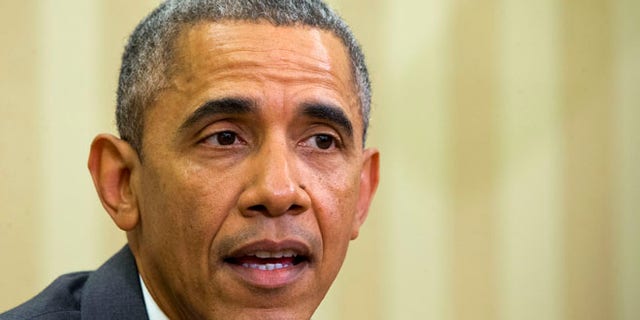 NEWYou can now listen to Fox News articles!
The White House may be inching closer to the idea of raising taxes by executive action – the same path President Obama took to push through his controversial immigration actions.
Press Secretary John Earnest told reporters on Monday that Obama was "very interested," when asked about the prospect of changing the tax code via executive action.
It's an option that Sen. Bernie Sanders, I-Vt., suggested in a letter to the White House on Friday. In it, Sanders called on the Obama administration to curb six specific tax breaks through executive action, which he estimates could raise $100 billion over the next decade.
"If Congress fails to address these problems, the administration should act on its own to close, at a minimum [those tax breaks]," Sanders said.
Three of the tax breaks were created through administrative actions or regulations which Sanders argues would allow Obama to reverse them through executive powers.
The other three, Sanders said, could be closed through regulatory powers delegated to the Treasury Department. Among them are equity stripping and earnings stripping.
Earnings stripping happens when a U.S. company buys a foreign company, relocates overseas and then deducts interest payments on large debts borrowed by the foreign subsidiary.
"The president certainly has not indicated any reticence in using his executive authority to try and advance an agenda that benefits middle class Americans," Earnest said in response to a question about Sanders' request.
"Now I don't want to leave you with the impression that there is some imminent announcement, there is not, at least that I know of," Earnest continued. "But the president has asked his team to examine the array of executive authorities that are available to him to try to make progress on his goals. So I am not in a position to talk in any detail at this point, but the president is very interested in this avenue generally."
Sen. Cory Gardner, R-Colo., on Tuesday urged Obama not to heed these calls.
"I worry that unilateral action, publicly justified by your spokesperson as a response to an obstinate Congress and dependent upon an improper expansion of executive power, is becoming standard practice under this Administration," he wrote in a letter to the president. "... Just as troubling are recent reports that your Administration is exploring ways in which it can implement new tax revenues without the support of either house of Congress."