When Democrats Say 'Jobs,' They Really Mean 'Tax,' Republicans Say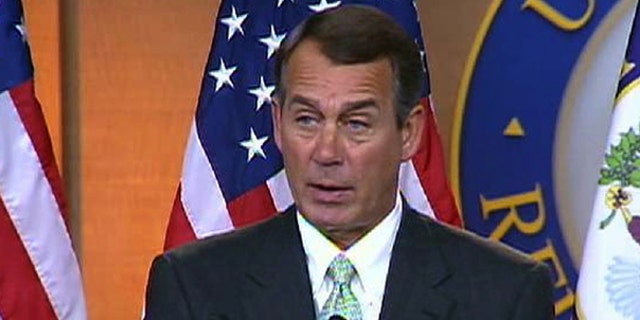 As Democrats from the White House and Congress chanted the mantra, "Jobs, Jobs, Jobs!" leading up to Friday's unemployment report, Republicans countered that their ideas amounted to nothing more than "Tax, Tax, Tax!"
"When you look at the tax increases they're talking about on all fronts, this is money that could be invested in our businesses but won't be because they'll have to pay it to Washington," House Minority Leader John Boehner, R-Ohio, said Friday.
President Obama is considering announcing in a speech Tuesday new incentives, either through the tax code or some other means, for small businesses that hire new workers and more infrastructure spending, a senior administration official told Fox News.
The official spoke on condition of anonymity because the package and Obama's speech are still being crafted and could change before Tuesday.
Congressional Democrats have been floating those ideas along with a public jobs program, tax credits for employers, and more financial aid to states.
The president is open to a federal infusion of money to cash-strapped states and local governments, considered among the quickest and most effective --- and expensive -- ways to stem layoffs.
In addition to that, labor unions and liberal think tanks like the Economic Policy Institute are pushing bold proposals to spend hundreds of billions of dollars on job creation programs.
The EPI''s plan, which it says would create at least 4.6 million jobs in one year, proposes paying for it with a financial transactions tax that would levy a sales tax on the transfer of ownership of financial assets, such as stocks.
But Republicans say most of those ideas will only expand the government, leading to higher taxes, as the private sector keeps shrinking.
"Look, there is only one real time-tested, sure-fire way to create jobs, particularly in a recession," conservative radio host Monica Crowley told Fox News. "That is to restrain government, which is the exact opposite of what the Democrats have been doing, and to lower the tax burden on individuals and small businesses and perhaps even lower the corporate tax rate."
The push for a jobs bill comes as a new government report showed that the unemployment rate dropped to 10 percent after employers shed 11,000 jobs in November, the fewest since the beginning of the recession in December 2007.
But Democrats are still looking for ways to give the economy a sustaining jolt.
On Thursday, President Obama hosted a jobs summit at the White House to collect ideas for job creation from scores of corporate executives, small business owners and union leaders.
House Democrats are eyeing up to $70 billion in unused borrowing authority from last year's $700 billion Wall Street bailout to pay for a jobs-related legislation.
And House Speaker Nancy Pelosi, D-Calif., said Congress will extend several items in February's $787 billion economic stimulus measure. The speaker wants more money for roads and bridges and to save the jobs of firefighters, teachers and other public employees. She also promised help for small businesses reeling from a credit crunch.
White House spokesman Robert Gibbs said Friday it's possible that last year's Troubled Assets Relief Program money may be used to finance a new jobs bill.
But the move is largely cosmetic, since tapping the bailout money would require issuing billions of dollars in new federal debt. The White House had hoped to lower deficit projections by not using the full $700 billion in TARP authority approved during last year's economic meltdown.
Boehner says the money should be used to the lower the deficit, which hit an all time high of $1.42 trillion in September, and the $12 trillion national debt.
Until President Obama changes his policies, Boehner said, unemployment is likely to remain high.
"The first thing that has to happen is that the job-killing agenda that the president supports that's moving through the Congress has to be stopped," he said, citing climate change legislation and the health care reform bill that he says will increase taxes and regulation. "It scares employers to no end."
Boehner said Friday that the drop in unemployment is "encouraging," but he added that a jobless recovery and double digit unemployment are not what was promised to the American people.
"So anyone who views this as cause for celebration is really out of touch with the American people," he said.
Pelosi said the jobs measure would come on top of a "safety net" initiative that would again extend unemployment payments for those whose benefits have run out and renew a program that offers the jobless a 65 percent subsidy for health insurance premiums under the COBRA program. The safety net measure, while costly, is expected to pass later this month as part of an unrelated spending bill, but the jobs legislation is likely to have to wait until next year.
One new idea Democrats and the White House are looking at is a program to give people cash incentives to retrofit their homes with energy-saving materials along the lines of the Cash for Clunkers program that boosted car sales over the summer.
Dropping in on a session called "Innovative Agenda and Green Jobs of the Future," Obama said, "Not to tip our hand too much, but one of the things I would be surprised if we don't end up moving forward on is an aggressive agenda for energy efficiency and weatherization. Because that is an area where we can get it up and running relatively quickly. You don't need new technologies."
The president cited the success of Cash for Clunkers, noting that car companies carried much of the marketing responsibilities that helped make the effort so popular. Home improvement companies like Home Depot would be key as partners in any future jobs program focusing on energy efficiencies, Obama told company chairman Frank Blake.
The president's critics, though, gave no ground. As Obama prepared to visit Allentown, Pa., former GOP House Speaker Newt Gingrich's policy organization placed an ad in the local newspaper asking: "Mr. President, Will you listen to America's job creators?"
The group, American Solutions, urged the president to cut the estate tax, reduce federal spending, give small businesses incentives to grow and abolish taxes on investment income.
Fox News' Mike Emanuel and The Associated Press contributed to this report.