What is a caucus and how does it work?
Iowa's Democratic and Republican caucuses are the most hyped presidential contests in the country but also among the most confusing.
They essentially function like traditional party primaries because residents cast ballots, and the candidate with the most ballots wins.
However, residents simply don't walk into a polling site to cast their ballot, then exit.
Caucus night is more time-consuming because it includes discussing candidates, picking convention delegates and dealing with state party business.
And the parties, which run the caucuses, have uniquely different processes amid some similarities.
The caucuses have been the first-in-the-nation balloting since the 1970s.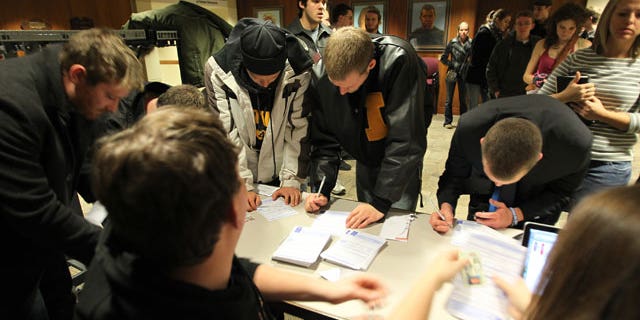 Caucus night 2016 is on Feb. 1. And the events will take place in 1,744 precincts across the state -- including churches, libraries and other smaller venues, starting at about 7 p.m. local time.
At the Republican caucuses, unlike a GOP primary, candidate supporters are allowed to campaign at Republican caucus sites and make a quick speech before the paper balloting.
Iowa's Democratic caucus nights also take care of delegate assignments and state-level politics but are more complicated and dramatic.
After arriving at a Democratic caucus site, participants essentially divide into groups based on their preferred candidate.
Groups that don't have enough members to make their candidate "viable" are disbanded. And the members then join another candidate group, at the persuasion of others, until groups have sufficient members to make a candidate viable enough to get delegates.
The top finishers often continue with their campaigns deep into the election cycle while those who finish at or near the bottomsometimes drop out soon, though that's not always the case.
In 2008, then-Illinois Sen. Barack Obama won the Iowa Democratic caucus, held in early January, with a decisive 37 percent of the ballot, and eventually took the White House.
Former Arkansas Gov. Mike Huckabee won that year's Republican caucus. However, he conceded three months later to eventual nominee Arizona Sen. John McCain, who finished third in the Iowa balloting.
What's new in 2016 is that Republicans have ended the so-called Iowa or Ames Straw Poll, an informal balloting event held roughly six months before the caucuses, following complaints that it was a bad indicator of the most electable candidates.
In addition, Iowa Democrats will have two additional ways to participate: satellite caucuses for party members who, for example, might have to work that night or are confined to a nursing home.
And active-duty members of the U.S. military or Iowa National Guard serving out of state can participate via a "TeleCaucus," according to the Iowa Democratic Party.