West Virginia mayor under fire, official removed after racist Michelle Obama post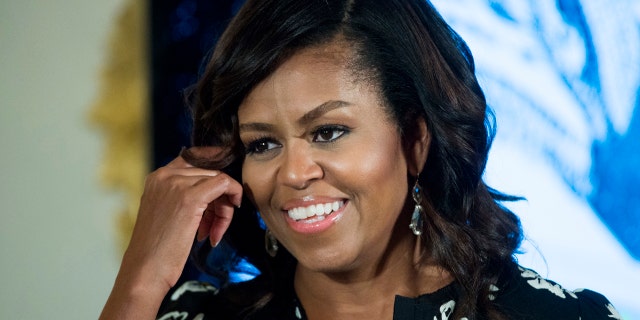 The director of a West Virginia development group lost her job and a mayor was facing heavy scrutiny after a racist post about first lady Michelle Obama caused backlash.
Clay County Development Corp. director Pamela Ramsey Taylor made the post following Donald Trump's election win, saying: "It will be refreshing to have a classy, beautiful, dignified First Lady in the White House. I'm tired of seeing a Ape in heels."
OKLAHOMA HS TEACHER TELLS CLASS: 'TO BE WHITE IS TO BE RACIST'
Clay Mayor Beverly Whaling responded: "Just made my day Pam."
According to the Charleston Gazette-Mail, Taylor had been removed from her position.
The Facebook pages of both women appeared to be deactivated Monday. An online petition seeks to remove Whaling and Taylor from their positions.
GERMANY: 3 HURT IN APPARENT RACIST ATTACK AT HOME
The nonprofit development group provides services to elderly and low-income residents in Clay County. It is funded through state and federal grants and local fees. It is not affiliated with the town of Clay
Owens Brown, director of the National Association for the Advancement of Colored People's West Virginia chapter, called for the removal of both women.
"I feel so it's unfortunate that people still have these racist undertones," Brown said. "Unfortunately, this is a reality that we are dealing with in America today. There's no place for these types of attitudes in our state."
The paper reported that state Democratic Party Chairwoman Belinda Biafore offered an apology to the first family.
"On behalf of my fellow Mountaineers I would like extend my sincerest apologies to first lady Michelle Obama," Biafore said in an emailed statement to the Gazette-Mail. "West Virginia truly is better than this. These radical, hateful, and racist ideals are exactly what we at the West Virginia Democratic Party will continue to fight against. These words and actions do not represent West Virginia values.
"We will continue to fight for a West Virginia that is inclusive, not divisive and a home for all to feel safe, welcome, and protected. In a time when we are at a crossroads and many fear the future we must stand together against hate of all forms."
African-Americans make up about 4 percent of West Virginia's 1.8 million residents, according to the U.S. Census.
About 77 percent of Clay County residents supported Trump in the Nov. 8 election. In 2012, President Barack Obama received 31 percent of the county vote when Republican Mitt Romney easily carried the state.
The town council has a previously scheduled meeting Tuesday.
Last week in Kentucky, Republican Dan Johnson defeated incumbent Democrat Linda Belcher in Bullitt County despite a series of Facebook posts that depicted Barack Obama and his wife as monkeys. Republican officials, including likely new House Speaker Jeff Hoover, had called on Johnson to drop out of the race. But Hoover declared last week that Johnson would be "welcome in our caucus."
The Associated Press contributed to this report.