Weiner's Fifth Sexting Partner Revealed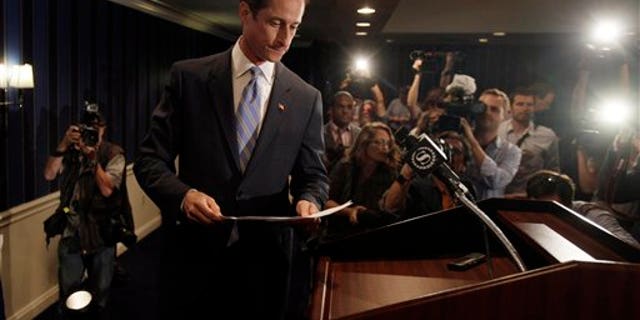 NEWYou can now listen to Fox News articles!
The fifth woman in the Weinergate scandal has been identified as Traci Nobles, a Pilates and Zumba instructor who repeatedly referred to the Rep. Anthony Weiner's genitalia in their online chats, the New York Post reported Friday.
"Weiner! Way to stand your ground sexy. Keep it up like I know you can!" Nobles wrote in one message on the New York congressman's Facebook page, the newspaper reported.
"Heart you, heart your passion, and as always, heart your balls!"
Weiner confessed Monday to sending lewd photos and suggestive messages through social media sites to six women over a three-year period. The confession came after Weiner spent a week vigorously lying about accidentally sending a photo of his bulging underwear to all of his Twitter followers that was intended to go only to Gennette Cordova, a 21-year-old college student in Seattle. Weiner had claimed his account was hacked and that he was likely the victim of a prank.
The other women who have come forward are Meagan Broussard, a 26-year-old single mother, Lisa Weiss, a 40-year-old Las Vegas blackjack dealer, and porn star Ginger Lee.
Nobles, a 34-year-old cheerleading coach and gym coach in Athens, Ga., came forward reluctantly after a roommate sent the Las Vegas Sun a screenshot of a private conversation she had with Weiner.
"I really regret that this was sent to you," Nobles told the Sun. "She thought someone should know."
Click here to read the Las Vegas Sun story.
Click here to read the New York Post story.