Watchdogs Cry Foul Over Thousands of Earmarks in Spending Bill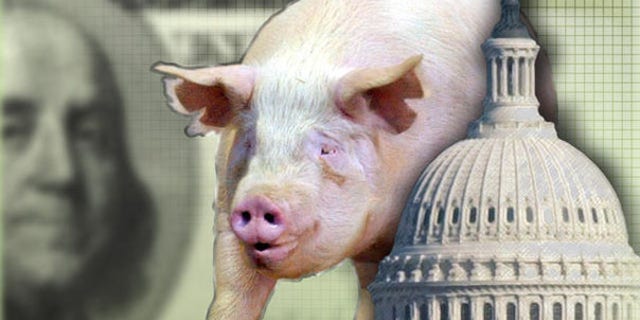 Republicans and tax watchdog groups are railing against the thousands of earmarks included in the omnibus spending bill that the House passed Thursday and is awaiting a vote in the Senate.
The $1.1 trillion bill includes $447 billion in operating budgets for 10 Cabinet departments. Mixed in are more than 5,000 earmarks totaling $3.9 billion, according to watchdog Taxpayers for Common Sense.
Pork-watchers are only just beginning to sort through the earmarks, which typically are goodies set aside for the districts of members of Congress, as the bill tracks toward a final vote. So far, they've uncovered gems ranging from $700,000 for a shrimp fishing project in Maryland to $30,000 for the Woodstock Film Festival Youth Initiative to $200,000 for a visitor's center in a Texas town with a population of about 8,000.
"Let's stop the madness," House Republican Leader John Boehner said, before the bill passed without any GOP support. Twenty-eight House Democrats also opposed it.
House Minority Whip Eric Cantor, R-Va., wrote to President Obama urging him to veto the bill, and pledging that Republicans would stand by him if he did.
Obama in March waved off controversy over a $410 billion spending bill that also was riddled with earmarks, arguing that it represented "last year's business." This time around, Boehner said, the president needs to crack down on the pork under his watch.
Republicans, though, have hardly shied away from the earmarks. Sen. Thad Cochran, R-Miss., is pushing $200,000 for the Washington National Opera. Sen. Judd Gregg, a fiscal hawk, is behind a $1 million earmark for renovation at the Portsmouth Music Hall.
Taxpayers for Common Sense reports a total of 5,224 earmarks in the 2010 spending bill, which also includes funding for Medicare and Medicaid. Groups like Citizens Against Government Waste, as well as Sen. John McCain's staff, have drawn attention to dozens of items they consider questionable. Here's just a sampling:
-- $150,000 for educational programs and exhibitions at the National Building Museum.
-- $400,000 for renovation of the Brooklyn Botanical Garden.
-- $150,000 for exhibits at the Theodore Roosevelt Inaugural Site Foundation in Buffalo, N.Y.
-- $500,000 for Mississippi River exhibits at the National Mississippi River Museum and Aquarium in Dubuque, Iowa.
-- $200,000 for the Washington National Opera.
-- $30,000 for the Woodstock Film Festival Youth Initiative.
-- $2.7 million for the University of Nebraska Medical Center, to support surgical operations in space.
-- $200,000 for a visitor's center in Bastrop, Texas.
-- $700,000 for a project called, "Shrimp Industry Fishing Effort Research Continuation," at the National Marine Fisheries Service in Silver Spring, Md.
-- $292,200 for the elimination of blight in Scranton, Pa.
-- $750,000 for exhibits at the World Food Prize Hall of Laureates in Iowa.
-- $1.6 million for a tram between the Marshall Flight Center and Huntsville Botanical Garden in Alabama.
-- $655,000 for equipment at the Institute for Irritable Bowel Syndrome Research in Los Angeles.
Republicans have been on a tear over earmarks and excessive spending over the past week, particularly as Congress prepares to take up a new jobs-creation package and raise the debt ceiling by nearly $2 trillion.
Rep. Mark Kirk, R-Ill., and Rep. Tom Price, R-Ga., on Thursday named what they called the 11 most wasteful spending projects considered by Congress so far this year.
On Wednesday, four Republican lawmakers demanded an audit of the $787 billion stimulus program following reports of exaggerated or inaccurate accounts of the number of jobs created.
McCain, R-Ariz., and Sen. Tom Coburn, R-Okla., on Tuesday released a report on 100 "questionable" stimulus projects worth nearly $7 billion.