Voters Ignore Ethics Charges, Give Rangel Big Win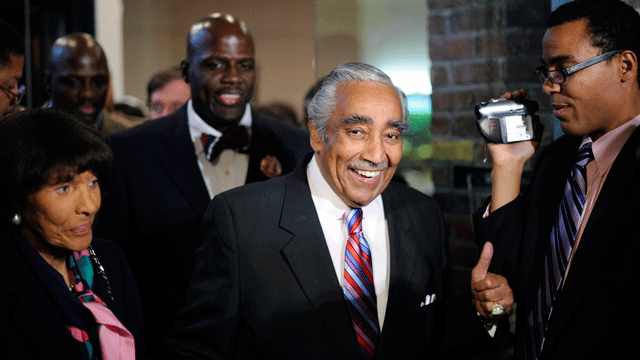 Embattled Rep. Charlie Rangel found out Tuesday night that Harlem voters still had his back as he crushed five opponents, including Adam Clayton Powell IV, a New York assemblyman and son of the legendary New York figure Rangel defeated in 1970 for his House seat.
With all precincts reporting, Rangel captured 51 percent of the vote to 23 percent for Powell, his closet challenger.
Rangel is all but guaranteed to keep the seat in the heavily Democratic district.
The victory comes as the 80-year-old fights ethics charges. He is likely to face trial in the House in November. He has urged his constituents to stand with him.
The 13 ethics violations Rangel is charged with are mostly related to his personal finances and has caused some politicians, including President Obama, to suggest it is time for Rangel to retire. Obama said Rangel should "end his career with dignity."
In other races in the state, political novice and Tea Party ally Carl Paladino beat the Republican designee in the race for the party's nomination for New York governor.
Paladino rode a wave of voter anger on his way to defeating former Congressman Rick Lazio. It's another blow to the Republicans in a heavily Democratic state.
Paladino, a millionaire Buffalo developer, will now take on the popular and well-financed Democratic attorney general, Andrew Cuomo, in November.
Paladino lost to Lazio at the state Republican Party convention but then petitioned his way to the primary by securing 30,000 Republican signatures statewide.
Sen. Kirsten Gillibrand easily won a Democratic primary challenge against Gail Goode, a little-known lawyer for New York City.
Goode had little money, no big-name party support and was not considered a threat to Gillibrand, who was appointed last year to fill the unexpired term of Hillary Rodham Clinton.
Goode said she ran to give New York voters a choice.
Three Republicans ran in a primary to take on Gillibrand: Joe DioGuardi, a former congressman from Westchester County, former Long Island local lawmaker Bruce Blakeman, and David Malpass, a former Bear Stearns chief economist.
Democratic New York Rep. Carolyn Maloney beat back a feisty and well-financed primary challenge from hedge fund lawyer Reshma Saujani, who depicted Maloney as ineffective and out of touch with her constituents. The district covers Manhattan's east side and part of Queens.
Maloney is all but guaranteed re-election in November in this heavily Democratic district.
Maloney has never had much of a challenge since winning her first House term in 1994, but had angered some voters for advocating tough reform of the financial markets. Saujani raised more than $1.3 million, much of it from Wall Street.
Saujani is of Indian heritage and made a strong play for South Asian voters.
Maloney fought hard, enlisting the help of top Democrats including former President Bill Clinton.
The Associated Press contributed to this report.