Virginia moves to allow increased use of electric chair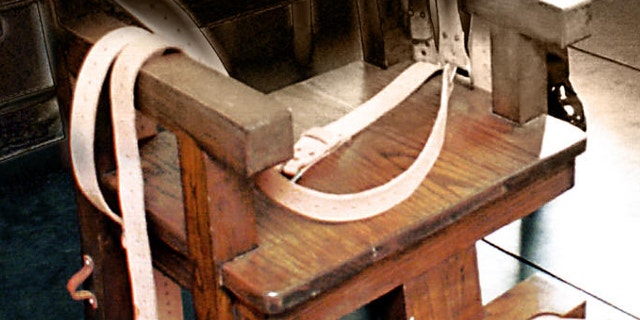 NEWYou can now listen to Fox News articles!
Virginia lawmakers, facing a shortage of lethal drugs used to administer the death penalty, have advanced a proposal aimed at making the electric chair its default method for executions.
The House of Delegates passed a bill Wednesday that would make electrocution the go-to method of death for prisoners on death row if lethal injection is not available, The Washington Post reported.
Only six states, Alabama, Florida, Kentucky, South Carolina, Tennessee and Virginia, still authorize use of the electric chair, according to the Death Penalty Information Center. The six states will electrocute only those inmates who request it, according to The Washington Post.
"It's a barbaric way for the state to execute people," Del. Scott Surovell, a Fairfax County Democrat, told the newspaper after Wednesday's vote. "It's disappointing to me that my colleagues want to take a step backwards."
Use of the electric chair remains rare in Virginia. Since inmates were given the option in 1995, only six of the 85 inmates executed since then have chosen electrocution over lethal injection.
The electric chair was last used in the state in January 2013, when 42-year-old Robert Gleason Jr. chose electrocution over lethal injection. Gleason fought last-minute attempts by former attorneys to stop the execution.
European pharmaceutical companies last year stopped selling the three-drug mix used for injections on ethical grounds, forcing several states, including Virginia, to consider alternative methods to carry out lethal punishment.
Several states, including Ohio, Texas, Georgia and Missouri have turned to an untested combination of chemicals to put death row inmates to death. States are in a bind, however, since they can't switch to other chemicals without triggering legal challenges from defense attorneys.
In Ohio last week, Dennis McGuire, who was sentenced to die for raping and stabbing a pregnant newlywed to death in 1989, took 26 minutes to die after the combination of chemicals began flowing. The 58-year-old's execution was the longest of the 53 carried out in Ohio since capital punishment resumed 15 years ago, according to The Associated Press.
Click here for more from The Washington Post.
The Associated Press contributed to this report.