Victoria Toensing joins husband Joseph diGenova on Trump's legal team in Russia probe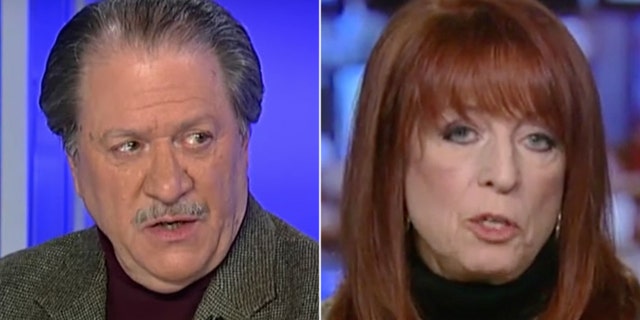 President Trump retained the law firm diGenova & Toensing this week to represent him in Special Counsel Robert Mueller's investigation into Russian meddling and potential collusion with Trump campaign associates in the 2016 presidential election, sources told Fox News on Thursday.
Reports this week suggested Joseph diGenova had joined Trump's outside legal team, alongside Jay Sekulow, but a source confirmed to Fox News that his wife and law partner, Victoria Toensing, also would represent the president.
Toensing served as deputy assistant attorney general in the criminal division of the Justice Department under the Reagan administration, and as an assistant U.S. attorney in Detroit. Toensing was chief counsel for then-Sen. Barry Goldwater, who sat as chairman of the Senate Select Committee on Intelligence.
diGenova and Toensing, together, were appointed by the House of Representatives in 1997 as special counsel to investigate the International Brotherhood of Teamsters. The two also were retained to investigate former New York Gov. Eliot Spitzer in the Democrat's political surveillance controversy, also known as Troopergate.
There have been concerns of a potential conflict of interest with diGenova and Toensing representing the president in Mueller's investigation, after Toensing's representation of former key witnesses in the probe.
Recently, Toensing represented Mark Corallo, an ex-spokesman to former Trump attorney Marc Kasowitz, in his interview with the special counsel's team. Toensing also represented Sam Clovis, a 2016 Trump campaign associate who supervised George Papadopoulos, in Clovis' Mueller interview. Papadopoulos pleaded guilty last year to making false statements to the FBI as part of the special counsel's probe. Toensing also represented Erik Prince, a former informal adviser to Trump, who allegedly attended a meeting in January 2017 with a Russian investor in Seychelles, that Mueller reportedly is investigating.
But Corallo told Fox News on Thursday there was no conflict of interest.
"I signed a waiver acknowledging I see no potential conflicts with their representation of the President," Corallo told Fox News in an email on Thursday, explaining it was a "standard" waiver of "potential conflict."
A source close to diGenova and Toensing told Fox News that Corallo, Clovis and the president signed a waiver.
"The conflict is owned by the client. The conflict privilege is owned by the client," the source told Fox News. "It's the clients who have the privilege to waive. And the president waived it too."
The source told Fox News that when one attorney at a firm is retained, the entire firm is retained, and when one attorney has a conflict, the entire firm as a conflict, pointing to Ted Olson.
"If one lawyer has a conflict, they all do. Ted Olson, who wanted to join the team couldn't—his law firm represents Fusion GPS," the source said.
Olson, a former solicitor general, was invited to join the president's legal team but declined, a source with knowledge of the outreach told Fox News. Olson's firm, Gibson Dunn, represents Fusion GPS—the research firm behind the now-infamous anti-Trump dossier.
The news of Toensing's addition to Trump's team came after the president's lead attorney John Dowd resigned, and Trump "graciously accepted."
Dowd had voiced strong opposition to the president doing an interview with Mueller.
But on Thursday, when Trump was asked if he wanted to testify before the special counsel's team, the president responded, "Yes. I would like to. I would like to."
Fox News' John Roberts contributed to this report.