Veterans group vows to get to the bottom of 'autopen-gate'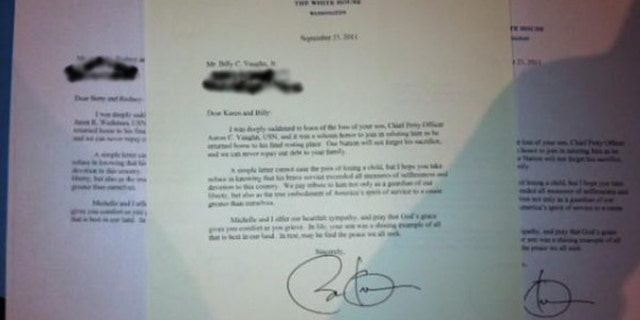 NEWYou can now listen to Fox News articles!
A veterans group is vowing to get a handwriting expert to determine if the letters sent to parents of Navy SEALs killed in Afghanistan were signed by President Obama himself or an electronic autopen that can replicate his signature.
Karen and Billy Vaughn, whose son Aaron Vaughn was one of 17 SEALs and 13 other Americans killed in a helicopter crash Aug. 6, 2011, raised the issue at a Tea Party rally in Tampa during the Republican National Convention that they had received a form letter. Karen Vaughn said the letter, dated Sept. 23, 2011, was identical with those sent to other families of SEALs who died in the crash. It was later determined the signatures were mechanical.
[pullquote]
But the White House insists every letter sent out to the families of fallen service members is signed by the hand of the Commander-in-Chief.
"The President signs every such letter personally," White House Press Secretary Jay Carney said Friday.
An autopen is a machine that can be programmed to duplicate an individual's John Hancock. Seen as more personal than a stamp but less than a hand-signature, the device was first used in the White House by President Harry Truman. President Obama made history when he became the first chief executive to use the device to sign a bill, authorizing its use to extend key provisions of the Patriot Act last year while he was in France.
Aaron Vaughn was part of a team that was sent to a mountainous area in the Wardak Providence in August of last year to assist an Army Ranger unit that was in pursuit of a senior Taliban commander and his unit when their Chinook helicopter was shot down. Nearly 40 people perished, marking it one of the deadliest single incident losses in the decade-long war in Afghanistan.
Veterans for a Strong America, a nonpartisan military watchdog group pledged to get to the bottom of the matter.
"After reviewing letters from several families of fallen Navy SEALs it appears that the letters may have been auto-penned, so we are going to have nationally recognized handwriting experts review the letters given the strong circumstantial evidence which exists in this case," Joel Arends, chairman of Veterans for a Strong America said in a statement to FoxNews.com.
Arends also complained that the mailings are form letters, with only the names of the recipients changed. The White House conceded that point, but noted sending form letters has long been common practice for presidents, especially when war casualties mount.
In 2003, Newsweek reported that condolence letters from President George W. Bush were also form letters, "With the exception of the salutation and a reference to the fallen soldier in the text."
However, four years later, the Washington Times ran a story claiming that Bush had sent personal letters to more than 4,000 families of soldiers killed in action and 9/11 victims during his presidency which was largely unnoticed by the public.
Former Defense Secretary Donald Rumsfeld was embroiled in an auto-pen controversy of his own when criticism was made against him for not personally signing each letter.
He was forced to release a statement admitting that he used the auto-pen on some letters, but only, "in the interest of ensuring expeditious contact with grieving family members," before vowing that from that point forward he would personally sign each one."