Veterans Affairs Department fires Phoenix hospital director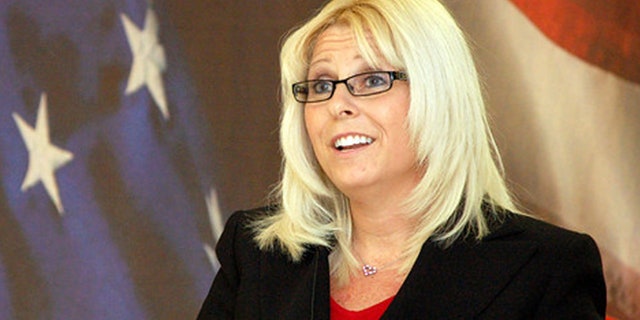 The head of the troubled Phoenix veterans' hospital was fired Monday as the Veterans Affairs Department continued its crackdown on wrongdoing in the wake of a nationwide scandal over long wait times for veterans seeking medical care and falsified records covering up the delays.
Sharon Helman, director of the Phoenix VA Health Care System, was ousted nearly seven months after she and two high-ranking officials were placed on administrative leave amid an investigation into allegations that 40 veterans died while awaiting treatment at the hospital. Helman had led the giant Phoenix facility, which treats more than 80,000 veterans a year, since February 2012.
The Phoenix hospital was at the center of the wait-time scandal, which led to the ouster of former VA Secretary Eric Shinseki and a new, $16 billion law overhauling the labyrinthine veterans' health care system.
VA Secretary Robert McDonald said Helman's dismissal underscores the agency's commitment to hold leaders accountable and ensure that veterans have access to high-quality, timely care.
An investigation by the VA's office of inspector general found that workers at the Phoenix VA hospital falsified waiting lists while their supervisors looked the other way or even directed it, resulting in chronic delays for veterans seeking care. At least 40 patients died while awaiting appointments in Phoenix, the report said, but officials could not "conclusively assert" that delays in care caused the deaths.
About 1,700 veterans in need of care were "at risk of being lost or forgotten" after being kept off the official waiting list at the troubled Phoenix hospital, the IG's office said.
"Lack of oversight and misconduct by VA leaders runs counter to our mission of serving veterans, and VA will not tolerate it," McDonald said in a statement late Monday. "We depend on VA employees and leaders to put the needs of veterans first."
Helman is the fifth senior executive fired or forced to resign in recent weeks in response to the wait-time scandal.
Helman did not immediately respond to telephone messages Monday from The Associated Press.
Helman, who has worked at the VA since 1990, has been on paid leave since May 1, shortly after a former clinic director at the Phoenix site alleged that up to 40 patients may have died because of delays in care and that the hospital kept a secret list of patients waiting for appointments to hide the treatment delays.
Dr. Samuel Foote, who had worked for the Phoenix VA for more than 20 years before retiring last December, brought the allegations to light and says supervisors ignored his complaints for months.
In an interview with the AP in May, hours before being placed on administrative leave, Helman denied any knowledge of a secret list and said she had found no evidence of patient deaths due to delayed care.
Helman told the AP that she takes her job seriously and was personally offended by the claims of misconduct.
"I have given over 20 years of service to this mission. I am proud to lead this hospital," Helman said. "I have never wavered from the ethical standards that I have held my entire career, and I will continue to give these veterans what they deserve, which is the best health care."