Veteran Disability Compensation Program Lags in Aiding Wounded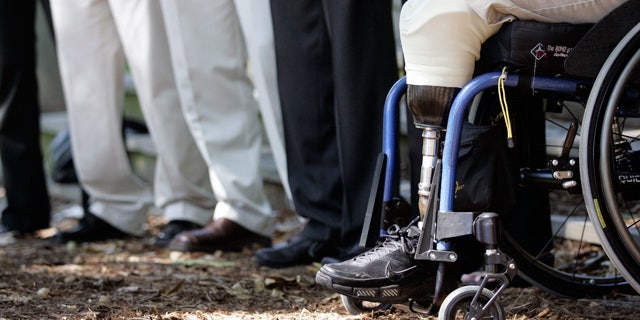 NEWYou can now listen to Fox News articles!
WASHINGTON -- A new system to help wounded troops get disability compensation more efficiently has instead kept them in the military longer than intended, preventing some from taking job offers and starting college as they wait on average more than a year for a claim to be processed, Congress was told Wednesday.
William Lynn, deputy defense secretary, and W. Scott Gould, deputy secretary at the Veterans Affairs Department, told the Senate Veterans' Committee that the new program is significantly better than the old system, which they say took on average 540 days to complete.
But they acknowledged improvements are needed. Lynn said it could take a year or two before the average processing time goal -- 300 days -- is met.
"It has not reached the goal we've set of 300 days so we have further distance to go, but we don't plan to stop there," Lynn said.
The system is called the Integrated Disability Evaluation System. It started as a pilot in 2007, but has since been introduced at nearly 80 military installations. By this fall, about 140 installations are expected to participate, completing the rollout. It works by consolidating the required medical exams and ratings, so that a service member doesn't have to go through the disability claims process first in the military and then through the VA.
Congress pushed the system following the 2007 scandal over poor living conditions at Walter Reed Army Medical Center, which highlighted the complexities of the disabilities claims system. Some wounded veterans were left in dire financial conditions as they waited for compensation from the VA. And, there were frequently inconsistencies in how troops' injuries were evaluated in the two systems.
The new program's goal is to get war-wounded troops and others with disabilities through the system in a little more than nine months on average. But March figures show it only met that goal about 15 percent of the time for active-duty troops, 28 percent for those in the Reserves and 40 percent for the Guard, according to documents obtained by the Senate panel and shared with The Associated Press. On average, it is taking nearly 400 days on average for a service member to go through the system.
More than 5,800 troops have successfully completed the new system, while more than 13,700 are currently using it.
Sen. Patty Murray, D-Wash., chairman of the committee, said she was concerned that troops lingering in the system are falling through the cracks and aren't able to quickly move on. She noted that 13 troops going through the system have committed suicide or died from drug overdoses.
Sen. Richard Burr, the committee's ranking Republican, said he couldn't help but wonder if the old bureaucratic system has just been replaced with another.
A staffing shortage appears to be one of the challenges with the new system. The goal is for each case manager to have 20 troops they are managing, but the ratio at some bases is one case manager for every 130 service member, the documents show.
Gould said for some service members, remaining in the military longer with access to many of its resources, isn't necessarily a bad thing. But, he said it was important for troops to be discharged at a time that works best for them. Despite improvements still needed in the new system, he said it is absolutely better "than the one we're leaving behind."