VA acting chief says 18 veterans left off waiting list have died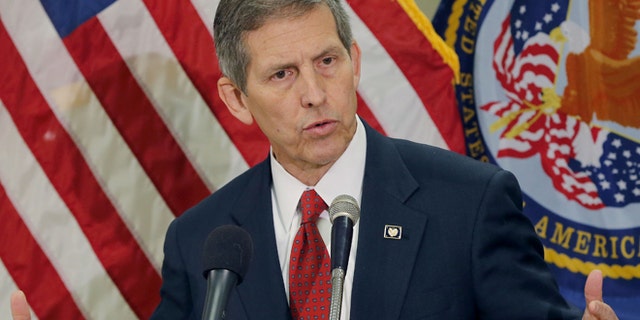 NEWYou can now listen to Fox News articles!
In the latest development in the mounting scandal surrounding the Department for Veterans Affairs, the acting head of the agency says that 18 of the 1,700 veterans kept off an official electronic appointment list have since died.
Acting VA Secretary Sloan Gibson said in a visit to Phoenix Thursday that he would ask the inspector general to see if there is any indication those deaths were related to long wait times. If so, they would reach out to those veterans' families.
"The President expects us to move out, and that is what we're going to do, and whether I am here for a week, or a month, or two years," Gibson said Thursday, according to MyFoxPhoenix.com. "Every day, every minute, that I am here we are going to make dust."
Gibson's remarks were the latest related to the scandal over long patient waits for care and falsified records covering up the delays at VA hospitals and clinics nationwide.
Gibson has already placed mobile care units in Phoenix and more are on the way, according to MyFoxPhoenix.com.
Gibson's announcement came as senior senators reached agreement Thursday on the framework for a bipartisan bill making it easier for veterans to get health care outside VA hospitals and clinics.
The 18 veterans who died were among 1,700 veterans identified in a report last week by the VA's inspector general as being "at risk of being lost or forgotten." The investigation also found broad and deep-seated problems with delays in patient care and manipulation of waiting lists throughout the sprawling VA health care system, which provides medical care to about 9 million veterans and family members.
Richard Griffin, the VA's acting inspector general, told a Senate committee three weeks ago that his investigators had found 17 deaths among veterans awaiting appointments in Phoenix. Griffin said in his report last week the dead veterans' medical records and death certificates as well as autopsy reports would have to be examined before he could say whether any of them were caused by delays in getting appointments.
The bill announced Thursday by Senate Veterans Affairs Committee Chairman Bernie Sanders, I-Vt., and Sen. John McCain, R-Ariz., would allow veterans who wait 30 days or more for VA appointments or who live at least 40 miles from a VA hospital or clinic to use private doctors enrolled as providers for Medicare, military TRICARE or other government health care programs.
It also would let the VA immediately fire as many as 450 senior regional executives and hospital administrators for poor performance. The bill resembles a measure passed last month by the House but includes a 28-day appeal process omitted by the House legislation.
The bill is a response to a building national uproar over veterans' health care since a retired clinic director went public in April with accusations that management at the Phoenix VA had instructed staff to keep a secret waiting list to hide delayed care and that as many as 40 patients may have died while waiting for appointments.
Veterans in Phoenix waited an average 115 days for appointments -- five times longer than the Phoenix VA had reported, Griffin said. Investigators also have found long waiting times and falsified records covering them up at other VA facilities nationwide, Griffin said. His office is investigating more than 40 of the VA's 1,700 health care facilities nationwide, including 150 hospitals and 820 clinics.
"Right now we have a crisis on our hands and it's imperative that we deal with that crisis," said Sanders.
Both Sanders, the only self-identified socialist in Congress, and McCain, the GOP's presidential nominee in 2008, had introduced competing bills earlier this week. They announced their agreement on a compromise after two days of closed-door negotiations.
McCain said the bill was "a way to help to relieve this terrible tragedy that has befallen our nation's veterans."
The bill also authorizes the VA to lease 26 new health facilities in 18 states and spend $500 million to hire more doctors and nurses. Senate leaders said they hoped to bring the legislation to the floor soon but offered no specifics.
Gibson took over the VA temporarily last Friday after former Secretary Eric Shinseki, an ex-Army general, resigned under pressure.
The Associated Press contributed to this report.