US team of military personnel, federal agency experts to reach Nigeria in coming days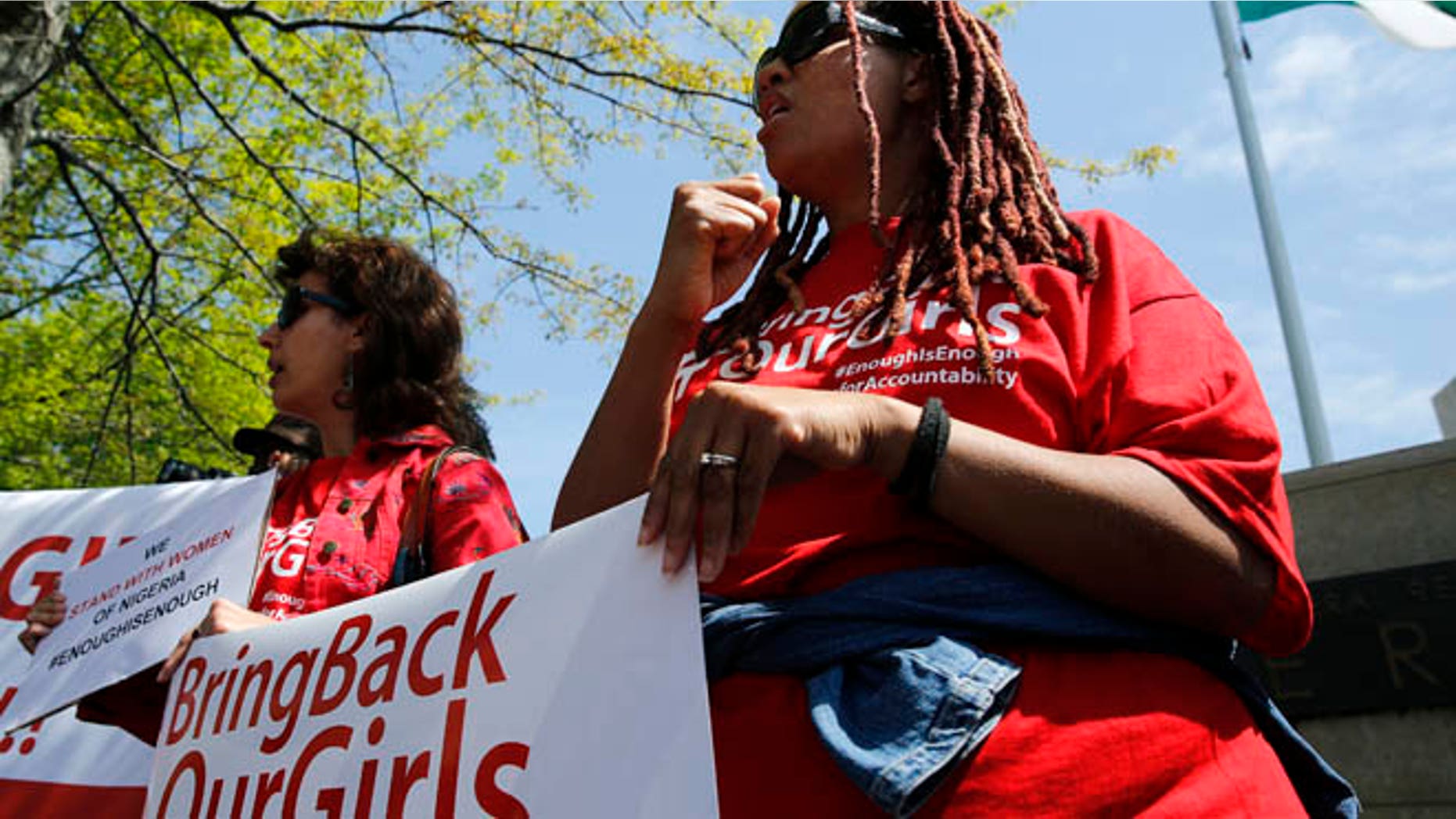 A small team of U.S. military personnel will arrive in Abuja, Nigeria, in the coming days to help find hundreds of schoolgirls kidnapped by Islamic terrorists, the Pentagon said Wednesday.
The team will be composed of roughly 10 uniformed soldiers from AFRICOM headquarters in Stuttgart, Germany. They will be logistics and communications experts who will assess the situation and advise Nigerian officials, Pentagon spokesman Col. Steve Warren said.
Warren also made clear the U.S. military has no plans to carry out a rescue mission.
The team is part of a larger U.S. contingent that includes officials from the FBI and the departments of Defense, Justice and State. The total number of U.S. personnel is not expected to exceed 20 members.
The Boko Haram terror group and its hostages are thought to be hiding in abandoned military bunkers inside the remote Sambisa Forest -- eight times larger than Yellowstone National Park and full of poisonous snakes.
"We're moving swiftly to put in place a team … that can provide military, law enforcement and information-sharing assistance in support of Nigeria's efforts to find and free the girls," said State Department spokeswoman Jen Psaki.
She also described the U.S. contingent as an "interdisciplinary team" that will coordinate with Nigerian authorities.
The forest, a game reserve in the northeastern part of the country, provides Boko Haram leader Abubakar Shekau safe haven from Nigeria's security forces.
He and his army of jihadist fighters have vowed to sell into slavery the roughly 275 kidnapped teenage girls.
The Nigerian government is offering a $300,000 reward for information leading to Shekau's capture. And the United States is offering a reward of up to $7 million for information leading to his location.
Local residents have reportedly pooled money for motorcycles to head into the forest in search of the girls missing since last month's abduction and those who have since been abducted.
At least two girls reportedly have died of snakebites, and roughly 20 others are thought to be ill.
Shekau made his plans clear in a video released Monday in which he gloated about the kidnappings.
"I abducted your girls," he said in the hour-long video that opens with fighters shooting guns into the air and shouting "Allahu akbar" and "By Allah, I will sell them in the marketplace."
Shekau's army is estimated to number from a few hundred to a few thousand fighters.
In recent days, Boko Haram also has raided villages in and around the forest, including a raid Monday night on a village near the border with Chad in which eight more girls were kidnapped.
A source said the hostages are being transported from one base to another, typically during the cover of nightfall, to avoid detection.
Shekau was reportedly Boko Haram's deputy leader until its founder, Mohammed Yusuf, was killed by local authorities in 2009.
In 2012, Shekau was declared a "specially designated global terrorist" for numerous bombings, including the August 2011 attack on the United Nations office complex in Nigeria's capital, Abuj, that killed 23 people and injured dozens more.
On Wednesday, as many as 300 people were killed when extremists attacked the town of Gamboru Ngala on Nigeria's border with Cameroon, according to local reports.
The attack and hundreds of casualties were confirmed by Borno state information commissioner Mohammed Bulama who spoke to The Associated Press by telephone.
Shops and homes were set ablaze and razed in the attack, he said.