US sends warship near Chinese-claimed island in South China Sea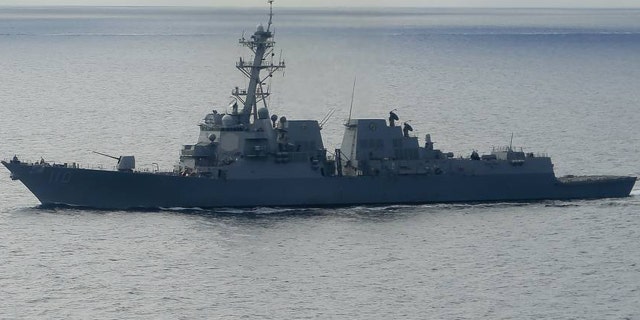 NEWYou can now listen to Fox News articles!
The Pentagon announced Tuesday that it had sent a warship near a disputed reef in the South China Sea, representing a new warning to China over Beijing's territorial claims in the region.
The Wall Street Journal, citing a senior defense official, reported that the USS William P. Lawrence, a guided-missile destroyer, navigated within 12 nautical miles of Fiery Cross reef, part of the Spratly chain of islands. The Defense Department, in a statement quoted by Reuters, said the operation was to "challenge excessive maritime claims of some claimants in the South China Sea".
The official told the Journal that the Lawrence took one pass past Fiery Cross Reef in a routine operation. It was not immediately clear whether Chinese military or civilian officials attempted to make contact with the ship.
There was no immediate comment from Beijing.
Tuesday marked the third time in less than a year the U.S. had conducted a so-called freedom of navigation operation in the South China Sea.
Chinese officials have insisted that they have no plans to militarize the Spratly Islands. China President Xi Jianping made a pledge to that effect when he visited the White House in September.
However, China landed civilian jets on Fiery Cross reef in January to test a new 10,000 foot runway, a move seen as more evidence that Beijing is increasing its military presence in the region.
In February, Adm. Harry Harris, commander of U.S. Pacific Command, told Congress that China was clearly militarizing its South China Sea claims, saying, "You would have to believe in a flat earth to think otherwise."
Though China's claims have drawn the most attention, the Journal reports that Tuesday's operation, known as an "innocent passage" was technically meant to counter ccompeting claims by Vietnam, Taiwan and the Philippines.
In addition to the warship operations, the U.S. Air Force sent A-10 warthog attack planes close to Scarborough Shoal, a move which led Beijing to accuse the U.S. of inflaming tensions in the region.
The Pentagon is concerned about China's recent surveying of Scarborough Shoal, which sits just 150 miles west of the Philippines. That makes it the closest group of contested islands to any US ally.
Adm. John Richardson, chief of naval operations, told a Council on Foreign Relations forum last week that the Navy's freedom of navigation operations — sailing warships close to Chinese man-made islands — are working. Their aim is to advocate for an international set of rules that ensures the free flow of goods and services in one of the world's busiest shipping lanes, he said.
"They don't extend beyond that. There's just a pure advocacy for that system. So we design those very carefully. It's a policy decision that is made, interwoven with those other elements of power. So I think both aircraft, ships are ready to execute those as they fit into the plan," he said.

Fox News' Lucas Tomlinson and The Associated Press contributed to this report.