US reportedly cuts back on drone strikes in Pakistan during Taliban talks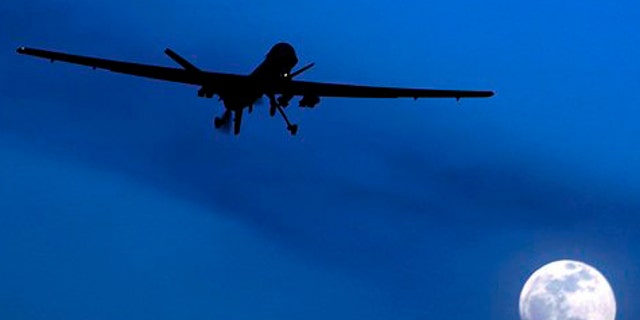 The Obama administration has cut back sharply on drone strikes in Pakistan after the government there asked for restraint as it pursues peace talks with the Pakistani Taliban, the Washington Post reported Tuesday.
"That's what they asked for, and we didn't tell them no," one U.S. official told the newspaper. The report said the administration has indicated it will still carry out strikes against senior Al Qaeda targets targets and move to thwart any immediate threat to Americans.
The American drone program is unpopular in Pakistan because it is perceived as killing innocent civilians, which the U.S. denies. Pakistan's request may help explain an apparent lull in American drone strikes since December, The Post reported.
The Post said a senior administration official denied that any informal agreement had been reached with the Islamabad government, saying that "the issue of whether to negotiate with the Pakistani Taliban is entirely an internal matter for Pakistan."
Both sides had been expected to meet Tuesday in the capital, Islamabad. But the process was marked by confusion from the beginning with government negotiators failing to show up and sparking criticism from those speaking for the militants.
Maulana Samiul Haq, a Pakistani cleric picked by the Taliban to represent them, said his team had waited in vain.
"We waited for the government team today, but they did not come," he told reporters, claiming that authorities were under U.S. pressure to avoid the talks.
A member of the government's team however said his side had been waiting for the Taliban to confirm to them the identities of their negotiating team.
Rahimullah Yousufzai said that now that the government has received such confirmation, they were ready to meet.
"We did not meet with the representatives of the Taliban as we needed some clarity from them," he said, adding: "now we have received that clarification and the meeting will take place in the next two days."
In a statement, a spokesman for the Pakistani Taliban, Shahidullah Shahid, prayed for the success of the talks. "May God help these people in this noble task," he said about Haq and two other members of the Taliban team.
Militants in Pakistan began targeting security forces and civilians in retaliation for Pakistan throwing its weight behind the U.S.-led war in neighboring Afghanistan and for going after militants in the tribal areas.
The violence has put pressure on Sharif to use force against the militants. In an apparent move to avoid any such operation, Pakistani Taliban recently agreed to the peace talks.
The Associated Press contributed to this report.