US companies seek final approval to start slaughtering horses for food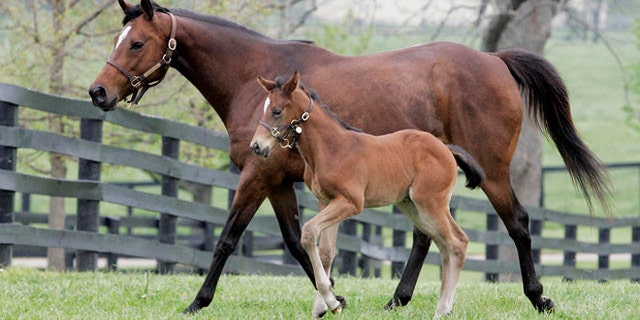 About eight miles outside of Roswell, N.M., a shuttered cattle farm is getting ready to reopen its doors. Only this time, the Valley Meat Co. won't be killing cows. It hopes to be the first U.S. farm to start slaughtering horses for human consumption.
Not far behind could be plants in Missouri, Iowa and Oklahoma.
Across the country, companies are applying for permits with the U.S. Department of Agriculture to kill horses for food – a practice Congress ended in 2007. The measure to stop the slaughters, though, lapsed in 2011 and now companies are clamoring to get back into the game.
"We're getting ready," Valley Meat Co. attorney A. Blair Dunn, told FoxNews.com.
But it hasn't been an easy road, with public opposition still strong to the idea of horse-slaughter resuming in the U.S., though the current plans would be geared toward exporting the meat to other countries.
Dunn says the farm has had multiple break-ins recently, and earlier this week a bomb threat was called in. There have been death threats, too.
"I am surprised it's risen to the level it has," he said.
For its part, the federal government is sending out mixed messages about the future of these projects. The USDA wants the horse-killing ban reinstated, but in the absence of that would be compelled to help the factories become operational.
USDA Secretary Tom Vilsack told reporters Tuesday, "We're very close to getting the work done that's needed to be done to allow them to operate."
[pullquote]
But an official at the USDA indicated Wednesday that these steps could take significantly more time.
"The Food Safety and Inspection Service is currently reviewing (three) applications," the official said. "However, given that the agency last conducted a horse inspection six years ago, FSIS has determined that despite the congressional decision to lift the ban, the agency will require a significant amount of time to update its testing and inspection processes and methods before it is fully able to develop a future inspection regimen."
The official, pressed for clarification given Vilsack's statement the day before, then said that once the companies complete "necessary technical requirements" and the USDA agency finishes inspector training, "the department will legally have no choice but to go forward with inspections."
Vilsack's department is rewriting the rules for horse slaughter because they need to add in findings from a 2007 food safety and animal science report.
The idea of killing horses for food has triggered strong reaction among people on both sides of the issue. Several animal rights organizations have linked legalizing the practice to horrific abuses and animal cruelty that they claim could lead to unsafe meat. Proponents say the animal is consumed in countries all over the world and could be extremely profitable to American companies interested in the industry.
Once operational, Valley Meat expects to process 100 horses a day with a net gain of about $200-$250 per horse, Dunn says.
Since the slaughters stopped in 2007, horses that were being processed on U.S. farms were sent to Mexico or Canada.
Dunn says the company would create 100 jobs in a city of 48,546, according to the latest population estimates. There were eight government job openings on Roswell's official web site Wednesday morning.
A bipartisan group of federal lawmakers including Sens. Lindsay Graham, R-S.C., and Mary Landrieu, D-La., has introduced legislation that would reinstate the ban on killing horses for food. Their legislation would also prohibit U.S. companies, like Valley Meat, from slaughtering animals in the U.S. and then shipping them overseas for consumption.
But it may be too little too late.
States are taking matters into their own hands and the push to pass proposals to allow horses to be slaughtered for human consumption is well under way.
On Monday, an Oklahoma Senate committee unanimously approved a bill that would end that state's five-decade ban on the practice. The Senate Agriculture and Rural Development Committee voted 9-0 in favor of the bill that would allow the export of horse meat for sale to other countries. Killing horses for consumption in the U.S. would still be illegal under the bill.
Rep. Skye McNeil sponsored a similar bill on the House side and says the public needs to abandon its belief that the government is going after a beloved American pet.
"These horses have a value as a life animal," McNeil, the bill's sponsor told FoxNews.com. "They are very well cared for. There's no reason they shouldn't have a value after their usefulness is over."
McNeil says there are more than 150,000 horses being shipped across the border for business.
"Farmers and ranchers in Oklahoma are facing hardships because of the large horse population we have in the state and the difficulty they have in managing that population, especially when horses become old," she said in a statement to FoxNews.com. "As a rural lawmaker, I constantly hear about this difficulty and have witnessed firsthand the types of neglect and abuse problems that have come out of large groups of unwanted horses. So far, the bill has received broad, bipartisan support, because everyone in rural communities is aware of the problem."
McNeil's explanation doesn't jibe with Cynthia Armstrong, the Oklahoma State Director of the Humane Society of the United States.
Armstrong says that more than 90 percent of the horses put up for slaughter are healthy. She also says the way horses are killed – the captive bolt method - cause them unnecessary harm and could taint the meat that would be later ingested by humans. Traits in horses, such as a "fight or flight" response, make accurate stunning very difficult, she said.
"As a result, horse often endure repeated blows by the captive bolt and sometimes remain conscious during dismemberment," she said.
Like Armstrong, several animal rights groups are trying to stop states from reinstating the practice. They argue that horses aren't raised as food animals and lack the controls and restrictions in place for cattle, swine and other poultry meats. Unlike cows and pigs, there isn't a system to track horses from birth.
Armstrong also believes that America shouldn't slaughter horses and says the animal plays a significant part in the culture of the country.
"We're not killing Mr. Ed and then eating him," New Mexico attorney Dunn says.
Dunn tells FoxNews.com that while he understands the concerns of animal rights groups he does believe there is a safe and profitable way for these plants to prosper in the United States.