U.S.: Pakistan Making Little Progress on Insurgents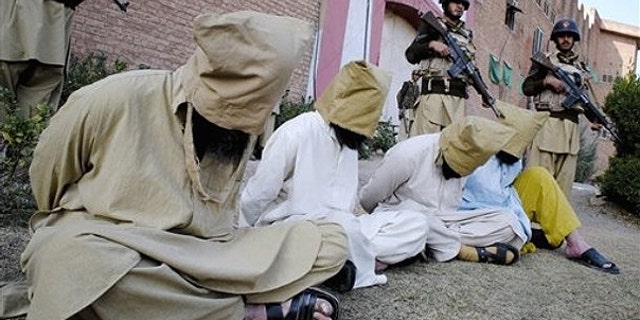 NEWYou can now listen to Fox News articles!
WASHINGTON -- Pakistan's government has made little progress in the past year in battling militants, and there is "no clear path toward defeating the insurgency" in the country, according to a White House report that comes as the United States struggles to build its often shaky relationship with Islamabad.
While sections of the report speak of military gains in Afghanistan, it says the security situation in parts of Pakistan's border regions has deteriorated since fighting resumed in the last part of 2010. It also raises concerns about current political and economic problems on which Pakistan's government cannot make progress.
U.S. officials agree that Pakistan is critical to U.S. efforts to defeat Al Qaeda, since the terror group's leaders, including Osama bin Laden, are believed to be hiding in havens along Pakistan's mountainous border. The Pentagon has worked to bolster the Pakistani government's counterinsurgency program with money and training, and to encourage cross-border cooperation with Afghanistan.
Persistent efforts by U.S. leaders, including repeated visits to the country by the chairman of the Joint Chiefs of Staff, Adm. Mike Mullen, have improved relationships between the two nations. The report describes recent setbacks, including the recent detention of CIA contractor Raymond Davis, but notes that efforts to overcome them have been somewhat successful. Davis, who was arrested for shooting and killing two Pakistani men in the city of Lahore, was freed eventually after $2.3 million in "blood money" was paid to the families of the deceased.
The report concludes that much more cooperation is needed between Afghanistan and Pakistan to eliminate insurgent havens and more definitively degrade Al Qaeda and other terror groups there. It points to Pakistan's failure to set up long-promised border control centers, much like Afghanistan has on its side of the border.
Using as an example efforts to clear the Brekhna region of militants, the report notes this is the third time the Pakistani military has tried to control that area.
But the military has been hindered by bad weather, a stubborn insurgency and the discovery of large caches of explosives, and has been unable to hold onto its gains or build on them.
"What remains vexing is the lack of any indication of `hold' and `build' planning or staging efforts to complement clearing operations," the report said. "As such, there remains no clear path toward defeating the insurgency in Pakistan despite the unprecedented and sustained deployment of over 147,000 forces."
The report compiled by the administration's national security advisers evaluates U.S. strategy and policies for Afghanistan and Pakistan. The unclassified version was released Tuesday. It updates reports from last year that claimed gains had been made in the Afghan war, and it says those advances are continuing, although they remain fragile.
On the political side, the report says Pakistan's government has been unable to resolve serious economic problems, including fuel price increases, tax reform and budget problems. And it criticizes Islamabad for failing to revamp the controversial blasphemy law. Last month, Minority Affairs Minister Shahbaz Bhatti was assassinated for supporting changes to the blasphemy law, which make it a capital offense to insult Islam.
The report calls the government response "muted," and said it "has increased the political space for extremist voices to dominate the public debate."
Separately, members of the House of Representatives Foreign Affairs Committee voiced deep skepticism Tuesday about U.S. policy in Pakistan, saying that despite billions of dollars in aid, most people there still hate America. They also questioned the chances of building democracy in the tribal society of Afghanistan.
Daniel Feldman, deputy special representative to Afghanistan and Pakistan, said Al Qaeda was under pressure as never before at the Afghan-Pakistani border, and the Taliban's momentum has been reversed in south Afghanistan. He also said Pakistan's government is increasingly exerting control over its territory.
Rep. Gary Ackerman, D-N.Y., said: "After hearing the same sales pitch for 10 years, I doubt it."
Feldman acknowledged the distrust that lingers on both sides of the U.S.-Pakistan relationship. But he said despite the added strains during the recent detention of Davis, the CIA contractor, the U.S. was deepening its ties with Pakistan's civilian government through dialogue and aid.
He said the U.S. had dispersed $1.5 billion in civilian aid in the past year under a bill authorizing $7.5 billion over a five-year period.
"A difficult partnership with Pakistan is far better than a hostile Pakistan," Feldman said, adding that a political and economic collapse in that country would affect the United States' vital national security interests.
Republican Rep. Steve Chabot said, however, that aid had failed to translate into progress on key security issues by Pakistan or a warmer view of the United States in that country.
"We spend all this money and they still hate us," Chabot said.
Rep. Dana Rohrabacher, another Republican, said money the U.S. has spent on nation-building in Afghanistan "has been a waste" and radical Islam driven out after the Sept. 11, 2001, attacks and the overthrow of the Taliban regime, was instead posing a growing threat to American security.
"It's not becoming more stable," he said.