U.S. Military Is Worse Than Al Qaeda, Attorney for Westboro Baptist Church Says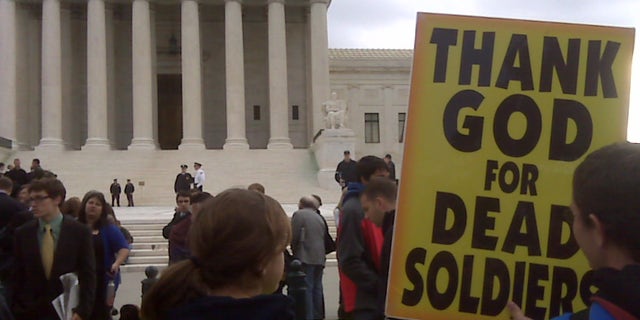 NEWYou can now listen to Fox News articles!
The U.S. military is "slaughtering innocents" and is worse than Al Qaeda, the attorney who successfully defended the right of her church to picket outside a Marine's funeral said Sunday.
Margie Phelps, who last week won the controversial case before the Supreme Court, added that the Pentagon "has declared war" on Westboro Baptist Church.
"Now, check this out: the Pentagon has declared war on this little church. And when they did that, they declared war on God almighty. They have epic failed, to use their language, and in God's view of this matter, to use their belly badass term, it's tango down. They are not going to win this fight that they have brought," said Phelps, whose father founded the church in Westboro, Kan., 60 years ago.
Speaking on "Fox News Sunday," Phelps said American servicemen and women are fighting for sin even as they pretend to fight for liberty, and that makes them worse than jihadists.
"The American soldier is worse, because he pretends that he's fighting for liberty and a Christian nation. And there is not a bigger lie on the face of this earth today. Those soldiers are fighting for same-sex marriage and all the lesser included sins. And there is not an ounce of nobility in the United States military in this day. If you fear God, you won't put that uniform on," Phelps said.
Emboldened by her huge victory -- the Supreme Court ruled 8-1 that Westboro's protest at a slain Marine's funeral was constitutionally protected free speech -- Phelps said the Supreme Court case has "put a megaphone to the mouth of this church" and made it stronger.
Phelps, whose church is primarily made up of extended family members, rejected the suggestion that the group is a cult. She also refuted claims made by two of her brothers that they and their 11 siblings were abused by their parents as children.
Phelps, who declared that "the default for mankind is hell," stated that she had no "objective indicator" that will prevent the Supreme Court justices from going to hell, and declared the president's fate without hesitation.
"Absolutely on the president. That's a big 10-4," Phelps said. "The president is going to be king of the world before this is all said and done, and he is most likely the beast spoken of in the revelation."
The beast is a figure in the New Testament book of Revelation, which is full of apocalyptic themes.
"Unless you bring forth fruits, meet for repentance, the assumption is that you will end up in hell when you quit your life on this earth. There is a duty of every human to bring forth fruit meet for repentance. I have seen no evidence of that in a single leader in this nation," she said.
Phelps added that the effort by a group of retired Air Force generals seeking to have her disbarred for failing to maintain professional standards doesn't rise to scrutiny.
"The complaint was dismissed. They never even mailed it to us, it was dismissed so quickly. And they included in the complaint the brief that I filed with the Supreme Court and various of our religious publications. It was falling from the beginning," she said.
Fox News' Lee Ross contributed to this report.