U.S. hopes to open embassy in Cuba by April 10, new round of talks underway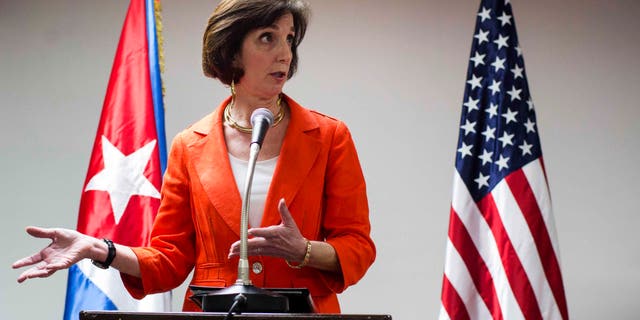 NEWYou can now listen to Fox News articles!
HAVANA – U.S. and Cuban diplomats talked behind closed doors Monday in a third and possibly last round of negotiations aimed at restoring full diplomatic relations by April 10.
The U.S. has said it hopes that full embassies can be opened before April's summit of the Organization of American States in Panama, which presidents Barack Obama and Raul Castro both are expected to attend.
"They're down to sort of nuts and bolts," said John Caulfield, who was U.S. Interests Section chief from 2011 until last summer. He said other topics likely included housing for diplomats and U.S. shipments to the new embassy.
A small team of negotiators led by Assistant Secretary of State for Western Hemisphere Affairs Roberta S. Jacobson met with Josefina Vidal, Cuba's top diplomat for U.S. affairs, in open-ended talks announced less than 48 hours before Jacobson flew to Havana on Sunday.
The U.S. and Cuba held their first round of talks in Havana in January, a little more than a month after presidents Barack Obama and Raul Castro announced that they would reopen embassies in each other's countries and try to move toward a broader normalization. The second round was held in Washington last month.
While the first rounds each lasted a day and saw negotiators routinely issuing updates on progress, this week's is being held without a finishing date or any scheduled statements to the press.
The State Department said Friday that topics being discussed in Havana would include lifting caps on Cuban and U.S. diplomatic staff and limits on their movements outside Havana and Washington.
Obstacles to a deal are Cuba's inability to do normal banking in the United States and its continued inclusion on the U.S. government's list of state sponsors of terror. The White House has ordered a review of that designation.
Mark Erwin, a former U.S. ambassador to Mauritius who met with Jacobson and Vidal earlier this month, said "both sides felt strongly that [a deal] would happen before April 10, prior to the April 10 meeting in Panama City's."
Based on reporting by the Associated Press.