U.S. Deports Guatemala Massacre Suspect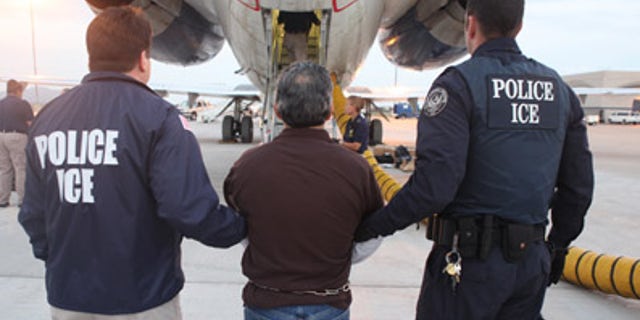 NEWYou can now listen to Fox News articles!
LOS ANGELES – A former member of an elite Guatemalan military force suspected of carrying out a 1982 massacre was extradited from the United States on Tuesday, ending a two-decade exile in which he spent years working in a southern California sweater factory.
Pedro Pimentel Rios, 54, was flown on a government-chartered plane to Guatemala and turned over to authorities, said Virginia Kice, a spokeswoman for U.S. Immigration and Customs Enforcement.
The news was celebrated in Guatemala by a lawyer for victims of the Dos Erres massacre, in which more than 150 people were killed. Witnesses say men, women and children were tortured and robbed by the soldiers as part of a "scorched earth" effort to eliminate communities supporting insurgent groups at the height of Guatemala's 36-year civil war.
Attorney Edgar Perez said more than 100 witnesses would be available to testify in the case.
Pimentel, a former instructor at the Guatemalan training school for a force known as the "kaibiles," was ordered deported from the United States in May when an immigration judge rejected his bid for asylum.
He is one of more than a dozen former kaibiles sought by Guatemalan authorities for the killings.
U.S. authorities have helped track down four of them. Three were found in the United States, and another located in Canada is facing extradition requests to the United States and Spain.
"It doesn't matter how long ago the crime was committed," said John Woods, deputy assistant director of ICE Homeland Security's Investigations Division. "If you're going to come to the United States, we're not going to permit safe haven here."
Since 2004, Immigration and Customs Enforcement has arrested more than 200 suspected human rights violators from Bosnia, Rwanda and other countries who have sought refuge in the United States.
Some have faced criminal charges for allegedly lying on their immigration paperwork while others, such as Pimentel, have been called to immigration court for deportation proceedings.
Pimentel lived in Santa Ana, California, and worked in a sweater factory for years until he was detained by immigration authorities in May 2010.
He fled Guatemala two decades ago after leaving the army, fearing he would no longer be protected against the leftist guerrillas he fought during the country's civil war, according to Michael Selph, Pimentel's immigration attorney.
The small, gray-haired man made immigration court appearances in Los Angeles in a jail jumpsuit and handcuffs.
Pimentel said he feared he would not be given a fair trial in Guatemala and claimed he was not at the massacre because he had been sent to Guatemala City for physical exams and training prior to taking his new post as a military instructor, Selph said.
Selph said he told his client he had a better chance of clearing his name by returning to Guatemala than trying to win an immigration battle on appeal in the United States.
"Our government basically supported all these goings on and now, you know, 20 years later, our government is trying to say, gee, no, we would have never done that, and all these people are terrible," Selph said.
Guatemala's civil war claimed at least 200,000 lives before ending in 1996. The army was responsible for most of the deaths, according to the findings of a commission set up to investigate the bloodshed.
In December 1982, a group of kaibiles stormed the village of Dos Erres in search of missing weapons.
Soldiers bludgeoned villagers, threw them down a well, and raped women and girls before killing them, according to court filings.
In 1994, Guatemala opened an investigation into the massacre and unearthed 162 skeletons. Several years later, authorities issued arrest warrants for more than a dozen kaibiles, but their cases languished.
In 2009, the Inter-American Court of Human Rights ordered Guatemala to investigate and prosecute the perpetrators of the massacre and sanction those who had delayed justice. A year later, U.S. authorities ordered the arrest of four of the former kaibiles — including Pimentel — for investigation of immigration violations.
Two were charged with lying on their U.S. citizenship forms about their role in the killings. Former soldier Gilberto Jordan was sentenced in September in Florida to 10 years in prison, while Jorge Sosa was arrested in Canada and faces extradition requests to the United States and Spain.
Santos Lopez Alonzo was arrested in Texas and charged with re-entering the country illegally after he previously had been deported. Lopez, who told investigators his primary duty at the massacre was guarding women and children at the village school before they were taken to be killed, was later designated a material witness in the case investigators were building against other kaibiles, according to court filings.
Lopez said he saw Pimentel in Dos Erres during the massacre but did not recall any specific acts committed by him, court papers show.