U.S. Defense Officials Reject Iraqi Colonel's Claim that U.S. Troops Live in 'Prison-Like Bases'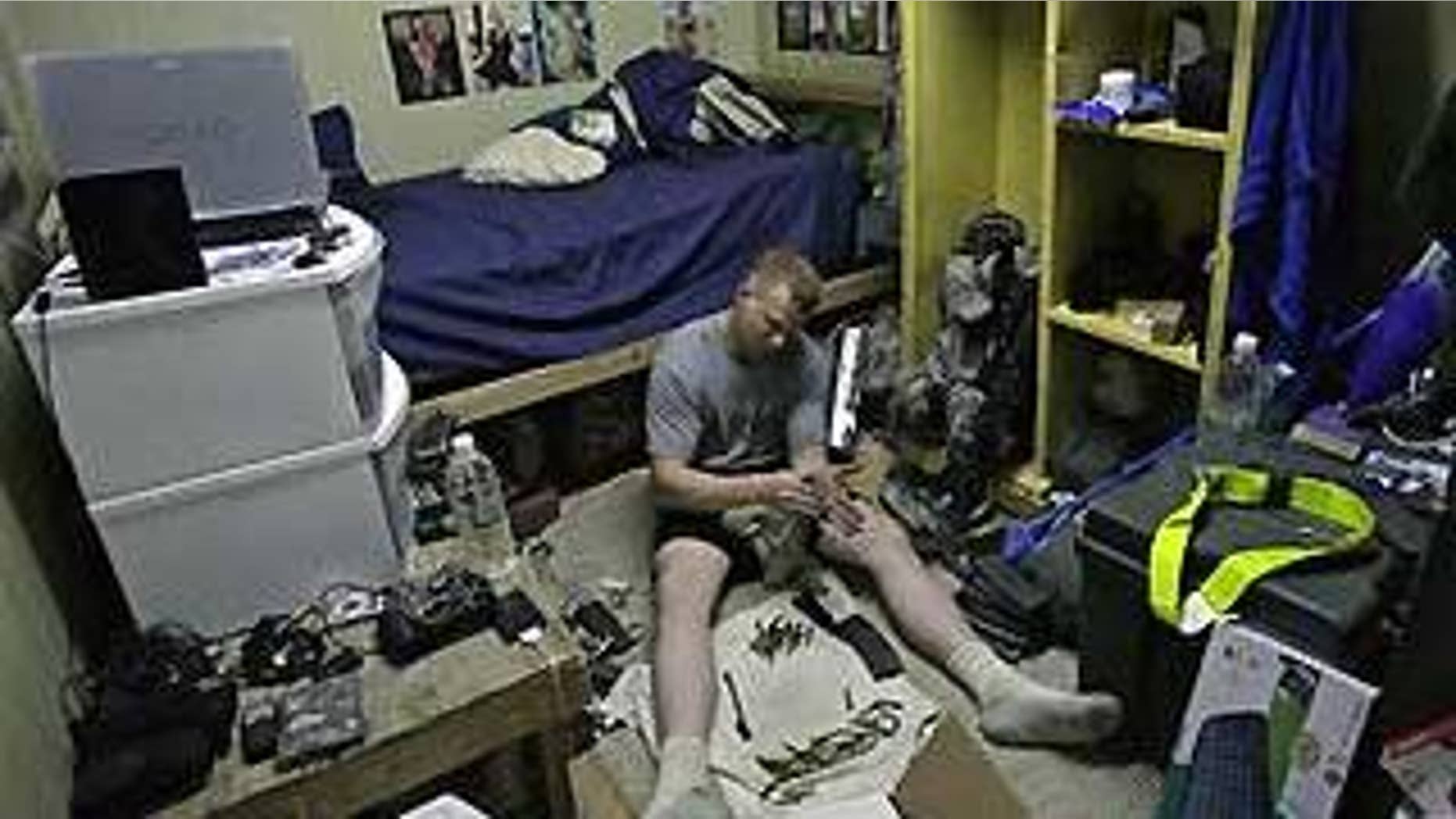 WASHINGTON -- An Iraqi military commander on Monday likened the present state of American GIs in his country to being "under house arrest," a comment passed off as "grandstanding" by a senior U.S. defense official.
Col. Ali Fadhil, a brigade commander in Baghdad, said Monday that American combat troops basically are living in "prison-like" conditions since they cannot patrol as freely as they did prior to the completion of the June 30 pullback of troops to outside urban areas. The pullback is part of a U.S.-Iraqi Strategic Forces Agreement that requires all U.S. troops out of Iraq by the end of 2011.
"They are now more passive than before," Fadhil told The Associated Press. "I also feel that the Americans soldiers are frustrated because they used to have many patrols, but now they cannot. Now, the American soldiers are in prison-like bases as if they are under house arrest."
One senior U.S. defense official told FOX News, "I would consider this statement grandstanding." And Gen. Ray Odierno said that the troops are operating according to the tenets of the deal.
"We have been able to continue to do exactly what we have expected under the agreement. Inside the cities we are providing advice support and conducting coordination. Outside the cities we are continuing full spectrum operations," Odierno said.
"All our operations are fully coordinated with our Iraqi partners at all levels. There are many executed and there are some that are not. That is the nature of this stage of operations," he said.
But House Armed Services Committee Chairman Ike Skelton, D-Mo., said he is very concerned that troops have the ability to protect themselves.
"Under the flawed agreement signed by President Bush, the government of Iraq can put some restrictions on U.S. soldiers in Iraq, and according to press reports they have done so. However, I would be very disturbed if any of those reported restrictions put even one U.S. soldier at additional risk, and I will certainly be pursuing this issue with the Department of Defense," Skelton said.
Rep. Howard "Buck" McKeon, the top Republican on the Senate Armed Services Committee, said while the agreement permits unfettered patrols outside the cities, he is "concerned" that troops and missions could be jeopardized by a new interpretation of the agreement by the government of Iraq.
"Any bureaucratic actions that endanger our troops are unacceptable. They deserve and must have the support and flexibility they need to ensure their own safety while continuing to hold the security gains that have been made since the beginning of the surge," McKeon told FOX News.
Violence has remained low since the 2007 U.S. military surge in Iraq, enabling U.S. troops to pull back outside of the cities. According to the agreement, the troops are to serve as back-up in the cities when called upon, and were permitted to continue patrols in rural regions without prior approval.
Hadi al-Amiri, a lawmaker and member of the parliament's security and defense committee, said the Americans' withdrawal from the cities went very smoothly.
But according to The Washington Post, the security agreement has resulted in differing interpretations of what U.S. officials can and can't do to respond to threats on the ground. Some of those threats have led to standoffs in which Iraqi soldiers have prevented American convoys from passing through checkpoints.
In one case, an informant told a U.S. captain about a planned insurgent attack on a base from a town that hadn't been a staging ground since 2007. The captain and his Iraqi counterpart argued over the response. The Iraqi won the argument and the Iraqi military beefed up its presence and imposed a curfew in the town. It was not the response Capt. Dustin Navarro would have taken, he told the Post.
"Success in my mind was preventing the attack and capturing the individuals with admissible evidence," Navarro, a cavalry commander from Dallas, was quoted saying. "Success in his mind is that there is no attack and no one gets caught. Any attack or any capture would have been perceived as a failure on his part because it means enemy forces and mortar systems were able to get inside his checkpoints."
Fadhil said on several occasions Iraqi troops have not permitted U.S. requests to move around the capital or to conduct raids. The Iraqis have carried out those operation themselves.
Though violence has declined, Iraqi forces face near-daily attacks in urban areas. On Monday, a car bomb killed two police officers and injured eight civilians in Ramadi, west of Baghdad, said Maj. Gen. Tareq Youssef, the police chief of Anbar province. Ramadi, the provincial capital, was once a stronghold of Sunni insurgents.
Four police and one civilian died in attacks in and near the northern city of Mosul, Iraqi police said.
On July 16, three U.S. soldiers were killed in an assault on a U.S. base near an airport in Basra in southern Iraq. Maj. Gen. Rick Nash, commanding general of Multi-National Division-South, said the U.S. was committed to fulfilling the terms of the security agreement.
But he also said: "U.S. forces have an inherent right to self-defense and the authority to protect themselves."
The defense official who spoke on condition of anonymity told FOX News that the agreement between the U.S. and Iraqi is a done deal so the U.S. is limited in its response.
"The fact of the matter is we signed a bilateral agreement and recognized Iraq's sovereignty and no longer execute operations" under the 2003 U.N. Security Council resolution authorizing U.S. forces to enter Iraq.
"It is a change in mindset for all involved," the official said.
FOX News' Jennifer Griffin, Chad Pergram and The Associated Press contributed to this report.
Click here for more FOXNews.com coverage of the conflict in Iraq.