U.S. Default Would Be 'Catastrophic' But It Won't Happen, Geithner Says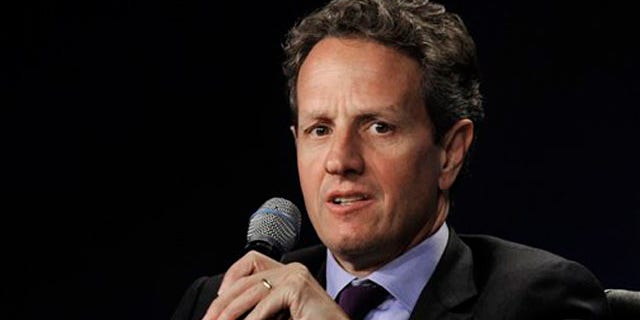 Treasury Secretary Timothy Geithner said Sunday that a failure to raise the debt ceiling by Aug. 2 would be "catastrophic" to the economy, though he and other top officials expressed confidence that lawmakers would ultimately vote to lift the $14.3 trillion cap in time.
Geithner spoke in depth about the consequences of missing the early August deadline. Noting that the government writes about 80 million checks a month, he said everything from Medicaid payments to checks for U.S. troops could be in jeopardy. He said interest rates could rise the closer the country gets to Aug. 2 without a deal and that if the debt ceiling is not increased by then, credit rating agencies could follow through on threats to downgrade the United States' sterling credit rating.
"If that happens, you're going to see catastrophic damage across the American economy and across the global economy," Geithner said.
He said Congress has no choice but to act.
"There is no credible way to give Congress more time," Geithner said on NBC's "Meet the Press." "They have to act by the 2nd."
At the same time, Geithner said congressional leadership understands the stakes, despite some GOP claims that the treasury secretary is exaggerating the implications of missing the deadline.
"The United States is not going to default," he said. "We're going to meet our obligations."
Speaking on ABC's "This Week," White House Chief of Staff Bill Daley also said there's "no question" the U.S. will not default.
The expressions of optimism come as talks regarding a deficit-reduction deal hit another rocky patch ahead of a key White House summit Sunday evening.
Republicans want big spending cuts in exchange for their support on raising the debt ceiling. But after both sides were talking earlier in the week about a $4 trillion deal, Republicans said over the weekend that Democrats pushed too hard for tax hikes and as a result they want a smaller package.
Still, Senate Republican Leader Mitch McConnell told "Fox News Sunday" that lawmakers are not looking to balk at raising the debt ceiling. Rather, he said, they are most focused on extracting a deficit-reduction deal.
"Nobody is talking about not raising the debt ceiling," McConnell said. "We're talking about using this request that the president made of us to raise the debt ceiling as an opportunity to do something really significant for the country about spending and about debt. And that, of course, would also be good for the economy."