U.S. Ambassador to Mexico Resigns Following WikiLeaks Cable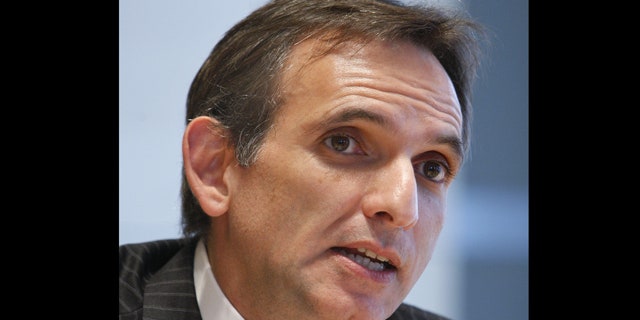 NEWYou can now listen to Fox News articles!
MEXICO CITY – The U.S. ambassador to Mexico resigned Saturday amid furor over a leaked diplomatic cable in which he complained about inefficiency and infighting among Mexican security forces in the campaign against drug cartels.
U.S. Secretary of State Hillary Rodham Clinton, in Paris to meet with U.S. allies on Libya, said Carlos Pascual's decision to step down was "based upon his personal desire to ensure the strong relationship between our two countries and to avert issues" raised by President Felipe Calderon.
Clinton didn't say specifically what she was referring to, but a furious Calderon has publicly criticized Pascual's cable, which was divulged by the WikiLeaks website.
Pascual's resignation -- less than two weeks since President Barack Obama met with Calderon at the White House -- appeared to be the biggest fallout yet from thousands of sensitive U.S. diplomatic cables from around the world released by WikiLeaks. It was the first such public departure by a U.S. ambassador during the Obama administration.
Mexico's government offered a polite and muted response, offering "its best wishes to Ambassador Carlos Pascual in the duties he will undertake after concluding his post in our country."
"Institutional contacts between both countries are solid, as it should be between the neighboring and friendly countries with common goals," Calderon's office said in a statement. "The Mexican government reiterates its commitment to consolidating the principles of shared responsibility, trust and mutual respect as the basis of bilateral ties with the United States."
Clinton took the unusual step of announcing the departure of an individual member of the diplomatic corps, and while she was on the road meeting with U.S. allies to discuss the commencement of military attacks on Muammar al-Qaddafi's Libyan government.
She went to lengths to praise Pascual's work in Mexico and said the Obama administration never lost confidence in him. Clinton said Pascual's work with Mexico to build institutions capable of fighting drug traffickers "will serve both our nations for decades."
She added that she was "particularly grateful to Carlos for his efforts to sustain the morale and security of American personnel after tragic shootings in Mexico" that killed a U.S. employee, her husband and a Mexican tied to the consulate in the border city of Ciudad Juarez last year.
"It is with great reluctance that President Obama and I have acceded to Carlos's request" to step down, Clinton said in a statement.
The ambassador's resignation, however, laid bare how difficult relations between the U.S. Embassy and the Mexican government had become since the release of the cable in December.
Calderon has made no secret of his personal anger at Pascual.
"I do not have to tell the U.S. ambassador how many times I meet with my security Cabinet. It is none of his business. I will not accept or tolerate any type of intervention," Calderon said in an interview with the newspaper El Universal in late February. "But that man's ignorance translates into a distortion of what is happening in Mexico, and affects things and creates ill-feeling within our own team."
Pascual also may have ruffled feathers in the Mexican government and Calderon's National Action Party by dating the daughter of Francisco Rojas, the congressional leader of the former longtime ruling Institutional Revolutionary Party. Mexican officials and the U.S. Embassy have declined to comment on that matter.
One of the leaked diplomatic cable that most angered Calderon was dated Jan. 29, 2010, and referred to friction between Mexico's army and navy while detailing an operation that led to the death of drug lord Arturo Beltran Leyva.
Pascual said the U.S., which had information locating Beltran Leyva, originally took it to the army, which refused to move quickly. Beltran Leyva was eventually brought down in a shootout with Mexican marines, which have since taken the lead in other operations against cartel capos.
Other U.S. Embassy cables released since have reported jealousies and a lack of coordination between various Mexican security forces.
Their release has marred a relationship that both the United States and Mexico have for years touted as being stronger than ever.
Washington supports Mexico's war against drug trafficking with more than $1 billion in equipment and training, and has frequently praised Calderon's government for bringing down an unprecedented number of top drug lords. Mexico, in turn, has extradited a record number of trafficking suspects to the U.S. for prosecution, a step Mexico was long reluctant to take.
But the Calderon government has become testy when U.S. officials express serious concern about the growing violence in Mexico, where more than 35,000 people have been killed in drug gang violence since Calderon launched a military offensive against cartels in 2006. Calderon publicly criticized Clinton last year when she suggested Mexico was starting to resemble Colombia two decades ago.
Pressure had increased on Pascual in recent weeks, but the State Department had vigorously defended him, praising him at a March 4 briefing for his "tremendous work on behalf of the U.S.-Mexican bilateral relationship."
"I know of no plans to adjust his status," the department spokesman at the time, P.J. Crowley, insisted. He added that Clinton was fully behind Pascual.
The State Department took the same stand as recently as Thursday. "We have full confidence in our ambassador," State Department spokesman Mark Toner said. He said Pascual was doing "stellar work" and no change was being contemplated.
Pascual, a Cuban-American who was the U.S. ambassador to Ukraine from 2000 to 2003, was appointed to the Mexican post in June 2009.
It was unclear when he would leave Mexico or when his replacement would be named. Clinton said she has asked Pascual to stay on for the time being to ensure "an orderly transition."