Trump widens lead over DeSantis in 2024 GOP presidential nomination showdown: poll
Poll showing growing Trump support was conducted mostly before and partly after Trump warned of his possible arrest
A second straight national poll indicates that former President Donald Trump is building a lead over Florida Gov. Ron DeSantis as the 2024 Republican presidential nomination race heats up.
Trump stands at 41% support among Republican voters questioned in a Monmouth University survey release, with DeSantis at 27%, and everyone else in field of actual and potential field of GOP White House hopefuls in the low single digits.
According to the poll, which was conducted March 16-20 and released on Tuesday, the former president edges the two-term Florida governor 47%-46% in a hypothetical two-person Republican nomination showdown.
That's a switch from Monmouth's previous survey – conducted in February – when DeSantis topped Trump 53%-40% in a two-person primary matchup and both were tied at 33% support when their names were included with other actual and possible 2024 contenders.
TRUMP HAULS IN $1.5 MILLION SINCE WARNING OF LOOMING INDICTMENT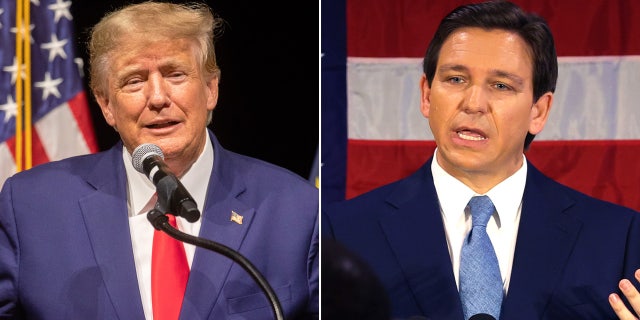 The poll was conducted mostly before and partially after the former president's warning on Saturday that he may face imminent indictment and potential arrest in connection with looming criminal charges from a district attorney in New York City over his alleged involvement in a hush money scandal with an adult film actress.
The Monmouth survey follows last week's release of a Quinnipiac University national poll that indicated Trump with a 14-point lead over DeSantis, with everyone else in the mid to low single digits. That was up significantly from a six-point advantage by the former president over the Florida governor in Quinnipiac's February survey.
Trump and his allies in recent days have been spotlighting the drop in support for DeSantis in the latest polls.
An email release Wednesday from the pro-Trump MAGA Inc. super PAC jabbed at the Florida governor, noting that "his poll numbers keep falling."
Some of Trump's strongest backing comes from those Republicans who identify as loyal MAGA (the Make America Great Again movement) supporters, while DeSantis is preferred by less stringent MAGA backers, according to the Monmouth poll.
WHO'S IN AND WHO'S ON THE SIDELINES — YOUR GUIDE TO THE 2024 GOP PRESIDENTIAL NOMINATION RACE
"The movement Trump created is sticking by their standard-bearer. That's enough for Trump to overcome weaker support among the less MAGA portion of the Republican electorate, at least for now," said Monmouth University Polling Institute director Patrick Murray.
Quinnipiac University polling analyst Tim Malloy emphasized last week that "DeSantis might be the buzz in the GOP conversation, but for now, Trump is seeing no erosion and, in fact, enjoys a bump in his lead in the Republican primary."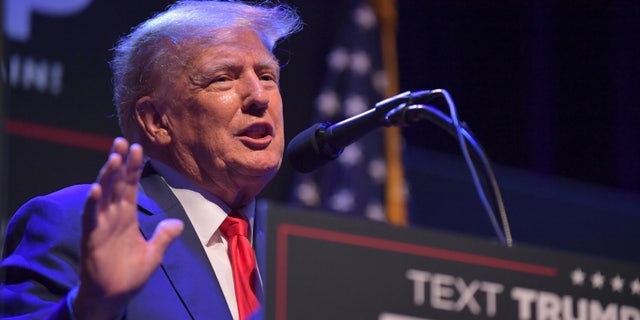 Trump became the first major Republican to declare his 2024 candidacy when he launched his third straight campaign for the White House in mid-November, soon after the 2022 midterm elections. DeSantis remains on the 2024 sidelines as of now but is widely expected to enter the race. In an interview that will run Thursday on Fox Nation, the Florida governor said "stay tuned" when asked about his political future.
More than two years after leaving the White House following his 2020 election defeat at the hands of President Biden, Trump remains the most popular and influential politician in the Republican Party. Earlier this month, Trump once again overwhelmingly won the straw poll at the Conservative Political Action Conference (CPAC). The largest annual gathering of conservative leaders and activists has become a Trumpfest since the former president's 2016 election.
TRUMP IS DOING SOMETHING DIFFERENT AS HE RUNS FOR PRESIDENT A THIRD TIME
But Trump has taken plenty of incoming fire over his perceived negative impact on the GOP's lackluster performance in the midterms, received some unfavorable reviews following his campaign launch at his Mar-a-Lago club in Palm Beach, Florida, and faced criticism over controversial comments and actions in the past couple of months. Separately, legal scrutiny focusing on Trump is intensifying, and possible indictments in the coming weeks could make him the first former president in American history to face criminal charges.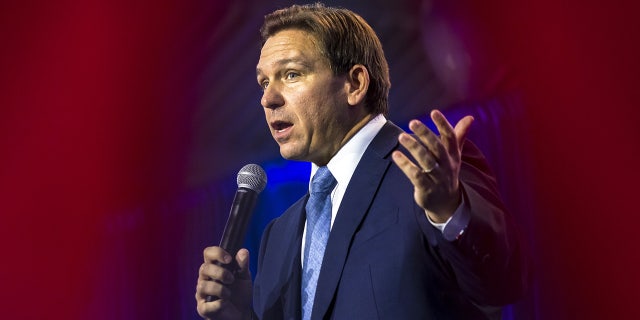 DeSantis saw his popularity soar among conservatives across the country over the past three years due to his forceful pushback against coronavirus pandemic restrictions and his aggressive actions as a culture warrior going after the media, corporations and teachers' unions.
The governor scored an overwhelming 19-point gubernatorial re-election victory in November, and in recent speeches he has pitched policy victories in Florida as a roadmap for the entire nation. He's been traveling across the country, highlighting his "Florida blueprint" and promoting his newly released memoir, "The Courage to Be Free."
Sources in DeSantis' wider orbit have said any presidential campaign launch would come in the late spring or early summer, after the end of the current legislative session. However, the governor's latest travel itinerary to the early voting states of Iowa and Nevada and a trip next month to New Hampshire are sparking more 2024 speculation.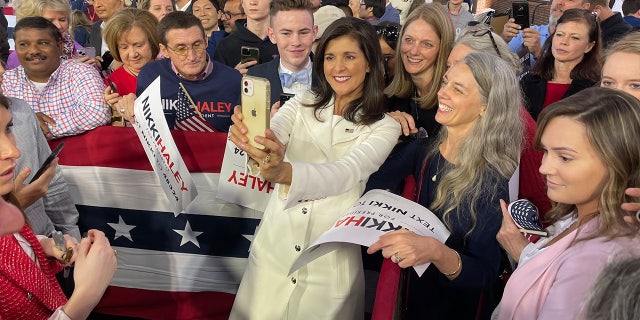 Former ambassador to the United Nations and former two-term South Carolina Gov. Nikki Haley, who launched her 2024 presidential campaign last month, stands at 3% support in the Monmouth poll, with every other actual or potential Republican White House contender at 1% or less.
CLICK HERE TO GET THE FOX NEWS APP
The Monmouth poll was conducted by telephone and online and questioned 521 Republicans and GOP-leaning voters nationwide. The survey had a sampling error of plus or minus 6.6 percentage points.
The 2024 cycle is just beginning, with roughly 10 months to go until the start of the first nominating primaries and caucuses. The race for the GOP presidential nomination is not a national contest, but rather a battle for delegates up for grabs in the individual states' nominating contests.