Trump trades barbs with CNN star Acosta over 'fake news'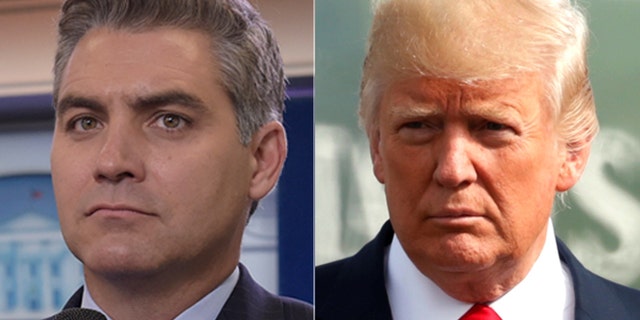 President Trump sparred Monday with CNN star and frequent White House antagonist Jim Acosta, trading charges of "fake news" at the tail-end of a brief appearance focused on China's trade practices.
Acosta, shouting his questions after Trump signed an executive order, at first pressed the president on why he didn't initially condemn white supremacist hate groups after the weekend attack in Charlottesville.
"They've been condemned. They have been condemned," Trump responded.
But Acosta then asked why Trump wasn't holding a press conference despite indications to the contrary.
Trump claimed he "just had a press conference" – but Acosta asked if the media could ask more questions.
Trump responded, "It doesn't bother me at all, but you know, I like real news, not fake news. You're fake news."
STEPHEN MILLER SPARS WITH JIM ACOSTA
Trump walked out of the room, leaving Acosta to try turning the tables on Twitter.
"As the president was walking out, I responded that he has spread plenty of fake news himself," Acosta tweeted, adding: "The president said we just had a press conference. We did not. That's fake news."
Later Trump tweeted himself: "Made additional remarks on Charlottesville and realize once again that the #Fake News Media will never be satisfied...truly bad people!"
Acosta frequently clashes in public with the president and his aides.
Earlier this month, senior adviser Stephen Miller lashed out at Acosta for his alleged "cosmopolitan bias" during a heated debate in the briefing room over Trump's call to overhaul legal immigration.