Trump to roll back ObamaCare contraceptive mandate: What is it?
The Trump administration said Friday that it would roll back the contraceptive mandate put in place by ObamaCare and grant "full protections" to organizations that objected to it based on "religious or moral" grounds.
The decision expands upon exemptions already in place under ObamaCare, a Health and Human Services spokesperson said.
"No American should be forced to violate his or her own conscience in order to abide by the laws and regulations governing our healthcare system," HHS press secretary Caitlin Oakley told Fox News. "Today's actions affirm the Trump Administration's commitment to upholding the freedoms afforded all Americans under our Constitution."
Read on for a look at what the contraceptive mandate is and the controversy surrounding it.
What did the contraceptive mandate do?
The Affordable Care Act dictated that employers must provide insurance that includes contraceptives. That coverage included: Emergency contraceptive, such as Plan B; intrauterine devices (IUDs); birth control bills; barrier methods; sterilization procedures and counseling, according to HealthCare.gov.
Some exemptions from the mandate were already in place for certain religious employers, such as churches and some non-profit religious organizations. Employees for those non-profit organizations – which could include religious hospitals and higher education institutions – could receive contraceptive services through a third-party administrator.
More than 55 million women had access to birth control and other preventative services without out-of-pocket expenses under ObamaCare, according to the National Women's Law Center. The mandate saved women about $1.4 billion on birth control since 2013, the nonprofit said.
RELIGIOUS GROUPS WANT TRUMP'S DOJ TO END CASE ON OBAMACARE CONTRACEPTIVE MANDATE
The mandate has been the subject of several legal challenges, including by Hobby Lobby. The Supreme Court ruled in 2014 that "closely held" corporations with religious objections could opt out of the mandate. But the decision didn't extend to nonprofits.
The mandate does cover drugs that induce abortions.
What do critics say about it?
Critics argued that the mandate required people or companies to provide something that directly conflicted with their religious beliefs. Catholics and many Protestants argued against the mandate, as they said even the morning-after pill violated their religious and moral objections to abortion.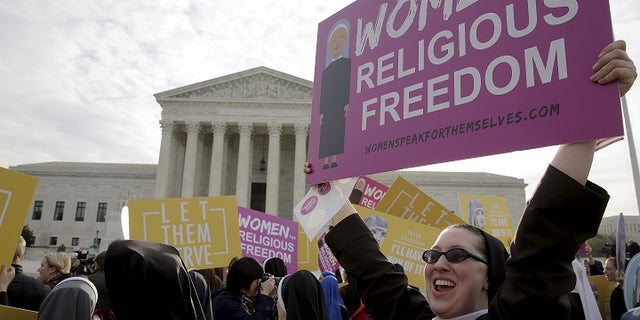 Edward Whelan, president of the conservative Ethics & Public Policy Center think tank, argued that the mandate "violates the First Amendment's bar against the 'free exercise' of religion.'" He also said it "violates the Religious Freedom Restoration Act."
"When we were forced by the Obama administration to carry drugs and devices that destroy life in its early stages we were appalled and ultimately needed to seek legal protection," March for Life President Jeanne Mancini said in a statement to Fox News. "It is un-American to force non-profit organizations to defy their very reason for being on something as important as life."
And supporters?
Supporters of the plan argued that by no longer requiring employers to provide contraceptives through insurance, women will have a more difficult time planning for a family or having access to health care.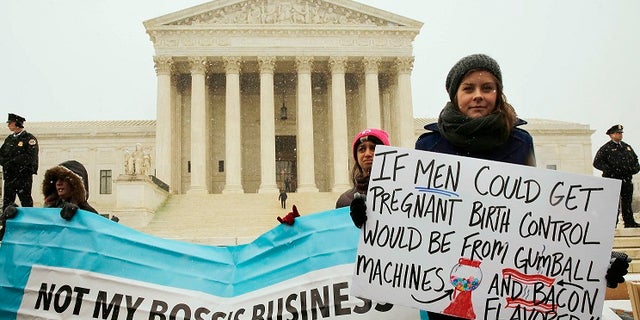 Stephanie Schriock, president of the pro-choice advocacy group EMILY's List, said Friday that women "use birth control for a whole host of health reasons, including controlling ovarian cysts and reducing anemia, in addition to preventing unwanted pregnancy."
TRUMP ADMINISTRATION ROLLS BACK OBAMACARE CONTRACEPTIVE MANDATE
Kimberly Dudley told Huffington Post in 2012 that she suffered from Polycystic Ovary Syndrome, a complex disorder that prevents her from having normal menstrual cycles. A double dosage of a birth control medication has helped alleviate painful symptoms.
What does the new decision do?
Under the Trump administration's policy, greater protections are granted to nonprofit groups, higher education institutions and non-publicly traded companies that have objections to the mandate.
A senior administration official said that a "small number of people" could be affected by the policy change and added that the rule would provide "relief" for groups that have been embroiled in lawsuits regarding the mandate.
"This rule will leave coverage for 99.9 percent of women in place," the senior official told Fox News.
Fox News' Brooke Singman and Kristin Brown contributed to this report.