Trump to return home to Trump Tower; NYPD prepared for homecoming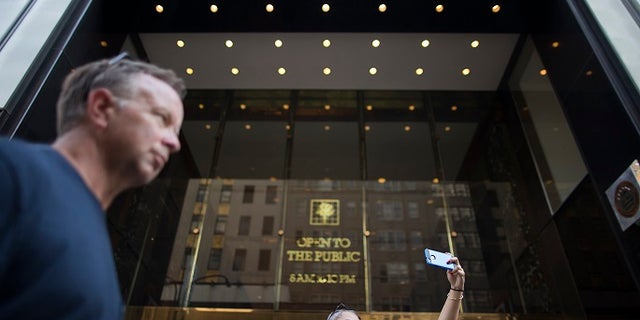 President Donald Trump has planned on returning home to his New York City skyscraper Trump Tower for a few days on Sunday, the first time since his inauguration, and the New York City Police Department said they have prepared security clampdown in the area during his stay.
Trump first tweeted his plans Monday, saying he would go home to Manhattan for some meetings. Since taking office, Trump was in New York City once for a visit with Australian Prime Minister Malcolm Turnbull on May 4 at the Intrepid Sea Air and Space Museum. The president stayed in the city for only a few hours.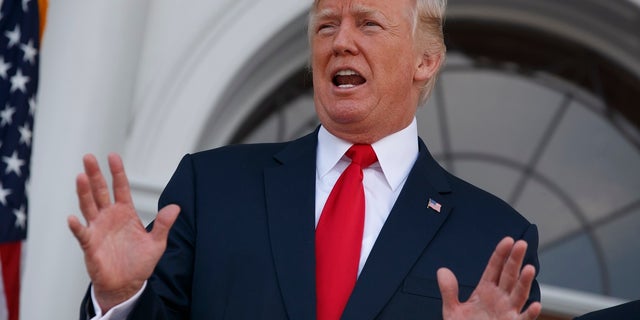 Trump arrived at his private golf club in Bedminster Township, NJ, a week ago Friday for a 17-day working vacation. The White House has not divulged the specifics on his New York stay.
IN PHONE CALL, TRUMP AND XI DISCUSS A NUKE-LESS KOREAN PENINSULA
Following the Nov. 8 election, security around Trump Tower was bolstered dramatically, even including a fleet of heavy sanitation department trucks stuffed with sand to wall off the front of the building from any potential vehicle bomb attacks. A maze of barricades and checkpoints were manned by scores of uniformed police officers under the supervision of a mobile command center.
"We're ready," Stephen Davis, a New York City Police Department spokesman, said. "We're ready if he wants to show up tomorrow, or not at all."
Davis warned city residents that there would be traffic and asked travelers to avoid the area around Trump Tower, according to The New York Times.
Trump told reporters on Friday that he did not travel to the city as often due to the "disruption."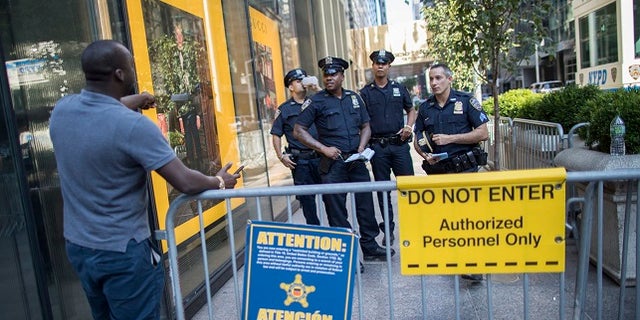 "I stay out of Manhattan because it's so disruptive to go to Manhattan," Trump said. "Whenever a president came in, it was very disruptive — and I think I'm probably more disruptive than any of them."
TRUMP: KIM JONG UN 'WILL REGRET IT FAST' IF HE ATTACKS GUAM, US ALLIES
"People can expect some delays in the area as well as along any motorcade routes during the period of his visit," Davis told The New York Times. "This is normally the case when a president visits New York City."
Trump Tower poses a unique security challenge because portions of it are required, by law, to be open to the public from 8 a.m. to 10 p.m. as a result of a zoning deal Trump cut with the city when he built the skyscraper.
The tower has been the sight and scene of protest marches and demonstrations, though in recent months the crowds have been smaller than the large demonstrations that followed the inauguration.
Opponents of Trump's immigration policies said they have planned to protest outside Trump Tower on Tuesday. Rise and Resist, a group opposed to Trump, told The New York Times they were planning demonstrations on Sunday and Monday to protest health care and opposition to war.
"We don't want him here, and we don't want him at the White House!" said Martin Quinn, a member of Rise and Resist, told The New York Times.
Police officials estimate the cost of securing the president while he's in town is roughly $300,000 per day, but that could easily change depending on whom he's with, how many people are in his entourage, where he's headed and how long he's planning to stay.
"The NYPD is the most expert police force on earth in terms of handling visits by an American president," Mayor Bill de Blasio said earlier this week. "They do an outstanding job. I think that we're going to be ready by any measure."
Trump's time in New York has "been a lot less than we expected," the Democratic mayor said. "To his credit, he kept the time here very limited and the disruption very limited. Hopefully, that will be the same this time."
The Associated Press contributed to this report.