Trump tells Ryan to fight illegal immigration instead of joining election fray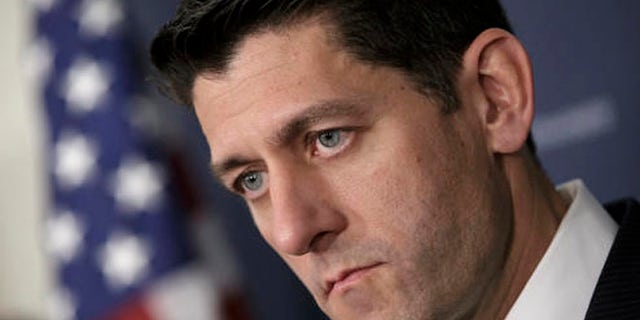 NEWYou can now listen to Fox News articles!
A Monday back-and-forth between House Speaker Paul Ryan and Republican presidential nominee Donald Trump deepened tensions in the GOP, with the influential Ryan telling congressmen that he would not campaign with the real estate magnate, who shot back terse messages advising the Wisconsin lawmaker to stick to fighting illegal immigration.
The exchange followed a weekend full of controversy over remarks made by Trump during a hot mic conversation in 2005.
Ryan told fellow Republicans in Congress in a conference call that he would not appear with Trump on the campaign trail, according to the New York Times, which cited unnamed lawmakers.
Ryan told the lawmakers in the call that he would devote his election efforts to supporting Republicans running for office or re-election to Congress.
Ryan spokeswoman AshLee Strong said to the Times: "The speaker is going to spend the next month focused entirely on protecting our congressional majorities."
She added that she had "no update" regarding the news that so far, Ryan is not withdrawing his endorsement of Trump.
Trump pushed back after the article's publication, saying that instead of picking a fight with the party's nominee, Ryan should do his job as Speaker of the House.
Trump tweeted: "Paul Ryan should spend more time on balancing the budget, jobs and illegal immigration and not waste his time on fighting Republican nominee."
Ryan's record on immigration is mixed, running the gamut from progressive to hardline.
One obstacle to his becoming House Speaker was his years-long pro-immigration record, which hardliners in the House tried to use to oppose his nomination.
In recent years, he has opposed comprehensive immigration reform, saying that the matter would be best handled in smaller, separate measures, and that border security must come first.
He voted in favor of a $7 billion, 700-mile, two-layer fence along the U.S.-Mexico border, and having immigrants in the country illegally go "to the back of the line" before they could obtain residency.
The latest controversy surrounding Trump erupted last week, with the release of an audio tape of a conversation the reality TV star had with then-Access Hollywood co-host Billy Bush in which the real estate mogul talked about trying to seduce a married woman and bragged about groping women without consent.
Ryan and Trump have had a rocky relationship at a time when the GOP has sought unity.
Ryan endorsed Trump during the summer but appeared reluctant doing so.
In May, he told CNN, "I'm just not ready to [endorse Trump] at this point. I'm not there right now."
Later, Trump said the same thing about endorsing Ryan in the GOP primary in which the congressman was running, even praising Ryan's opponent.
Ryan has been vocal in his various disagreements with Trump, assailing the nominee over various controversial remarks. Even when he endorsed Trump, Ryan said he still disagreed with him on many issues and would continue to call the candidate out when he felt the need.
In Monday's conference call, Ryan said a priority for him, in terms of his role and elections, was ensuring that Democrats do not win control of both the House and Senate. Both chambers are currently under GOP control.
Some of the lawmakers on the call were not happy with Ryan's statements, the Times reported.
They said the party had a duty to stand behind Trump and accused Ryan of essentially giving up on the presidential election.
Like us on Facebook