Trump praises Staff Sgt. Justin Peck's heroics during State of the Union
NEWYou can now listen to Fox News articles!
President Donald Trump, during his first State of the Union address Tuesday night, praised the heroics of Staff Sgt. Justin Peck.
Peck, who has served in the Army for the last eight years, was part of an intense U.S. Army mission with coalition forces in Raqqa, Syria in November, according to the Air Force Times.
Peck was helping clear IEDs, set by the Islamic State, from a hospital when one detonated, injuring Chief Petty Officer Kenton Stacey. Peck ran into the building and up to an "IED-ridden second floor" to help Stacey, according to the Air Force Times. The White House credited Peck with saving Stacey's life.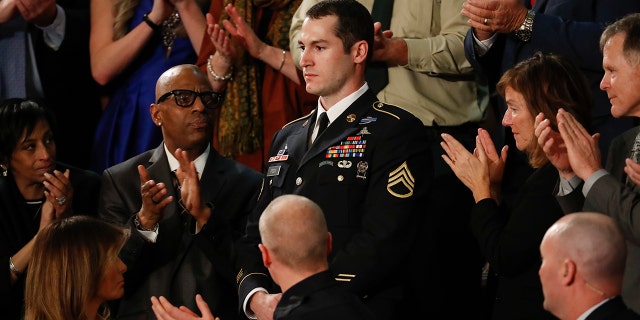 Trump praised Peck's bravery during his address.
"Tonight, Kenton is recovering in Texas. Raqqa is liberated. And Justin is wearing his new Bronze Star, with a 'V' for 'Valor,' Trump said to Peck. "All of America salutes you."
Peck was among the service members who were invited by Trump to sit in the gallery during the State of the Union address. Cpt. Matthew Bradford and 11-year-old Preston Sharp were also among those honored during the speech. Bradford became the first blind double amputee to re-enlist in the U.S. Marine Corps, while Preston started the movement to plant a flag on every veteran's grave site.