Trump Nation circles the wagons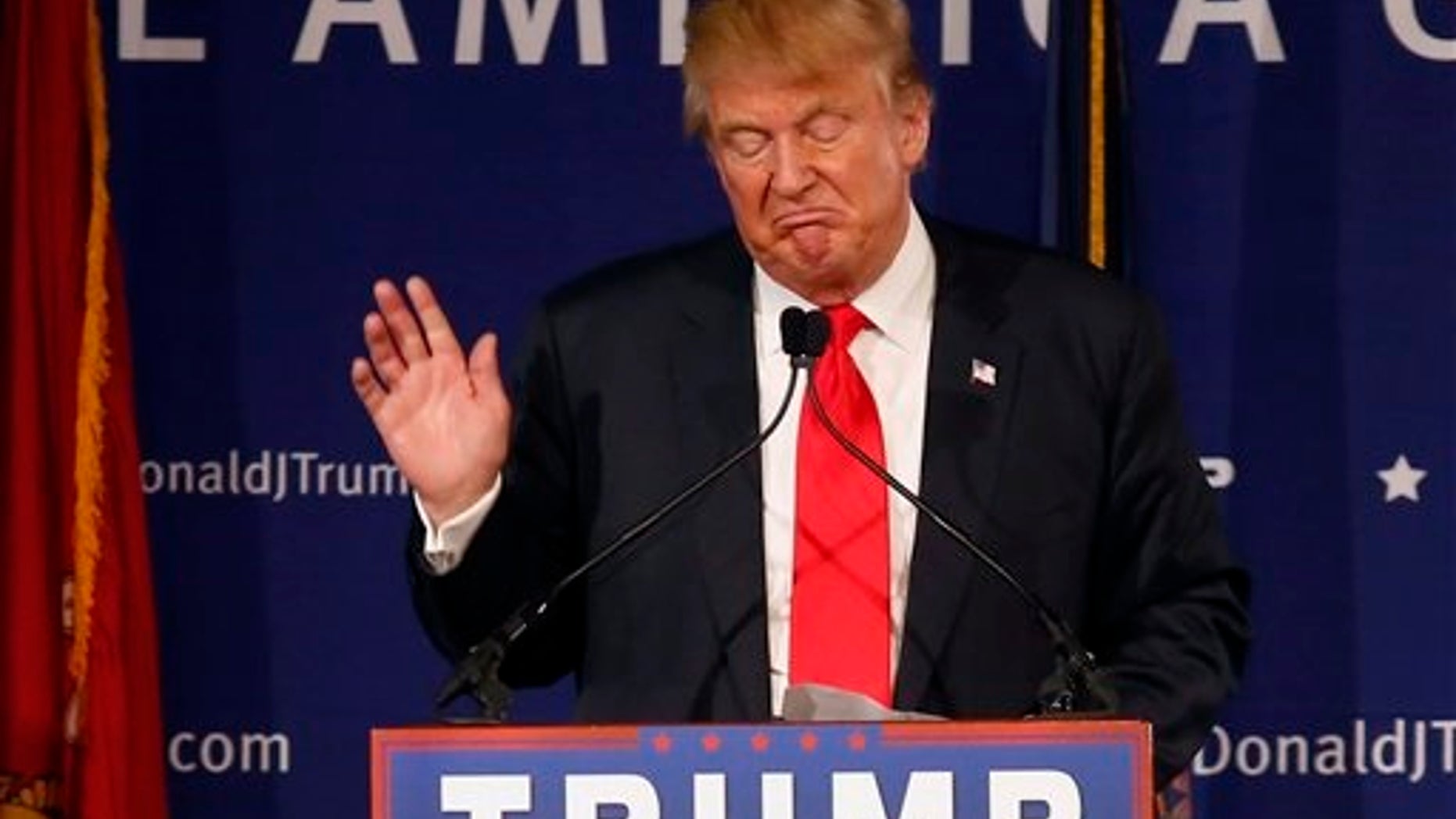 **Want FOX News First in your inbox every day? Sign up here.**
Buzz Cut:
• Trump Nation circles the wagons
• Rubio's ObamaCare killer continues to do damage
• Power Play: Cruz's moment
• Family business: Hillary helped son-in-law at State
• That's a lot of celery sticks
TRUMP NATION CIRCLES THE WAGONS
Donald Trump says he believes he will be the GOP nominee. But just in case he can't pull it off, Trump is reminding the members of his adoptive party that he might still play spoiler in the fall.
That says something about Trump's attitude. But it says even more about the nature of his support.
According to the new USA Today/Suffolk University poll, Trump is about 10 points ahead of rapidly-rising Sens. Marco Rubio and Ted Cruz. Trump's share of the vote has been amazingly consistent since August.
His summer surge has neither abated nor grown. Using reliable polls and tossing out a couple of obvious outliers, Trump has been between 23 percent and 29 percent of the vote in every poll for the past four months.
This would appear to be at least in part a product of Trump's campaign strategy of creating media controversies. Trump gets to bask in the warm glow of contempt from the rest of his party and the country, which re-affirms to his supporters that he is doing battle with the forces of evil. Nothing unifies a group like the presence of an external enemy.
Trump's media mayhem strategy has the added benefit of discrediting any negative reporting. The tighter the Trump tribe grows the less willing it is to listen to the people who Trump says are their enemies.
The best reflection of this fealty is that 68 percent of Trump backers say they would follow him into the wilderness of an independent run.
That would come out to about 8 percent of the vote in a general election. While Trump could certainly peel off some Democrats – probably from the one in five in that party who support the idea of kicking out all illegal immigrants – he's still a long way from viability.
Trump fares poorly against Clinton among independents, so the path for him to get above the third of the general electorate he would need looks pretty daunting.
Then there's the question of ballot access. Trump would need to start soon on a costly, complicated effort to make the general election ballot in enough states to do anything more that rob the GOP of electoral votes in a handful of states.
It's part of his effort to stage a hostile takeover of the GOP. If he doesn't get his way, he promises to do to the party what another eccentric billionaire did in 1992 and help deliver the presidency to someone named Clinton.
In the splintered social media world where Trump is the undisputed king of politics it is generally seen as better to have intense support from a small group than lukewarm support from the broader public.
You've probably never listened to One Direction but four of the top five tweets of the year are from members of the British boy band. Their supporters are fanatical in a way that ISIS would envy.
But One Direction is only number 16 on the pop charts. What gives? You can retweet a tweet a million times, but you only buy a song once. Downloads, like votes, are one-time events. Intensity is hugely important, but it has its limits.
That's why Trump's threat to run as an independent remains just that: a threat.
Rubio's ObamaCare killer continues to do damage - NYT: "…For all the Republican talk about dismantling the Affordable Care Act, one Republican presidential hopeful has actually done something toward achieving that goal. Mr. Rubio's efforts against the so-called risk corridor provision of the health law has hardly risen to the forefront of the race for the Republican presidential nomination, but his plan limiting how much the government can spend to protect insurance companies against financial losses has shown the effectiveness of quiet legislative sabotage…because of Mr. Rubio's efforts, the administration says it will pay only 13 percent of what insurance companies were expecting to receive this year. The payments were supposed to help insurers cope with the risks they assumed when they decided to participate in the law's new insurance marketplaces."
Power Play: Cruz's moment - Sen. Ted Cruz has been riding in the wake of the GOP frontrunners for some time. Is his eventual clash with Donald Trump getting closer? Chris Stirewalt explores what could be Cruz's moment, in just 60 seconds. WATCH HERE
That's about $10 million a point so far… - NBC News: "Jeb Bush's campaign and allies have spent nearly a whopping $33 million in TV and radio advertisements so far this election cycle - almost more than the rest of the current Republican field combined, according to ad-buying data from SMG Delta. The biggest overall advertiser in the 2016 race is Right to Rise, the Super PAC backing Jeb Bush, which has spent $31.7 million in the contest, while the Bush campaign has chipped in an additional $800,000."
[Bush outlines his strategy for returning power to the states in a new op-ed at Fox News Opinion.]
Carson taps Bibi's former chief of staff for foreign policy team - The Hill: "Ben Carson's presidential campaign is bringing on a former top aide to Israeli Prime Minister Benjamin Netanyahu as a foreign policy adviser amid concerns about the retired neurosurgeon's chops on the issue. George Birnbaum has worked with three Israeli prime ministers as well as its foreign minister, and has advised political leaders in Bulgaria, Romania, Kosovo, Serbia and the Czech Republic."
[Watch Fox:  New Fox News Poll numbers on the presidential primary races in South Carolina release today on Special report with Bret Baier" 6 p.m. ET]
ANOTHER DEBATE FOR FOX BUSINESS
FBN: "FOX Business Network will host its second Republican presidential primary debate on Thursday, January 14 at the North Charleston Coliseum and Performing Arts Center in North Charleston, South Carolina. The debate, which has been sanctioned by the Republican National Committee, will be held two days after the State of the Union address."
WITH YOUR SECOND CUP OF COFFEE…
Nut and fruit Kind bars are sold as a healthy alternative to a candy bar. But the Food and Drug Administration told their manufacturer that it had to drop the word "healthy" from its labels because almonds, the primary ingredient of most Kind bars, have a higher fat content than the government allows to be labeled "healthy" or "healthful." And now, there's an almond war… The Atlantic explains the controversy: "The idea that 'low fat' means 'healthy' expired decades ago. Lumping all fatty acids together into one nutrient bucket and calling them 'bad' or 'good' is about as useful as doing so with children. Unless you are an immortal magical man with flying reindeer, don't try it. Trans fat is the closest thing to categorically bad that exists in the world of nutrition, while omega-3 fatty acids are integral to the diets of the world's longest-lived, healthiest populations."
Got a TIP from the RIGHT or the LEFT? Email FoxNewsFirst@FOXNEWS.COM
POLL CHECK
Real Clear Politics Averages
Obama Job Approval: Approve – 44.2 percent//Disapprove – 51.2 percent
Directions of Country: Right Direction – 28.4 percent//Wrong Track – 63.0 percent
FAMILY BUSINESS: HILLARY HELPED SON-IN-LAW AT STATE
AP: "As secretary of state, Hillary Clinton intervened in a request forwarded by her son-in-law on behalf of a deep-sea mining firm to meet with her or other State Department officials after one of the firm's investors asked Chelsea Clinton's husband for help setting up such contacts, according to the most recently released Clinton emails. The lobbying effort on behalf of Neptune Minerals Inc. came while Clinton…was advocating for…a sweeping Law of the Sea Treaty. The pact would have aided U.S. mining companies scouring for minerals in international waters…
Clinton ordered a senior State Department official in August 2012 to look into the request…three months after an investor in the mining firm emailed Marc Mezvinsky, Chelsea Clinton's husband…Clinton relayed a copy of the investor's email to Thomas Nides, then a deputy secretary of state and now vice chairman at Morgan Stanley, a major New York financial services firm. 'Could you have someone follow up on this request, which was forwarded to me?' Clinton asked Nides. He replied: 'I'll get on it.'"
MILITARY WAS READY TO ROLL DURING BENGHAZI ATTACK
Fox News: "As the attack on the U.S. consulate in Benghazi was unfolding, a high-ranking Pentagon official urgently messaged Secretary of State Hillary Clinton's top deputies to offer military help, according to an email obtained by Judicial Watch. The revelation appears to contradict testimony Defense Secretary Leon Panetta gave lawmakers in 2013, when he said there was no time to get forces to the scene in Libya, where four Americans were killed, including U.S. Ambassador to Libya Christopher Stevens. 'I just tried you on the phone but you were all in with S [apparent reference to then-Secretary of State Hillary Clinton],' reads the email, from Panetta's chief of staff Jeremy Bash. 'After consulting with General Dempsey, General Ham and the Joint Staff, we have identified the forces that could move to Benghazi. They are spinning up as we speak.'"
At odds with victims'  families – Of Clinton's denial on a recent Sunday talk show and her own email that shows she suspected an Al Qaeda-like group was responsible, Guy Benson writes: "She was asked a direct question: Did she, or did she not, tell those family members that the Internet film was responsible for their loved ones' deaths?  She says she did not.  This is a direct contradiction of very explicit memories shared on the record by multiple people who have far less incentive to lie than, say, a truth-challenged politician seeking power.  This should be a serious problem for Hillary Clinton."
Something you'll hear a lot next year - Pro-GOP group America Rising has a new web video out today connecting Hillary Clinton's approach to terrorism to that of President Obama.
Vice sues over deleted emails - WashEx: "Jason Leopold, a reporter with Vice News, sued the Department of Justice Tuesday over an unanswered FOIA request for copies of Clinton's emails that were recovered off her private server…Leopold cited a New York Times article from September that found FBI officials had recovered 'work-related and personal emails that Hillary Rodham Clinton said had been deleted from the server that housed the personal account she used exclusively when she was secretary of state, according to two government officials.'"
THAT'S A LOT OF CELERY STICKS
WBNG: "A father and son are accused of stealing more than $40,000 worth of chicken wings from a restaurant in Syracuse. Paul Rojek, 56, and Joshua Rojek, 33, are accused of stealing $41,000 worth of product from the Twin Trees Too Restaurant…According to the Onondaga County Sheriff's Office, the men developed a system where they would order chicken wings from the restaurant's supplier, pick up the orders and re-sell the chicken on the street or to other local businesses at a reduced price. The father and son are charged with grand larceny and falsifying business records."
AND NOW A WORD FROM CHARLES…
"[Trump running as an independent is] a terrible nightmare but look, the problem is not that he might cost them the presidency. The problem is what he's doing to the level of American discourse. This is at the highest level of presidential politics. And the issue is not just that it's impulsive or unreasonable. This is truly, deeply bigoted. It is indefensible." – Charles Krauthammer on "Special Report with Bret Baier."

Chris Stirewalt is digital politics editor for Fox News. Want FOX News First in your inbox every day? Sign up here.