Trump Labor Secretary Alexander Acosta went easy on pedophile predator who ensnared victim at Mar-a-Lago: report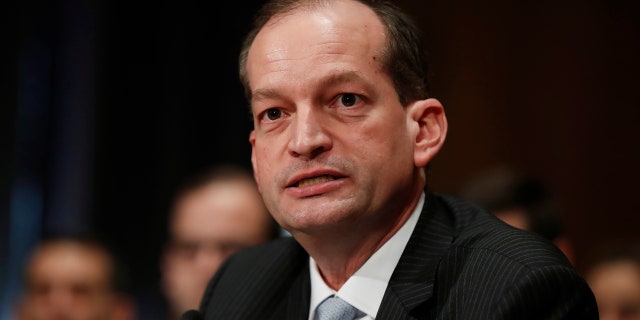 NEWYou can now listen to Fox News articles!
President Trump's secretary of labor, Alexander Acosta, oversaw what critics have called a sweetheart plea deal for a wealthy, politically connected financier accused of abusing underage sex slaves in 2007 -- and a new investigative report published by The Miami Herald suggests at least one victim worked at the president's Florida estate.
Virginia Roberts told the paper she was abused by 54-year-old financier billionaire Jeffrey Epstein, claiming she was recruited into his purported sex ring while she was a 16-year-old working at Mar-a-Lago, the sprawling retreat that Trump has owned since 1985.
Court documents obtained by Fox News in 2016 also showed former President Bill Clinton took at least 26 trips flying aboard Epstein's private jet, known as the "Lolita Express," and apparently ditched his Secret Service detail on some of the excursions. Authorities who seized trash outside Epstein's home at the time found an invoice for the purchase of the book "SlaveCraft: Roadmaps for Erotic Servitude -- Principles, Skills and Tools," as well as the instructional "Training with Miss Abernathy: A Workbook for Erotic Slaves and Their Owners."
EPSTEIN ONCE CLAIMED HE CO-FOUNDED THE CLINTON FOUNDATION
The episode has resurfaced amid reports that Acosta, who currently oversees federal efforts to combat human trafficking, is under consideration by the White House to replace Acting Attorney General Matthew Whitaker. He is not related to CNN reporter Jim Acosta.
Epstein allegedly operated his sex ring at his mansion in Palm Beach, Florida, a residence in New York City, and his private island estate on the 72-acre Virgin Islands home dubbed by some "Orgy Island." He ultimately served 13 months in jail and registered as a sex offender after pleading guilty to two felony prostitution charges, with only one involving a girl that prosecutors called a prostitute -- even though she was only 14 years old.
The plea deal, negotiated by Acosta when he was the U.S. attorney for the Southern District of Florida, required Epstein to pay restitution to dozens of victims, but offered a variety of unusual concessions as part of a non-prosecution agreement.
First, the arrangement guaranteed immunity to "any potential co-conspirators" of Epstein -- a provision that signaled prosecutors' willingness to effectively end the federal investigation into potential crimes committed by Epstein associates. And the deal was kept under seal, meaning potential victims would have difficulty finding out about it and objecting to its terms. Some reportedly only found out about the deal from hearing about it on television.
The Herald identified several other apparent signs that prosecutors were working closely with Epstein's team. A top federal prosecutor on the case, A. Marie Villafaña, wrote to Epstein's lawyer, Jay Lefkowitz, that she would help his client avoid unwanted press attention.
"On an 'avoid the press' note ... I can file the charge in district court in Miami which will hopefully cut the press coverage significantly," Villafaña wrote in September 2017. "Do you want to check that out?''
One month later, Lefkowitz personally met with Acosta, his former colleague at top international law firm Kirkland & Ellis.
"Thank you for the commitment you made to me during our Oct. 12 meeting,'' Lefkowitz wrote in an email memoralizing his meeting with Acosta. "You ... assured me that your office would not ... contact any of the identified individuals, potential witnesses or potential civil claimants and the respective counsel in this matter."
Neither Villafaña, who still works as a senior prosecutor in Florida, nor Lefkowitz, who remains a partner at Kirkland, responded to Fox News' requests for comment.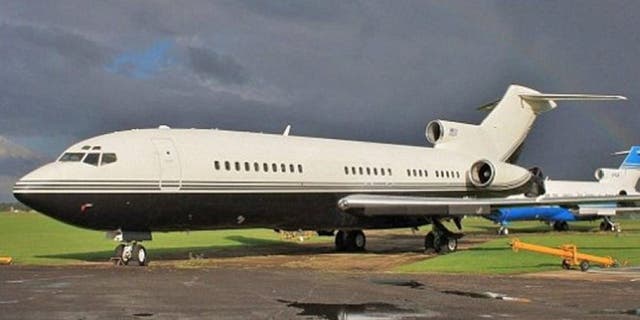 "This matter has been publicly addressed previously, including during confirmation hearings," a Labor Department spokesperson told Fox News. "The U.S. Attorney's Office for the Southern District of Florida has defended the actions in this case across three administrations."
The U.S. Attorney's Office in Florida declined to comment when reached by Fox News.
"His appetite was insatiable. He wanted new girls, fresh, young faces every single day."
In 2017, Virginia Democratic Sen. Tim Kaine asked Acosta about the plea deal during his confirmation hearings.
"Why cut a non-prosecution deal despite your staff saying you shouldn't?" Kaine asked.
"That is not accurate," Acosta, who at the time was dean of Florida International University's law school, responded. ""It was a broadly-held decision. ... The grand jury recommended a single count of solicitation not involving minors. That would have resulted in zero jail time, zero registration as a sexual offender and zero restitution for the victims in this case."
Instead, Acosta said, he pushed to escalate Epstein's case to the federal level, even as he recognized that proving all of the allegations against him would be difficult.
"It was highly unusual where a U.S. attorney becomes involved in a matter that has already gone to the grand jury at the state level," Acosta told senators. "We decided that Mr. Epstein should plead guilty to two years, register as a sexual offender, and concede liability so the victims should get restitution in this matter."
FLIGHT LOGS SHOW BILL CLINTON FLEW ON SEX OFFENDER'S JET
Asked about keeping the deal confidential, Acosta suggested that he was following common practice.
"Something that I think has changed over time is trust of government," he said. "There was a time when keeping something confidential was less of an issue, but the public expectation today is that things be very public."
Epstein and Trump were friends in the past, and Virginia Roberts told the Herald she was 16 years old and working at Mar-a-Lago as a locker room attendant when an Epstein associate approached her.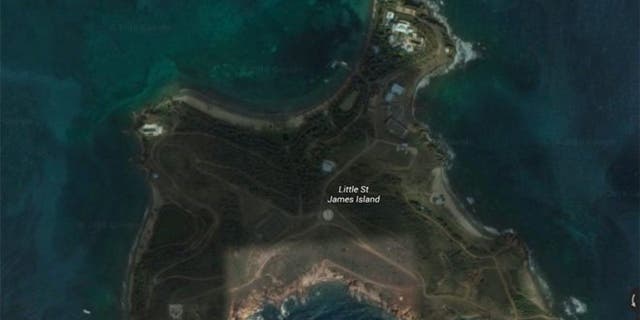 "His appetite was insatiable. He wanted new girls, fresh, young faces every single day — that was just the sickness that he had,'' Roberts told the paper, claiming Epstein pressed her into service to find more victims at shopping malls and other public places.
"Epstein and [his associate Ghislaine] Maxwell also got girls for Epstein's friends and acquaintances. Epstein specifically told me that the reason for him doing this was so that they would 'owe him,' they would 'be in his pocket,' and he would 'have something on them,'" Roberts wrote in a court document under penalty of perjury. "I understood him to mean that when someone was in his pocket, they owed him favors.''
An unrelated lawsuit set for trial on Dec. 4 between Epstein and a lawyer representing some of Epstein's alleged victims is expected to involve in-court testimony by some of the women, according to the Herald.
Their testimony, under oath for the first time, could provide additional details on the case, which critics have said highlights the influence of wealth on the criminal justice system. Among Epstein's other attorneys over the years: emeritus Harvard professor Alan Dershowitz and former special prosecutor and independent counsel Kenneth Starr.
Their work on the case, and the plea deal negotiated by Acosta, have unfairly silenced Epstein's alleged victims, some top Florida Democrats charge.
"Where is the righteous indignation for these women?" Democratic Florida state Sen. Lauren Book said in an interivew with the Herald. "Where are the protectors? Who is banging down the doors of the secretary of labor, or the judge or the sheriff's office in Palm Beach County, demanding justice and demanding the right to be heard?''