Trump inaugural committee raises record $90M to cover steep costs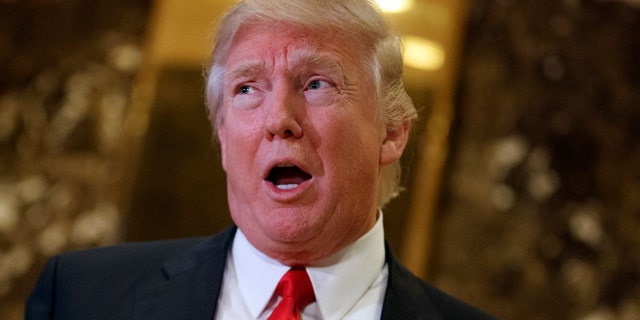 NEWYou can now listen to Fox News articles!
President-elect Donald Trump's inaugural committee has raised a record $90 million in private donations to pay for the steep costs of next weekend's festivities.
It's the most any president has raised for their inauguration and it outpaces the amount collected by President Barack Obama's two inaugural committees - $55 million in 2009 and $43 million in 2013, the Associated Press reported.
Donations include $500,000 from Chevron and $1 million given by Boeing. AT&T says it has made both cash and in-kind donations, including quintupling phone capacity on the National Mall.
DEMOCRATIC REP. LEWIS: TRUMP NOT A 'LEGITIMATE PRESIDENT'
The committee has 90 days after the Jan. 20 inauguration to reveal the rest of the donors.
Trump's committee has declined to provide details on how it's aiming to spend the money. However, lead inaugural planner Tom Barrack said this week the team wants to avoid a "circus-like atmosphere" in favor of a more "back to work" mindset that surrounds Trump "with the soft sensuality of the place."
Trump himself promised the event would be a "very, very elegant day" with "massive crowds."
Trump is holding three inaugural balls; Obama had 10 balls at his first inaugural. Trump's team also hopes to keep its parade to 90 minutes. The longest parade, with 73 bands and 59 floats, lasted more than four and half hours, at Dwight Eisenhower's first inauguration, in 1953
Spokesman Boris Epshteyn said the inaugural committee is "fully focused on organizing world-class events that honor our nation's tremendous history and reach every corner of the globe." Any excess money raised will be donated to charity.
Steve Kerrigan, CEO for Obama's inaugural committee in 2013 and chief of staff in 2009, said the $90 million fundraising haul looks like overkill.
"I can't imagine how they are going to spend that amount of money — and why they would even keep raising money," he said. "We planned the two largest inaugurations in the history of our country and we never spent anywhere near that."
HEAD OF DC NATIONAL GUARD TO STEP DOWN DURING INAUGURATION
While a big share of the cost is covered by the private donations, taxpayers provide a considerable amount as well. They're on the hook, for example, to cover the close to $5 million cost of building the bunting-decorated 10,000 square-foot platform built on the West Front of the Capitol for the swearing-in.
The public also pays security costs for an event that brings together a big chunk of the U.S. political leadership, hundreds of thousands of ordinary Americans and a fair share of protesters. Because those expenses are scattered throughout the federal budget, it's hard to get a fix on just how much the day will cost.
Some tabs are spelled out: $1.25 million for the Joint Congressional Committee on Inaugural Ceremonies, which is responsible for the swearing-in ceremony, inaugural luncheon and review of troops, and $2.5 million for overtime for U.S. Capitol Police.
More than 5,000 active duty service members and 7,500 National Guard members will take part, too. In 2009, spending by the military's inaugural joint task force and the Defense Department totaled $21.6 million.
District of Columbia Mayor Muriel Bowser says the city expects to spend at least $30 million, with the federal government reimbursing the full amount. So far, Congress has appropriated $19 million, and the city will go back to Congress after the swearing-in to ask for the rest.
The Associated Press contributed to this report.