Trump 'entirely correct' to blame both sides for Charlottesville violence, White House says
The White House told allies Tuesday that President Trump was "entirely correct" to blame "both sides" for the protest violence in Charlottesville, fighting back at critics of his response, Fox News has learned.
A memo of talking points obtained by Fox News stated that during his remarks in the lobby of Trump Tower on Tuesday, the president was "entirely correct – both sides of the violence in Charlottesville acted inappropriately, and bear some responsibility."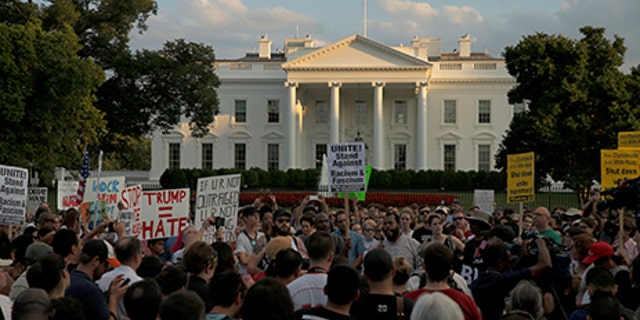 The memo also stated that Trump "with no ambiguity" condemned the hate groups that descended upon Charlottesville for the "Unite the Right" rally, and added the president has been "a voice for unity and calm," and that he's "taking swift action to hold violent hate groups accountable."
TRUMP DECRIES 'ALT-LEFT' IN CHARLOTTESVILLE: 'DO THEY HAVE ANY SEMBLANCE OF GUILT?'
It ended by saying both leaders and the media "should join the president in trying to unite and heal our country rather than incite more division." The memo was distributed to allies of the White House in an effort to try to get conservatives on board to defend Trump.
While speaking to the media Tuesday during what were supposed to be brief remarks without questions from the press, Trump declared that "there is blame on both sides" for the deadly violence that took place on Saturday. He also said "there are two sides to a story."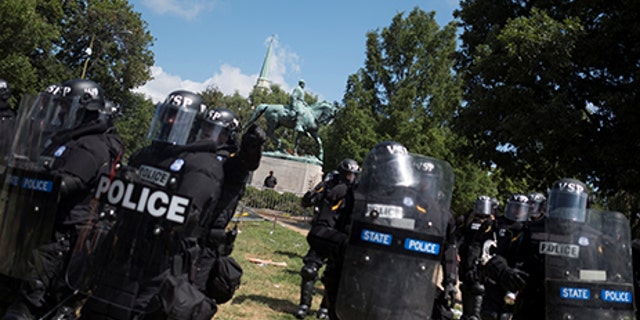 Placing blame "on many sides" was Trump's initial response to Saturday's events, but two days later, the president specifically condemned the KKK, neo-Nazis and white supremacists.
ANN COULTER CHEERS TRUMP: 'TODAY WE GOT OUR LEADER BACK'
After Trump's reiteration Tuesday that both protesters on the far left and far right were to blame, former Ku Klux Klan leader David Duke tweeted, "Thank you President Trump for your honesty & courage to tell the truth."
White House officials apparently were caught off guard by his remarks Tuesday. Trump had signed off on a plan to not answer questions from journalists during an event touting infrastructure policies, according to a White House official speaking to The Associated Press. Once behind the lectern and facing the cameras, Trump overruled the decision.
Trump's advisers had hoped Tuesday's remarks might quell a crush of criticism from Republicans, Democrats and business leaders. But the president's retorts Tuesday suggested he had been a reluctant participant in that cleanup effort and renewed questions about why he seemed to struggle to unequivocally condemn white nationalists.
LAWMAKERS, NATIONAL FIGURES REACT TO TRUMP'S CHARLOTTEVILLE COMMENTS
Members of his own Republican Party have pressured him to be more vigorous in criticizing bigoted groups, and business leaders have begun abandoning a White House jobs panel in response to his comments.
When asked to explain his Saturday comments about Charlottesville, Trump looked down at his notes and again read a section of his initial statement that denounced bigotry but did not single out white supremacists. He then tucked the paper back into his jacket pocket.
Fox News' Ed Henry and The Associated Press contributed to this report.