Trump derides the Boston Globe's satirical cover as 'stupid' and 'worthless'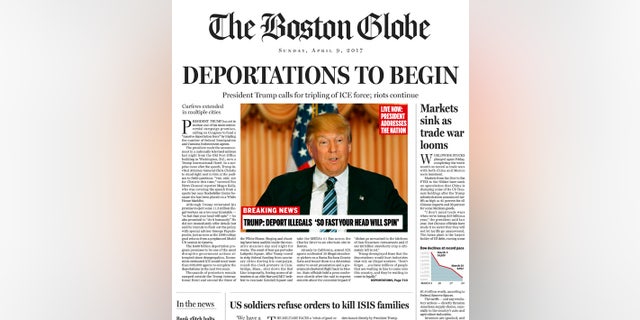 Republican presidential front-runner Donald Trump derided the Boston Globe as "stupid" and "worthless" after the newspaper printed a satirical front page that lampoons a potential Trump presidency.
"How about that stupid Boston Globe, it's worthless, sold for a dollar," the businessman said while on the campaign trail in Rochester, New York on Sunday. "Did you see that story? The whole front page — they made up a story, they pretended Trump is the president, and they made up the whole front page, it's a make-believe story, which is really no different from the whole paper — I mean, the whole thing is made up. And I think they're having a big backlash on that one."
The newspaper printed a satirical front page for its Sunday "Ideas" section. The page is dated April 9, 2017, and features a large photo of Trump below a dominant headline that reads "Deportations to Begin." The accompanying story has Trump calling on Congress to fund a deportation program amid protests.
Another article mentions work being halted on a wall at the Mexico border. There's also a short item about backlash Trump received after tweeting a photo of his new dog he named "Madame Peng," after China's first lady Peng Liyuan.
In an editorial, the Globe called the satire "an exercise in taking a man at his word."
In response to Trump's comments, the newspaper's opinion staff defended the editorial, saying "we delivered copies of the editorial to his campaign because we wanted to make sure he saw what we wrote."
"He responded with more empty rhetoric and few details," Kathleen Kingsbury, deputy managing editor of the editorial page, told the Globe.
The Associated Press contributed to this report.
Like us on Facebook
Follow us on Twitter & Instagram