Trump denies Army widow's claim he struggled to remember soldier's name
President Trump on Monday denied an Army widow's claim that he struggled to remember Sgt. La David Johnson's name when he offered his condolences last week, during a phone call that has since become the focal point of a political controversy.
Johnson and three other Americans were killed Oct. 4 in an attack in Niger. The president's seemingly private condolence call to widow Myeshia Johnson went public last week when a Democratic congresswoman claimed Trump was disrespectful. The White House has since defended the president's tone while blasting Florida Rep. Frederica Wilson for talking to the press about such a "sacred" moment.
But speaking Monday with ABC's "Good Morning America," Myeshia Johnson said Trump also "couldn't remember my husband's name."
She suggested the president only recalled the name when he looked at the report in front of him.
"I heard him stumbling on trying to remember my husband's name, and that's what hurt me the most," she said. "Because if my husband is out here fighting for our country and he risked his life for our country, why can't you remember his name?"
Trump responded on Twitter:
"I had a very respectful conversation with the widow of Sgt. La David Johnson, and spoke his name from beginning, without hesitation!"
Despite efforts by some officials to ease political tensions over the condolence call – what typically is a private and personal moment – the feud has only continued to build.
TRUMP SLAMS 'WACKY' REP. WILSON
Last week, White House Chief of Staff John Kelly, himself a retired general and Gold Star father, publicly rebuked Wilson for listening to the call and talking about it.
Trump on Saturday called Wilson "Wacky." For her part, Wilson has stood by her account and accused Kelly of lying about her.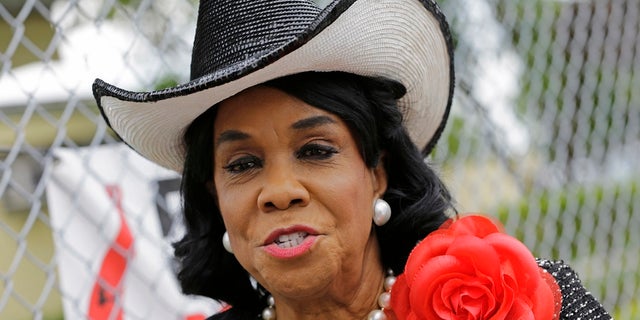 On Monday, Myeshia Johnson backed up part of Wilson's account, saying Trump told her "he knew what he signed up for, but it hurts anyway."
"It made me cry because I was very angry at the tone of his voice," she said.
Last week, Kelly sought to put the remarks in context, suggesting Trump's message was similar to what Gen. Joseph Dunford, now chairman of the Joint Chiefs of Staff, told him when his son was killed in Afghanistan in 2010.