Trump commutes sentence of meatpacking exec whose plant was targeted in immigration raid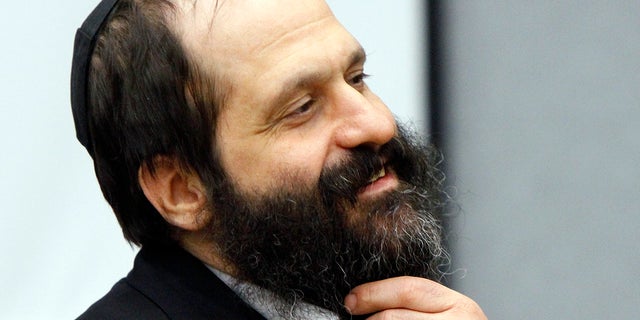 President Donald Trump on Wednesday issued his first commutation since taking office, freeing the former CEO of an Iowa kosher meatpacking company.
Sholom Rubashkin, who ran the Iowa headquarters of a family business that was the country's largest kosher meat-processing company, was convicted of money laundering in 2009.
His prosecution came after federal authorities staged a dramatic raid on the company's Iowa plant in 2008, arriving by helicopter and detaining 389 illegal immigrants, including children.
The 57-year-old father of 10 submitted fake invoices to a bank that made Agriprocessors' finances appear healthier than they were so that it could borrow more.
He has served more than eight years of his 27-year sentence.
Several members of Congress and high-ranking law enforcement officials had argued that Rubashkin's sentence was overlong.
Alan Dershowitz, an emeritus Harvard professor, told the New York Times that he had urged both President Obama and President Trump to consider commuting Rubashkin's sentence. Obama rebuffed the idea, Dershowitz said.
Trump's commutation is not a pardon, meaning that Rubashkin's conviction is not vacated, and he still must make restitution payments and submit to post-release supervision.
The action was "encouraged by bipartisan leaders from across the political spectrum, from Nancy Pelosi to Orrin Hatch," the White House said.
Trump has used his pardon power just once so far: to spare former Arizona Sheriff Joe Arpaio the prospect of serving jail time by wiping away a federal conviction stemming from immigration patrols that focused on Latinos.
Rubashkin's attorneys last year accused prosecutors of improperly interfering with the sale of Agriprocessors and depressing its sale price by millions. The drop in value left Agriprocessors' bank with a $27 million loss -- a figure used to calculate Rubashkin's sentence under federal guidelines. The U.S. Attorney's Office denied the allegations.
Bob Teig, who retired in 2011 after serving as a prosecutor and spokesman for the U.S. Attorney's Office for the Northern District of Iowa, said Trump's decision to commute Rubashkin's sentence "makes no sense" given Trump's repeated promises to get tougher on illegal immigration.
Teig said that every court that looked at Rubashkin's sentence had concluded it was fair, and suggested that former Justice Department officials and lawmakers who supported leniency were unaware of the facts of the case.
"The outrage is backwards," he said.
The Associated Press contributed to this report.