Trump campaigns for Troy Balderson in Ohio, says rival is a Pelosi puppet and 'a vote for open borders'
President Trump on Saturday campaigned in Ohio for Republican state Sen. Troy Balderson ahead of a special House election next week, saying the Democratic opponent is controlled by House Minority Leader Nancy Pelosi and favors open borders.
Running against the Trump-backed candidate is Democrat Danny O'Connor. Earlier Saturday, the president described O'Connor in a tweet as "a puppet" for Pelosi, "weak on Crime, Borders & your 2nd Amendment," with a goal of raising taxes.
Before welcoming Balderson onstage, Trump described him as "really smart" and "a really hard worker" who would "fight for Ohio."
Balderson promised to "fight alongside" the president on a variety of issues, and dubbed his opponent "Dishonest Danny O'Connor."
"Dishonest Danny O'Connor wants to repeal those middle-class tax cuts. Dishonest Danny O'Connor wants to take away your guns. Dishonest Danny supports open borders and sanctuary cities," Balderson argued. "Dishonest Danny O'Connor will fight against the policies that are turning our country around. And worst of all, Dishonest Danny O'Connor will vote for Nancy Pelosi for speaker."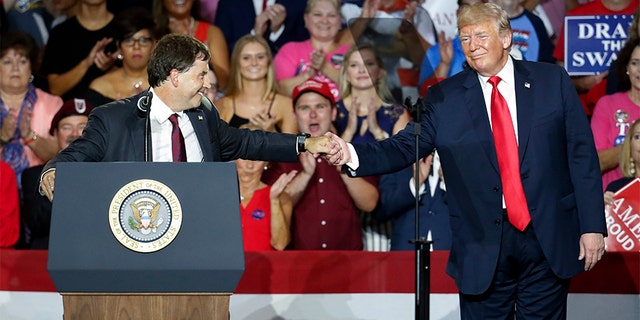 PRESIDENT TRUMP TO HOLD RALLY IN OHIO AHEAD OF CRUCIAL SPECIAL ELECTION
Rep. Jim Jordan, R-Ohio, also briefly took the stage during the rally at the request of the president, and was met with chants from the crowd supporting him for the House speakership.
Jordan, a member of the House Freedom Caucus, announced July 26 that he plans to mount an anti-establishment run for speaker, if Republicans keep control of the chamber.
Echoing Balderson's comments, Trump told the crowd that a vote for O'Connor "is a vote for open borders, which equals massive crime."
Before describing Immigration and Customs Enforcement (ICE) as "brave" and "fantastic for this country," Trump said that abolishing the agency has become a goal for Democrats.
"A vote for Danny boy and the Democrats is a vote to let criminals and drugs pour into our country," Trump said. "And to let MS-13 run wild in our communities. And you know what they do once they're there."
TRUMP DEFENDS RUSSIA AND NORTH KOREA MEETINGS, ATTACKS 'OVERRATED' BOB CASEY AT PENNSYLVANIA RALLY
The president went on to promise to "protect our law enforcement" and cite what he believes is the need for more Republicans in Congress.
"If you want to have a border, if you want to stop the radical Pelosi and Waters -- Maxine Waters -- agenda, there's only one choice in this election," Trump said. "That's vote for Troy Balderson."
Trump mentioned Rep. Maxine Waters, D-Calif., earlier, asserting that she was "a seriously low IQ person."
The president's visit to Ohio was his third rally over the course of a week, following rallies in Florida and Pennsylvania in support of congressional candidates.
Fox News' Adam Shaw contributed to this report.