Trump blasts 'Clone of Pocahontas' Richard Cordray in Ohio race for governor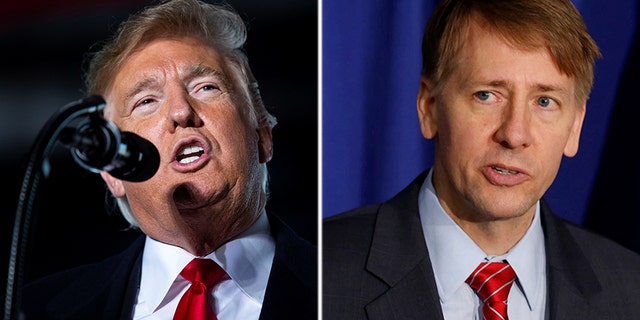 NEWYou can now listen to Fox News articles!
President Trump on Tuesday offered a "total endorsement" of Mike DeWine, the Republican candidate in Ohio's race for governor, slamming his opponent as the "clone of Pocahontas."
Trump went on Twitter on Tuesday to endorse DeWine, the state's attorney general, who is in a tight race against Democrat Richard Cordray.
"MikeDeWine will be a great Governor for the people of Ohio," read the president's tweet. He followed his praise for DeWine with a followup tweet comparing Cordray, 59, to Sen. Elizabeth Warren, D-Mass., whom Trump has derided over her claims of a Native American heritage.
"Richard Cordray will let you down, just like he did when he destroyed the government agency that he ran," Trump said, referring to Cordray's time as the consumer protection chief during the Obama administration.
"Clone of Pocahontas, that's not for Ohio. Mike has my Total Endorsement!" Trump said, invoking his nickname for Warren.
DeWine has also recently received the support of Ohio Republican Gov. John Kasich, who said in a health care-focused ad, "DeWine promised me that he will protect those with pre-existing conditions,"
Cordray has continually criticized DeWine, saying he opposes insurance protections for those with pre-existing medical conditions. This has emerged as a leading issue in the midterm campaigns.
Kasich is set to appear with DeWine on Friday at a get-out-the-vote rally. DeWine's campaign couldn't confirm as of Tuesday that he'd also appear with Trump at a Monday rally in Cleveland.
Vice President Pence will be campaigning for DeWine on Wednesday.
Recent polls show the two candidates for governor in a tight race. Ohio voters went with Trump in the 2016 presidential election.
The Associated Press contributed to this report.