Trump backs Nevada Sen. Heller, talks immigration and trade at state's GOP convention
President Trump talked trade and immigration on Saturday while fundraising in Nevada for Republican Sen. Dean Heller. He also unveiled a nickname, "Wacky Jacky," for Heller's Democrat opponent in the state's Senate election.
The president made his remarks at the Nevada Republican Party Convention and said that post-North Korea summit with dictator Kim Jong Un, he plans to move forward with renegotiating the North American Free Trade Agreement (NAFTA) and working on trade with China.
Trump said that he thought trade with China would ultimately "work out," but that it's "been very tough on our country for very many years."
Of NAFTA, Trump said the deal has "been a disaster for us."
"So we're renegotiating NAFTA and I think when it's finished its going to be … it's got to be a fair deal. It's got to be fair, we can't do this any longer," Trump said.
He also briefly mentioned Canadian Prime Minister Justin Trudeau while talking about "ridiculous" tariff percentages rates on products going into the country.
Trump said Trudeau is "a nice guy, but we can't have it."
TRUMP TRAVELS TO LAS VEGAS TO BACK SEN. HELLER AMID PUSH TO EXPAND GOP'S HOLD ON SENATE
Earlier this month following the G7 summit in Canada, Trump slammed the Canadian leader, accusing him of making "false statements" at a news conference and pulling his endorsement of an agreed-upon joint communique arising from the economic summit.
"The trade stuff is coming along, just starting, but it's going to happen because, you know, we're the piggy bank that everybody likes to rob from," Trump said.
He moved on to immigration, saying that America has "to be very strong" and that he thought "our people are actually doing a very good job, handling a very difficult situation."
The administration has faced a slew of criticism in recent weeks over an immigration policy that's led to the separation of children and parents coming across the U.S. border.
"But this is a problem that should've been solved years ago, so we're working very hard," Trump said. "The fact is, we need more Republicans because the Democrats are obstructionists" hindering a legislative solution.
"They won't vote. They're total obstructionists," he continued before mentioning Democratic House Minority Leader Nancy Pelosi and Senate Minority Leader Chuck Schumer and accusing liberal Dems of using the immigration controversy to gain an advantage in the midterm elections later this year.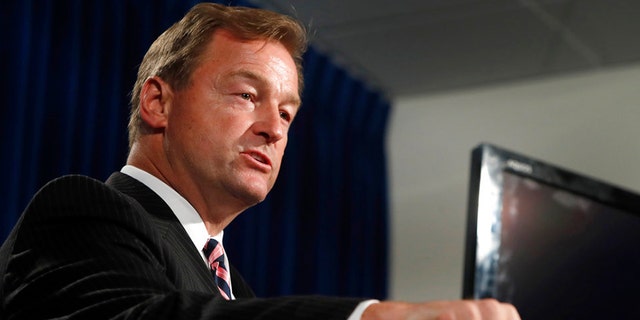 The president next segued into job and unemployment numbers, before saying he'd "signed the biggest tax cut and reform in the history of our country," something he said Heller "really helped" with and fought "hard" to accomplish.
PROTESTERS TAUNT DHS BOSS KIRSTJEN NIELSEN OUTSIDE HER HOME
Heller is the only Republican senator seeking re-election in a state won by Trump's 2016 rival Hillary Clinton. He's facing off against Democrat Jacky Rosen, who so far has outraised and outspent Heller in the November race.
Of Rosen, Trump said she "wants to raise taxes." He also teased "a great nickname for her" before dubbing her "Wacky Jacky," a name he claimed "didn't come from" him but rather was one "that people have known."
He also said he'd heard that she was campaigning in Nevada with a fellow Democrat.
"Wacky Jacky is campaigning with Pocahontas. You believe this?" Trump said, resurrecting his nickname for Democratic U.S. Sen. Elizabeth Warren of Massachusetts, a vocal Trump critic. "When you see that, that's not the senator you want."
Fox News' Adam Shaw and The Associated Press contributed to this report.