Trump attacks DeSantis 4 times more than Biden, as 2024 race heats up
Trump has attacked Biden far less than DeSantis in recent days
Former President Donald Trump's number of attacks against Florida Gov. Ron DeSantis has far outweighed his attacks against the Biden administration in the past week, even after suggesting his possible grand jury indictment this week was directed by the president himself.
Trump launched into a rant on his Truth Social website Thursday saying DeSantis is a "sinking ship" in the 2024 presidential race, even though the Republican governor has yet to formally announce a run.
"Ron DeSanctimonious is the most overrated politician in America," he wrote. "His Numbers on COVID, Crime, and Education are terrible, but nobody knows it—Now they do. He shouldn't even be running!"
"Ron DeSanctimonious' Political Consultants are failing to rescue his sinking ship," he wrote earlier Thursday. "He can't move without them, it takes him forever to make a decision, and they're charging him and his Globalist Donors a fortune. Ron's Poll Numbers are "crashing" at a record pace, he is being abandoned by his most "loyal" people, and I'm sure he's planning to ask for all of his money back from his Establishment RINO Advisors who are good at one thing, sucking the piggy bank dry!"
"While I am fighting against Radical Left Lunatics, Persecutors, and unfair Prosecutors who want to destroy us all, Ron DeSanctimonious is not working for the people of Florida as he should be, he is too busy chatting with a Ratings Challenged TV Host from England, desperately trying to rescue his failing Campaign—But it's my fault, I put him there!" Trump wrote Wednesday.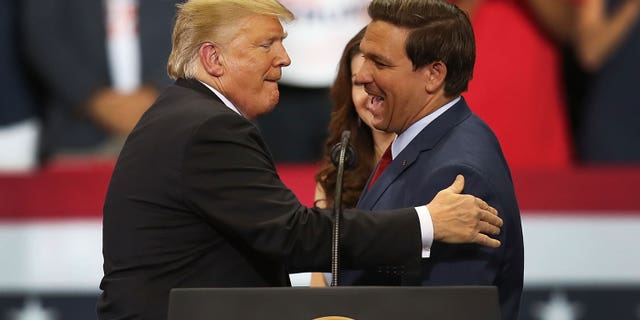 DESANTIS RACKS UP WINS WHILE TRUMP, POTENTIAL 2024 OPPONENTS TAKE SWIPES AT FLORIDA GOVERNOR
Trump also blasted DeSantis for locking down Florida at the beginning of the COVID-19 pandemic – an oft-repeated, albeit peculiar, argument by the former president, whose lockdown guidance predated DeSantis' stay-at-home order.
"Remember, I left that decision up to the Governors!" Trump wrote. "For COVID Death Rates Per State, Ron, as Governor of Florida, did worse than New York. In Education, Florida ranks among the worst in the Country and on crime statistics, Florida ranked Third Worst in Murder, Third Worst in Rape, and Third Worst in Aggravated Assault. For 2022, Jacksonville was ranked as one of the Top 25 Major Crime Cities in the Country, with Tampa and Orlando not doing much better."
"Florida has been successful for many years, long before I put Ron there," he continued. "It's amazing what Ocean & Sunshine will do! Surprise, Ron was a big Lockdown Governor on the China Virus, sealing all beaches and everything else for an extended period of time, was Third Worst in the Nation for COVID-19 Deaths (losing 86,294 People), Third Worst for Total # of Cases, at 7,516,906. Other Republican Governors did MUCH BETTER than Ron and, because I allowed them this 'freedom,' never closed their States."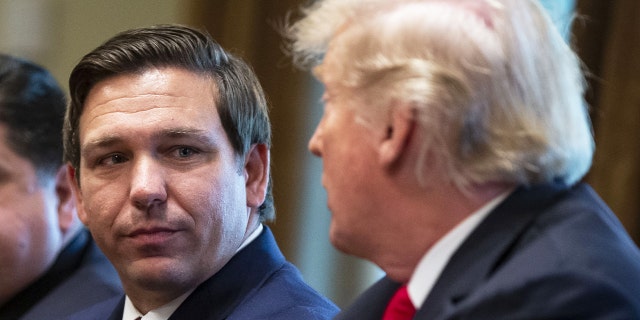 DESANTIS KICKS OFF PRO-POLICE TOUR IN DEMOCRAT-RUN CITIES AS WHITE HOUSE RUMORS SWIRL
DeSantis did not issue his first and only stay-at-home order for Florida until April 1, 2020, more than two weeks after Trump, as president, announced his "15 Days to Slow the Spread" plan, which recommended that governors shut down schools, restaurants and other public places.
While DeSantis, like most governors across the country, followed the guidance and briefly shut down the state, he was one of the first to reopen, which brought on a wave of backlash, including from Trump's own COVID-19 response team that included Dr. Anthony Fauci. DeSantis has since vowed that the state would never lock down again, and that one of his biggest regrets was not pushing back against the Trump administration's recommendations.
On Monday, Trump said Florida was doing "great" long before DeSantis became governor.
"Ron DeSanctimonious is dropping in the Polls so fast that he soon may be falling behind young Vivek Ramaswamy," the former president wrote. "People are beginning to find out that Ron wanted to destroy Social Security, and raise its minimum age to at least 70. He also had strong plans for cutting Medicare, and still does. Nothing good happens when you are a disciple of Super RINO Paul Ryan. Also, Florida did great long before DeSanctus came along, got my 'coveted' Endorsement, shot up like a rocket, and won!"
In total, Trump mentioned DeSantis at least 14 times on Truth Social alone in the past week, compared to only three attacks against Biden and the Biden administration during the same period, and that's not counting the polls Trump routinely touts showing him ahead of the Florida governor.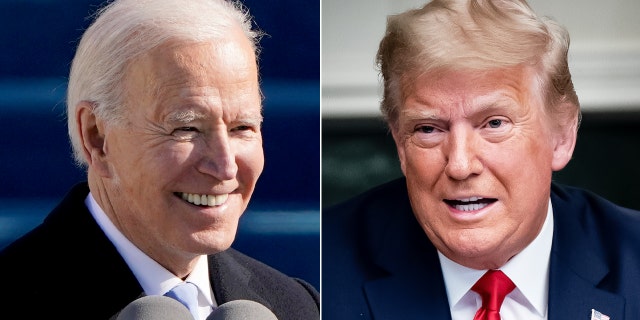 The three posts attacking Biden were in response to rumors that Manhattan District Attorney Alvin Bragg is preparing to charge Trump in the case related to alleged hush money payments to Stormy Daniels in 2016. Bragg's office "canceled" the grand jury meeting that was scheduled to take place Wednesday amid "major dissension" within the district attorney's office, Fox News Digital reported Wednesday. One source claimed the district attorney was having trouble convincing the grand jury on potential charges due to the "weakness" of the case.
Trump first broke the news of the possible indictment on Saturday when he said he expected to be arrested Tuesday.
"IT'S TIME!!!" Trump wrote Saturday. "WE ARE A NATION IN STEEP DECLINE, BEING LED INTO WORLD WAR III BY A CROOKED POLITICIAN WHO DOESN'T EVEN KNOW HE'S ALIVE, BUT WHO IS SURROUNDED BY EVIL & SINISTER PEOPLE WHO, BASED ON THEIR ACTIONS ON DEFUNDING THE POLICE, DESTROYING OUR MILITARY, OPEN BORDERS, NO VOTER I.D., INFLATION, RAISING TAXES, & MUCH MORE, CAN ONLY HATE OUR NOW FAILING USA. WE JUST CAN'T ALLOW THIS ANYMORE. THEY'RE KILLING OUR NATION AS WE SIT BACK & WATCH. WE MUST SAVE AMERICA! PROTEST, PROTEST, PROTEST!!!"
"Biden wants to pretend he has nothing to do with the Manhattan D.A.'s Assault on Democracy when, in fact, he has 'stuffed' the D.A.'s Office with Department of Injustice people, including one top DOJ operative from D.C. who is actually running the 'Horseface' Witch Hunt," Trump wrote Sunday. "Bragg is a (Soros) Racist in Reverse, who is taking his orders from D.C. I beat them TWICE, doing much better the second time, and despite their DISINFORMATION campaign, they don't want to run against 'TRUMP' or my GREAT RECORD!"
"When Alvin Bragg first attained office, he made it very clear that, like many other prosecutors, there was no case against Donald J. Trump," he added. "Then the Biden Administration, the Democrats, and the Fake News Media began pushing him, and pushing him hard, and low and behold he said that there might just be a case after all. I knew what that meant — He was being pushed to do something that shouldn't be done. He wasn't willing to stand up to Soros and the Marxists that are destroying our Country!"
CLICK HERE TO GET THE FOX NEWS APP
Meanwhile, DeSantis had largely stayed out of fray with Trump and has refrained from attacking him directly.
"In terms of my approach to leadership, I get personnel in the Government who have the agenda of the people and share our agenda. You bring your own agenda in you're gone. We're just not gonna have that," DeSantis said in a sit-down with Piers Morgan Monday, which airs Thursday on Fox Nation. "So, the way we run the Government I think is no daily drama, focus on the big picture and put points on the board and I think that's something that's very important."
DeSantis' office and Trump's campaign did not immediately respond to Fox News Digital's requests for comment.