Trump associate Roger Stone to plead the Fifth in Senate Russia probe
Longtime Donald Trump associate Roger Stone's legal team announced in a letter Tuesday that Stone would assert his Fifth Amendment right not to testify or provide documents to a Senate committee investigating potential collusion between the president's team and Russia.
"Mr. Stone's invocation of his Fifth Amendment privilege must be understood by all to be the assertion of a Constitutional right by an innocent citizen who denounces secrecy," Stone's attorney, Grant Smith, said in the statement.
He also called the Senate Judiciary Committee's requests a "fishing expedition" that is "far too overboard, far too overreaching, far too wide-ranging."
It was not immediately clear if the Senate committee would work to provide immunity for Stone, which could legally defeat his Fifth Amendment invocation by rendering his concerns of criminal exposure moot. The Fifth Amendment protects individuals from being compelled by the government to testify or produce testimonial documents that might incriminate them.
The surprise announcement comes just one day after President Trump praised Stone for declaring that he would "never testify" against the president.
"This statement was recently made by Roger Stone, essentially stating that he will not be forced by a rogue and out of control prosecutor to make up lies and stories," Trump tweeted. "Nice to know that some people still have 'guts!'"
"It raises suspicions," Sen. Dick Durbin, D-Ill., said in an interview with CNN anchor Wolf Blitzer, although he cautioned against inferring Stone's guilt.
Durbin noted that Trump, in the past, has suggested that people who plead the Fifth Amendment have something to hide. "The mob takes the Fifth," Trump said in 2016.
In September 2017, Stone testified in a closed-door setting with the House Intelligence Committee.
"I am aware of no evidence of collusion with the Russian state," Stone, who was an informal Trump 2016 campaign adviser, said after his roughly three-hour meeting. "I don't think some of the members believed some of my claims, but they had no evidence to the contrary."
Stone's possible ties to WikiLeaks while he communicated with Trump's campaign have come under scrutiny in Special Counsel Robert Mueller's Russia probe.
Yahoo News reported Monday that Mueller has indicated his sweeping probe is now simply "tying up loose ends" as it nears its conclusion. Mueller has also reportedly informed Congress that it could pursue obstruction complaints against potential witnessses without fear of conflicting with his own ongoing investigation.
CONSERVATIVE WRITER CORSI FILES CRIMINAL COMPLAINT AGAINST MUELLER, SAYS HE'S TRYING TO COMPEL FALSE TESTIMONY
A Stone associate, talk show host Randy Credico, had announced in October he would take the Fifth Amendment rather than testify before the Senate Intelligence Committee about his possible role as an intermediary between Stone and Wikileaks founder Julian Assange.
But Stone insisted Sunday it was "absolutely correct" that he had never spoken with Assange, contacted WikiLeaks in any way, or communicated with Trump about WikiLeaks-related matters.
"There's no circumstance under which I would testify against the president, because I'd have to bear false witness against him," Stone told ABC "This Week" host George Stephanopoulos. "I'd have to make things up, and I'm not going to do that."
He added: "I've never done anything in politics that was outside the norms of my colleagues. ... And I've always made it clear that so-called dirty tricks come up to, but do not cross, the line into illegality."
Stone has said he believes Mueller is investigating whether he had advance knowledge of WikiLeaks releasing hacked emails of Democrats during the 2016 campaign.
MANAFORT, WIKILEAKS SUGGEST LEGAL ACTION AGAINST THE GUARDIAN AFTER UNVERIFIED REPORT OF SECRET CONSULATE MEETING
On July 25, 2016, just three days after WikiLeaks released thousands of stolen emails from the Democratic National Committee, Stone says he received an email alerting him that WikiLeaks would release a similar email dump concerning Hillary Clinton and the Clinton Foundation.
In remarks not long after, on Aug. 6, Stone told an audience in Florida that "I actually have communicated with Assange. I believe the next tranche of his documents pertain to the Clinton Foundation, but there's no telling what the October surprise may be." He later claimed to be embellishing.
On Sunday, Stone clarified to Stephanopoulos: "I had no contact with Assange. Assange himself had said 'while Roger Stone is a brilliant spin master, we've had no communication with him.'"
On Aug. 21, Stone tweeted, "Trust me, it will soon [be] the Podesta's time in the barrel," apparently referring to John Podesta, then Clinton's campaign chairman and a longtime Clinton associate.
Stone told Stephanopoulos he has not been contacted by Mueller's team about the remarks or any other topic -- which Stephanopoulos said suggests Stone might be a target of the investigation because federal investigators often talk to witnesses before targets.
But Stone was adamant that he has done nothing wrong.
MAJOR SENTENCING MEMO TUESDAY MAY REVEAL WHAT MUELLER KNOWS AS RUSSIA PROBE WINDS DOWN
"It suggests nothing at all. Again, where is the crime? I engaged in politics. ... My purpose was to take a tip which I thought to be solid, and then after that to follow the WikiLeaks Twitter feed and set a Google News alert for Julian Assange, and use Twitter to hype" the organization's disclosures when they were released.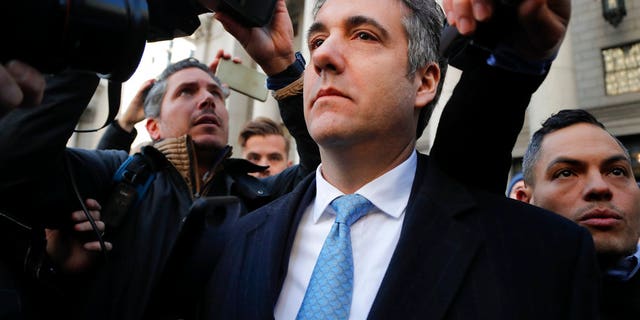 Meanwhile, ex-Trump lawyer Michael Cohen made a surprise guilty plea last week concerning lying Congress about a Moscow real estate deal he'd pursued on Trump's behalf during the heat of the 2016 campaign for the Republican presidential nomination.
In the plea on Thursday, Cohen said he lied to be consistent with Trump's "political messaging." The agreement made clear that prosecutors believe Trump's former lawyer was continuing to pursue the Trump Tower Moscow project weeks after his boss had clinched the Republican nomination for president and well after the point that Cohen has publicly acknowledged.
On Monday, conservative author Jerome Corsi filed a "criminal and ethics complaint" against Mueller's team, accusing investigators of trying to bully him into giving "false testimony" against Trump.
Mueller was expected to provide a major sentencing memorandum in the prosecution of Michael Flynn late Tuesday, which could shed light on the progress of his investigation and any information he has learned from the fired Trump national security adviser.