Trump administration sanctions Venezuela Supreme Court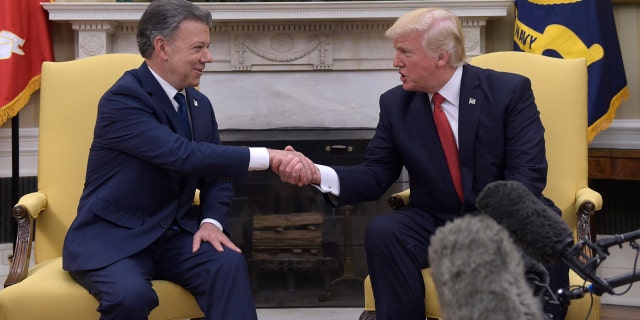 The Trump administration slapped new sanctions on eight members of Venezuela's Supreme Court Thursday, accusing them of abusing power and damaging their nation's democratic fabric as Washington raises concerns that socialist President Nicolas Maduro is moving toward one-party, authoritarian rule.
Those blacklisted by the Treasury Department include Maikel Moreno, the president of the pro-government Supreme Court, as well as all seven justices who signed a ruling in late March stripping the opposition-controlled congress of its last remaining powers.

The ruling was later partially reversed amid a backlash of international criticism, but it sparked a protest movement that has continued for nearly two months and left more than 40 people dead.

"The Venezuelan people are suffering from a collapsing economy brought about by their government's mismanagement and corruption. Members of the country's Supreme Court of Justice have exacerbated the situation by consistently interfering with the legislative branch's authority," U.S. Treasury Secretary Steven T. Mnuchin said. "By imposing these targeted sanctions, the United States is supporting the Venezuelan people in their efforts to protect and advance democratic governance in their country."

The action marked second time the Trump administration has stripped high-level Venezuelan officials of their U.S. assets and banned Americans from any business dealings with them. In February, the U.S. ordered sanctions against Vice President Tareck El Aissami, accusing him of playing a major role in international drug trafficking.

Earlier Thursday, Trump expressed dismay about Venezuela's troubles, asking aloud how a nation sitting atop the world's largest oil reserves could be stricken by so much poverty and unrest.

"You sort of have to wonder: Why is that happening? How is that possible? Hopefully that will change and they can use those assets for the good. Because right now what's happening is really a disgrace to humanity," Trump said after meeting at the White House with Colombian President Juan Manuel Santos.

In an appearance on "Special Report with Bret Baier," Santos said the U.S. and Colombia were working together to "force a peaceful transition" of power in Venezuela.
"We have three objectives," Santos told host Bret Baier. "One, the two sides to agree on a calendar for elections. Two, the regime to recognize the authority of the [National Assembly] – the Congress of Venezuela. And third, to seek a way to liberate [Venezuela's] political prisoners. And we're pressing for that and we have to continue to press for that."
Venezuela's Supreme Court has long been packed with government loyalists, some of dubious legal qualifications.

Moreno first gained notoriety as an attorney defending a group of supporters of then-President Hugo Chavez who fired into a crowd during a 2002 coup attempt. Moreno was later accused by an exiled Supreme Court magistrate of belonging to the so-called "Band of Dwarf Judges" that worked hand in glove with top administration officials to manipulate cases. In 2006, he was removed from a lower court bench but later named to a diplomatic post in Rome.

Another sanctioned magistrate, Calixto Ortega, is a long-time diplomat who was sent by Maduro in 2014 to Aruba to negotiate the release of a retired army general who had been arrested by the Netherlands, which runs the Caribbean island's foreign affairs, on a U.S. drug warrant. He was named to the Supreme Court after losing a race for congress in 2015 congressional elections that the opposition won by a landslide.

The judges' devotion to the government is indisputable. The court's constitutional chamber declared null and void eight National Assembly laws between January and October 2016, after just one such ruling in the previous 200 years, legal experts say.

In issuing its sanctions ruling, the U.S. Treasury Department cited several court rulings since the opposition gained control of congress. One was the approval of Maduro's budget and his appointment of two government sympathizers to the National Electoral Council, decisions that are supposed to require National Assembly approval. Another was a ruling a year ago declaring null all acts of the National Assembly issued while it remains in contempt of an earlier ruling requiring the congress to unseat three elected lawmakers over still-unproven allegations of voting fraud.

There was no immediate reaction from the Maduro government, but in the past it has disputed that the country's justice system is politicized. Maduro has said he had no prior knowledge of the Supreme Court ruling against congress in March, pointing to the objections raised by his chief prosecutor as proof that Venezuela's institutions operate independently.

The new sanctions come as Maduro is facing increasing international pressure to hold elections. On Wednesday, the U.N. Security Council discussed the crisis in Venezuela for the first time at the request of the United States. The Washington-based Organization of American States is holding a rare foreign ministers council session on the troubled South American nation later this month.

Maduro has vowed to resolve his nation's crisis by convoking a special assembly to rewrite Venezuela's constitution. The opposition rejects that plan as another attempt by the president to tighten his grip on power, and opposition leaders are calling on Venezuelans to continue to take to the streets in protest.

Hundreds of thousands of Venezuelans have participated in near-daily anti-government street demonstrations since the Supreme Court's ruling in late March. The protests typically end with state security forces launching tear gas and rubber bullets at demonstrators, some of whom fire back with rocks and gasoline bombs.

More than 2,000 people have been detained and several hundred put through military tribunals, according to Foro Penal, a nonprofit lawyers' cooperative defending many of those charged. Hundreds have been injured and at least 43 killed, a toll that equals the deaths in the nation's last wave of political upheaval in 2014.
Fox News' Rich Edson and the Associated Press contributed to this report.