Transportation Officials: FAA Shutdown Hurts Aviation and the Economy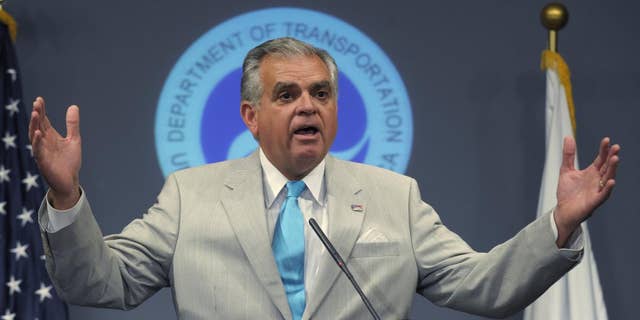 NEWYou can now listen to Fox News articles!
Transportation Sec. Ray LaHood is urging Congress to pass legislation to fund the Federal Aviation Administration, saying a continued partial shutdown will not only damage aviation, but local economies as well.
"Construction workers across America will lose their jobs and local communities will be hurt the longer this goes on," LaHood said in a statement. "Congress needs to pass an FAA bill to prevent further economic damage."
The House passed a measure to extend funding for the FAA near current levels until mid-September but reduced federal subsidies for tickets bought at some smaller airports. The new $1,000 subsidy cap was a sticking point for some senators and the Senate left town Friday without passing the House bill or developing an FAA authorization of its own.
Because of that Senate inaction, the FAA says it issued stop-work orders at airports across the country as funding ran out over the weekend. While vital FAA operations continued, construction projects were forced to come to a halt. But the FAA said the lapse in funding won't affect the safety of air passengers.
Administrators say the shutdown has halted upgrades as it tries to modernize an outdated air traffic system.
"Unless Congress acts quickly, more work on projects critical to our nation's aviation system will come to a halt," FAA Administrator Randy Babbitt said in a statement. "Work is stopping on construction and planning projects, NextGen system testing, and airport certification. The list goes on and on and this is just the beginning."
Many of the construction projects the FAA says have been shut down are new control towers. It notes new towers were already underway at airports in Las Vegas, Palm Springs, Calif., Oakland, Calif., Wilkes Barre, Pa., Kalamazoo, Mich., and Gulfport, Miss. The agency also says the funding lapse means it has to furlough nearly 4,000 workers in almost three-dozen states.