Top Republican says EPA fraudster revelations 'first layer of a very big onion'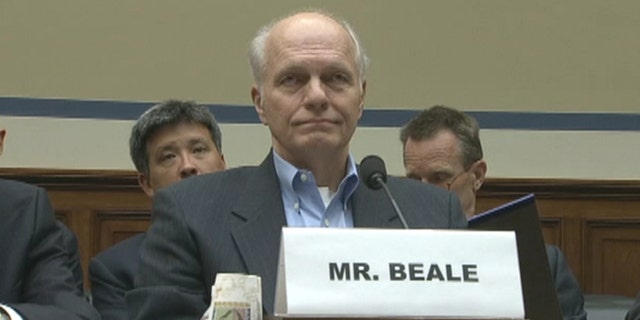 The top Republican on the Senate environment committee said Thursday that newly released transcripts showing an ex-EPA official discussing his widespread fraud against the government -- as well as a pet "project" to "modify" capitalism -- are likely "the first layer of a very big onion" at the EPA.
Sen. David Vitter, R-La., is continuing to call for a hearing before the Environment and Public Works Committee on the case of John Beale. The former EPA official was sentenced in December to 32 months in prison for bilking taxpayers out of nearly $1 million by pretending to be a CIA agent.
The plot thickened, though, after a House committee this week released hundreds of pages of transcripts from a deposition he gave to congressional lawmakers in December. In it, Beale freely discussed the lies he told his colleagues, but also claimed he had been working on a "project" examining ways to "modify the DNA of the capitalist system."
Vitter, in a statement to FoxNews.com, suggested lawmakers need to learn much more about what was happening at the EPA during Beale's tenure.
"There were some major misjudgment and lack of leadership skills when it came to decisions surrounding John Beale, but it is still difficult to ascertain the lies from reality at this stage, whether coming from EPA or Beale himself," Vitter said. "My instinct is that this is just the first layer of a very big onion in terms of what has been going on at EPA."
Vitter's office has accused EPA Administrator Gina McCarthy, who at the time was Beale's boss, of looking the other way when Beale was collecting improper payments.
McCarthy has been credited with initially flagging Beale's activities and expenses, triggering the inspector general investigation which unraveled the scheme.
But, in the transcripts, he spoke in great detail about meetings he supposedly had with McCarthy, back when she was heading the Office of Air and Radiation.
Beale said they started meeting in mid-2009. At a lunch, he claimed his "fabricated story about working at CIA came up," and that they also discussed various projects. Beale recalled telling her about a project he wanted to work on, which he described as "green economics."
He argued that environmental regulation was reaching its "limits" because "the fundamental dynamic of the capitalistic system is for businesses and individuals to try to externalize all costs." So he said he began working on his plan.
This, he said, involved "coming up with specific proposals that could be -- could have been proposed either legislatively or things which could have been done administratively to kind of modify the DNA of the capitalist system."
Beale said this "is not new" and has happened "tens of times" in the history of capitalism.
"It's not a God-given system that was created once and never changes. It changes all the time," he said. He said McCarthy was aware of the project and "we met frequently to talk about it and had actually quite deep discussions." He said, though, that the project was eventually "scrapped."
He also claimed the project began under the George W. Bush administration.
In releasing the 263 pages of documents, the leaders of the House Oversight and Government Reform Committee did not comment on that section of the transcript. They focused instead on the fraud Beale committed by lying about working for the CIA.
"This is an egregious example of fraud on the highest levels of management at the EPA," Rep. Darrell Issa, R-Calif., chairman of the committee, said.
Rep. Elijah Cummings, D-Md., top Democrat on the committee, said Beale "spun an elaborate web of lies" to fool his EPA supervisors.
The EPA has not responded to a request for comment.
Beale's case was one of the more bizarre schemes run against the government in recent memory. Beale's trickery began more than a decade ago and was largely a scheme to collect unearned pay over roughly 13 years -- essentially by saying he needed to take off one workday a week for CIA missions.
In the committee documents, Beale acknowledged this was a "fantasy."
While Vitter is calling for a hearing on Beale's case, the chairwoman of the Senate environment committee, Sen. Barbara Boxer, D-Calif., said last week she is not so inclined to hold one.
During an unrelated hearing, she noted that lawmakers already held a briefing and personally asked McCarthy to provide details on what safeguards are now in place following the Beale episode.
"And then we will look at whether or not we need a hearing," Boxer said.