Top Justice Nominees Could Be Held Up Over Grassley Concerns on 'Gunrunner'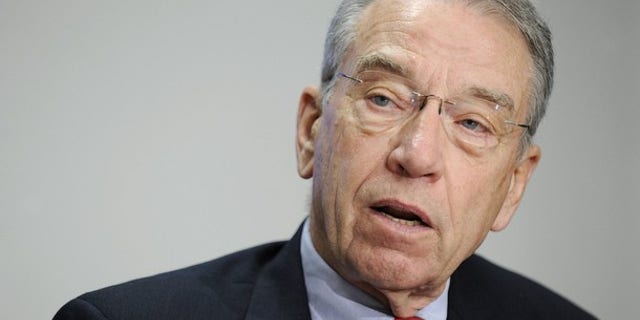 NEWYou can now listen to Fox News articles!
A Republican senator looking for answers on a gun-trafficking investigation gone awry is warning the Justice Department that nominees for top positions could be in jeopardy if the administration doesn't start cooperating.
Sen. Charles Grassley, R-Iowa, ranking member on the Senate Judiciary Committee, has threatened to block Justice nominations until he gets answers. A Grassley aide told FoxNews.com on Wednesday that three Justice nominees recently sent to the floor could be the first to get caught up in the dispute.
They are Donald Verrilli, nominee for solicitor general; Virginia Seitz, nominee to head the Office of Legal Counsel; and Lisa Monaco, nominee to head the National Security Division.
"Those would be possibilities," Grassley spokeswoman Beth Levine said, adding that her boss could put a hold on virtually anybody in line for a job at Justice over his concerns. The three nominees she named just happened to be voted recently out of committee.
"He's reserving the right to hold up nominees," Levine said.
Grassley is escalating his warnings as he seeks more information about a program known as Project Gunrunner. Under the program, federal officials allowed straw buyers to purchase firearms and take them across the border into Mexico, so they could track the weapons as they fell into the hands of drug cartels. But records show hundreds of guns were allowed to "walk" across the border. Officials are trying to determine whether a gun from the program was used to kill Border Patrol agent Brian Terry.
Though top administration officials have distanced themselves from the operation and Attorney General Eric Holder ordered an inspector general probe, Grassley claims the department has not responded adequately to his requests for information.
In a statement on the Senate floor last month, Grassley threatened to do "whatever it takes" to find out more about the controversial program.
Levine said the level of cooperation has not gotten any better. "There's just tons of outstanding document requests," she said.
A Justice Department representative could not be reached for comment.