Tillerson resigning? Secretary of state says 'that's ridiculous'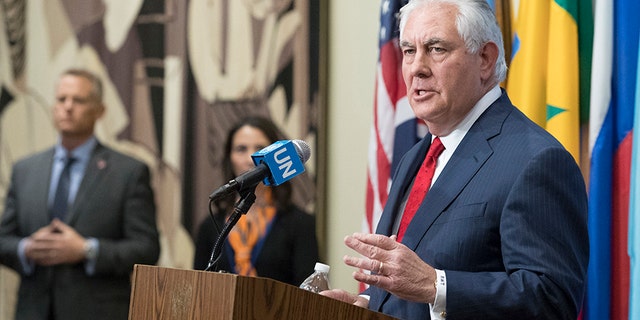 Secretary of State Rex Tillerson on Monday swatted back at a reporter's question asking if he'd submitted a letter of resignation, curtly responding: "That's ridiculous."
Sources told Fox News in late November that Tillerson is expected to leave the Trump administration in January, amid discussion of potentially tapping CIA Director Mike Pompeo as a replacement. The sources said the most likely succession plan would involve moving Pompeo to the State Department and nominating Arkansas GOP Sen. Tom Cotton to lead the CIA.
Tillerson took the unnamed reporter's question as he welcomed French Foreign Minister Jean-Yves Le Drian for a working lunch at the State Department.
The question: "Secretary Tillerson, have you already submitted a letter of resignation with an effective date in January?"
Tillerson replied, "That's ridiculous." After the reporter thanked him, he followed up: "Ridiculous question." Then, he and the French foreign minister left the room.
TILLERSON NOT LEAVING ROLE AS SECRETARY OF STATE, TRUMP SAYS
President Trump also fought back at the reports of Tillerson's imminent departure. The president tweeted on Dec. 1: "The media has been speculating that I fired Rex Tillerson or that he would be leaving soon - FAKE NEWS! He's not leaving and while we disagree on certain subjects, (I call the final shots) we work well together and America is highly respected again!"
Fox News' Mike Arroyo, Samuel Chamberlain, John Roberts and Brooke Singman contributed to this report.